Summer is nearing the end, but peaches are still around! This Peach Käse-Sahne-Torte is a German cheesecake with no-bake filling containing quark, whipped cream and peach compote. It's a refreshing way to say farewell to summer.
Peach Käse-Sahne-Torte
About this Recipe
This Is A Sponsored Post That Contains Affiliate Links
I love all the cheesecakes, don't get me wrong! But if you're looking for a light, refreshing cheesecake, look no further than this Käse-Sahne-Torte! I also added in a quick, homemade peach compote that gets mixed in with the quark and cream filling, but you can feel free to leave it out altogether or substitute for other fruit like plums, apples, mandarin oranges... they're all just YUM! When making this cake, it's extremely helpful to have a cake ring handy to assure none of the filling runs out as it sets up in the fridge (super frustrating if that happens, believe me!).
I could eat slice after slice of this cake, but if you end up with any leftovers, they freeze very well, too. Simply wrap tightly in freezer-safe plastic wrap and transfer to the fridge a day or two before you're ready to eat it to give it enough time to thaw. You will not want to let this cake sit out at room temperature for too long.
Scroll on down for the recipe, now in printable version.
Peach Käse-Sahne-Torte Essentials
Drink Pairing:
PEACH MIMOSA
Simply prepare a little extra of that peach compote, add to a champagne flute and fill up with Austrian Schlumberger Sekt, a sparkling wine made after the traditional champagne method. It's just one way to kick things up a notch when it comes to afternoon Kaffee und Kuchen time.
To find out where Schlumberger Sparkling Brut (also available in Rosé Brut and Grüner Veltliner) is available in your area, fill out the short product finder form.
Prost!
German Fall Cake Recipes
Pumpkin Käsekuchen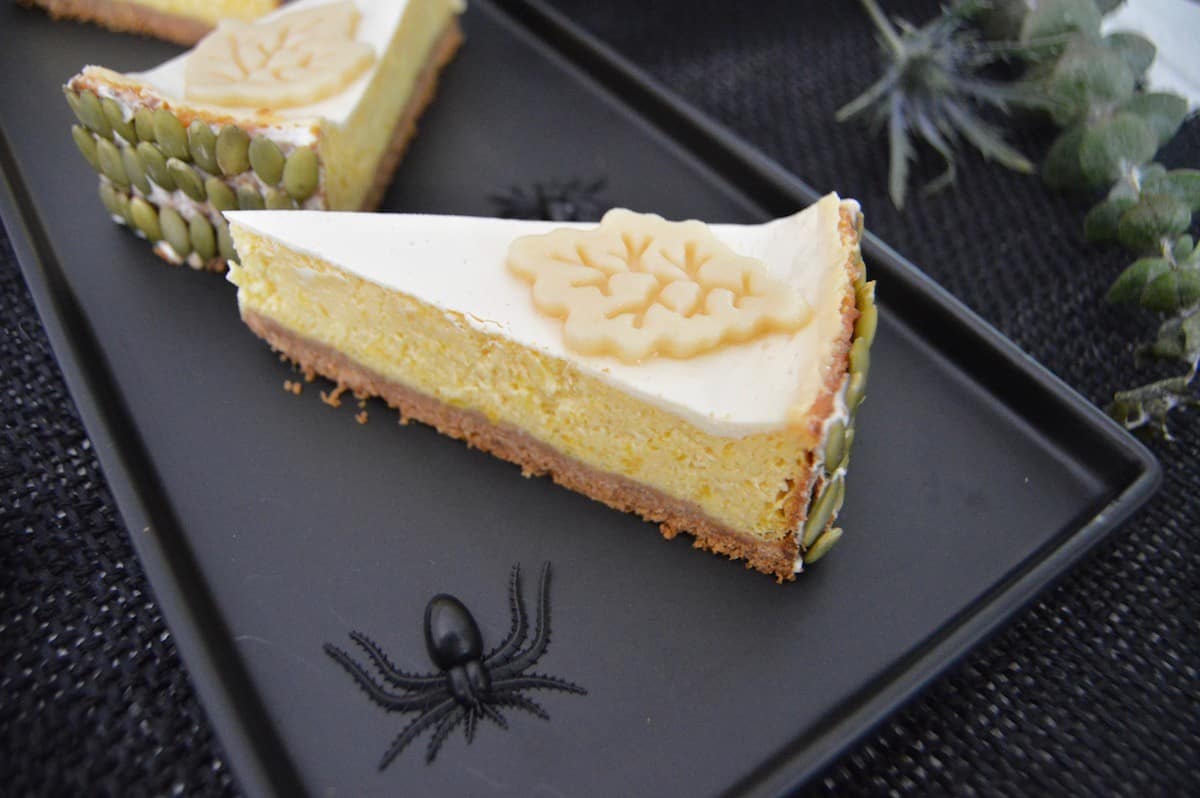 Spiced Plum Tart
Bratäpfel
Next Up:
MINI Savory PUMPKIN Strudel
I'm all ready for Fall, don't get me wrong! Up next is an Austrian classic, Strudel, reinvented with pumpkin as a savory appetizer or snack. And voilá, mini savory pumpkin strudel were born! Make sure to subscribe to my blog now, so you're not missing out when this new posts go live!
Peach Käse-Sahne-Torte
As summer comes to an end, I thought this German peach cheesecake with no-bake quark and cream filling would be the ideal cake to celebrate with.
Instructions
Sponge Cake
Preheat oven to 355 Fahrenheit / 180 Celsius. Beat eggs with sugar and vanilla for 3 to 5 minutes until the mixture is very thick and creamy. Don't beat for too long, or else you risk the middle of the cake falling in. Sift in the flour, cornstarch and baking powder and gently fold in with a rubber spatula. Cover a springform with parchment paper on the bottom and rub butter around the sides. Add batter to the springform and spread out until smooth and even. Bake in preheated oven for 20 minutes, then let cool completely.
Peach Compote
Remove stems and cores of the peaches, then medium dice and add to a medium saucepan. Start cooking over medium heat with sugar until the peaches start to break down, about 10 minutes. Remove from heat and stir in vanilla. Set aside to cool.
Quark and Cream Filling
Beat the whipping cream until stiff. Whisk together quark, powdered sugar, lemon zest and juice of the whole lemon. Dissolve the gelatine with 2 to 3 tablespoon of boiling water, whisking until all clumps have disappeared. Add 2 tablespoon of the quark mixture to the gelatine mixture, one tablespoon at a time, so you don't develop clumps. Add in some more of the quark mixture and whisk together, then finally add the gelatine quark to the remaining quark and stir together. Fold in the whipped cream and cooled peaches.
Assemble The Cake
Divide the sponge cake in half, so you end up with a bottom and a top layer. Tighten a cake ring around the bottom layer, then pour in the quark-cream-peach mixture. Cut the top sponge cake layer into 12 equal slices and place them on top of the filling, pressing down slightly.

Gelatine-Quark-Gemisch dann zum restlichen Quark geben und verrühren. Sahne unterheben. Quark-Sahnemasse auf den Boden im Tortenring geben und glatt streichen. Zweiten Biskuitboden in 12 gleichgroße Stücke schneiden. Die Stücke nach und nach auf der Creme im Tortenring platzieren und leicht andrücken. Make sure not to leave any kind of gap on top.

Transfer to a fridge for 3 hours, although I prefer to have it sit overnight. Once ready to serve, cut alongside the ring to loosen the edge of the cake. Dust with powdered sugar and cut the slices.
Nutrition
Calories:
330
kcal
Carbohydrates:
37
g
Protein:
16
g
Fat:
14
g
Saturated Fat:
8
g
Cholesterol:
100
mg
Sodium:
73
mg
Potassium:
238
mg
Fiber:
1
g
Sugar:
24
g
Vitamin A:
569
IU
Vitamin C:
5
mg
Calcium:
109
mg
Iron:
1
mg
I received compensation from Niche Import Co. in exchange for writing this post. Although this post is sponsored, all opinions, thoughts and recipes are my own. This post contains affiliate links, which means that I may be compensated if you click certain links.