Baumkuchen: German 'Tree Cake' Recipe
I vividly remember spending time in my Oma Sieghilde's kitchen baking this German Baumkuchen cake. Baumkuchen is a layered, Marzipan-flavored cake that, when sliced open, looks like the rings on a tree trunk. A blueberry-lemon glaze goes atop of my version.
Servings:
16
Ready In:
90 mins
Calories:
320
Good For:
Coffee
Baumkuchen
About this Recipe
This Is A Sponsored Post That Contains Affiliate Links
This German Baumkuchen cake may have started it all. It's when I first moved to the United States in 2009 that I started missing all of the German things so much, especially the food and my Oma Sieghilde's recipes. After asking for her Baumkuchen recipe in a letter one month, next time I visited, she sent me back to America with this German cookbook in hopes that I could find a few good German recipes to make and help me cope with my homesickness. She left one little inserted note on the recipe page for Baumkuchen. It's my most sacred German cookbook now and every time I go back to it to find inspiration for my blog, I think of my wonderful Oma Sieghilde. My Oma passed away within a couple of months of me starting this blog in 2015. Since then, this blog is has been dedicated to my Oma Sieghilde and her German cooking, and its mission is to keep real German cooking alive in America and help all those German expats like me and those with German heritage feel more connected. Because I think we all agree that good food helps bring people together. If you have a special memory of a German relative, a unique German recipe, or just anything to share, please send me a message or leave me a comment below. I'd love to share in on it with you if you'll let me!
So back to Baumkuchen. It's really a pretty simple cake. Think of it as a pancake stack because that's what you're basically making. Except these are baked on top of each other, in your oven, and marbled with some really tasty marzipan, giving it this amazing almond flavor throughout. I finish my Baumkuchen off my glazing it with a simple, homemade blueberry lemon glaze that helps keep the moisture inside of the cake while adding a little extra sweetness and this beautiful purple-pink color (all natural from the blueberries of course!). Make this for a holiday, birthday, or your Kaffee und Kuchen time (German cake and coffee time, typically at around 3 p.m. in the afternoon). This Baumkuchen is sure to impress your friends and family. For leftover marzipan (you'll use half a log), try this plum tart or these Bratäpfel! Now let's get to baking and make my Oma proud!
Ingredients For Baumkuchen
Blueberry Lemon Glaze:
You will also need:
HELPFUL TIPS:
Cooking Times: You may need to experiment with your oven here, but having the broiler set to the lowest setting, I baked each layer for about 2 minutes and 15 seconds on the middle rack. However, at the end, because my cake tester still came out with raw dough on it, I changed my oven to the conventional setting (Ober/Unterhitze) and baked my cake for another 6 minutes at 350 degrees Fahrenheit (there is no preheat time). Make sure to use a cake tester or toothpick to test your cake every so often. A few fine crumbs on it are desirable.
Leftovers: This cake keeps well in the fridge for up to a week (make sure to wrap it - I love using this reusable bees wax wrap!). The glaze helps keep it moist.
More Simple German Cake Recipes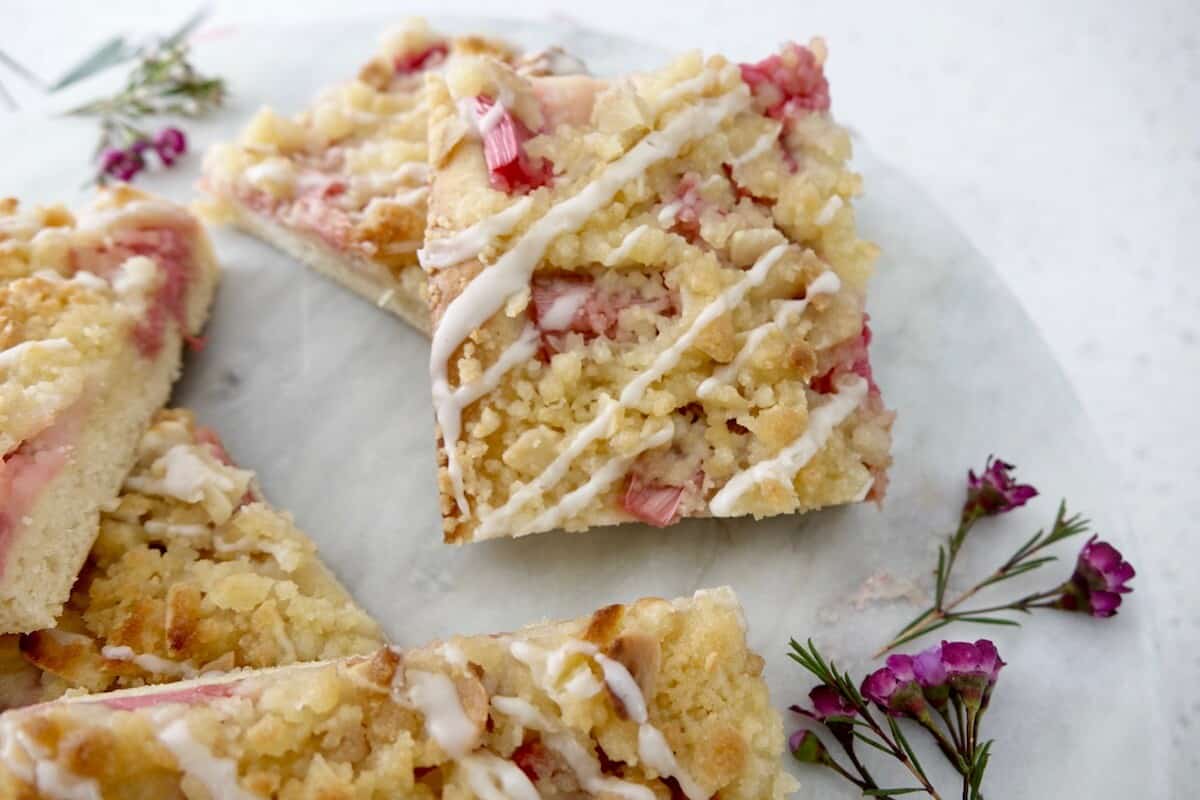 Marmorkuchen
KiBa Muffins
Baumkuchen Essentials
Baumkuchen Step By Step Instructions
Step 1
Set your broiler to low. In a large bowl, whisk together the room temperature butter, sugar, egg yolks and vanilla extract until smooth. In a separate, microwave-safe, small bowl, add together the marzipan and amaretto and heat in the microwave in 10 second increments until warmed (it will be easier to combine it that way); whisk until smooth, then add to your dough.
Step 2
Combine flour, cornstarch and baking powder and add in tablespoon after tablespoon until combined. Whisk the whites until thick and stiff, then fold into the batter. Prep the bottom piece of your springform pan with parchment paper and add 3 Tablespoons of batter to it, spreading it out evenly. Bake on the bottom rack for about 2:15 to 2:30 minutes or until the top is golden-brown.
Step 3
Remove from oven, add another 3 Tablespoons of batter, spread out evenly and repeat this process until your batter is gone (I ended up getting 8 layers). Make sure to keep a close eye on your cake as it can burn easily!
Step 4
At the end, make sure you test your cake with a cake tester (you can also use a toothpick) to see if it's done. If it's not cooked through, change the oven setting to conventional setting at 350 (no preheating required) and bake your cake for another 5 to 7 minutes (make sure to test after 5 minutes). A few crumbs on your cake tester are desirable. Remove from oven, remove the springform ring, and let cool to room temperature.
Step 5
To make your glaze, bring blueberries to a boil and cook for a few minutes until the berries are bursting and you can easily mash them. Put the berries through a strainer to remove the skins, and let cool to room temperature. In a small bowl, combine the powdered sugar, lemon juice and just enough of the blueberry puree until you get a thick glaze consistency. Spread evenly over cake (I used a small frosting spatula) and garnish with a few fresh blueberries and some mint if desired.
Drink Pairing:
Schlumberger Rosé
I never think bubbles are inappropriate when eating cake and it makes any cake experience just a little bit fancier. The almond flavor of this cake pairs beautifully with this crisp, Austrian rosé sparkling wine by the Schlumberger winery.
Schlumberger goes the extra step by preparing their sparkling wines using the traditional champagne method, and the results are incredibly tasty. Find out where Schlumberger is available near you.
Next Up:
Schnitzel Pretzel Sandwich
Schnitzel and pretzels are two of my very favorite things. For my next recipe post, I am combining them into one. Make sure to subscribe to my blog now, so you're not missing out when my next recipes go live!
I received compensation from Niche Import Co. in exchange for writing this post. Although this post is sponsored, all opinions, thoughts and recipes are my own. This post contains affiliate links, which means that I may be compensated if you click certain links.