German marble cake is a fluffy coffee cake with vanilla and chocolate marbling. This cake is here to convince you that everybody needs to eat more marble cake!
It's a German recipe (called Marmorkuchen there) with a hint of rum and lemon to keep things just a tad sophisticated! This cake is a little denser than the average American cake, think a muffin-like texture, and boasts flavor!
The chocolate glaze finish is extra delicious and helps to keep this bundt cake nice and moist along with some other tricks I will teach you in this post.
Check out this video that shows you how to make this cake!
Tools for Marmorkuchen
What you'll need is not much. A hand-held mixer will do, but I prefer using my stand mixer, so I have my hands free to add the different components of the batter for this cake. A nice spatula is also helpful to scrape down the sides of your bowl as you prepare the batter.
If only using your stand mixer, I recommend fluffing your egg white mixture first, and then set it aside once you're ready to fold it into the batter. The most essential item to have for this cake is a nice bundt pan. I have fallen in love with the many designs of the Nordicware pan and this one is a classic favorite of mine.
The baking time will depend on what time of material your bundt pan is made of. I have used a silicone pan in the past and had to increase baking time by about 8 minutes. Last but not least, make sure to have plenty of toothpicks handy to test the cake with (or a cake tester). You want several crumbs on your toothpick for the optimal, moist cake.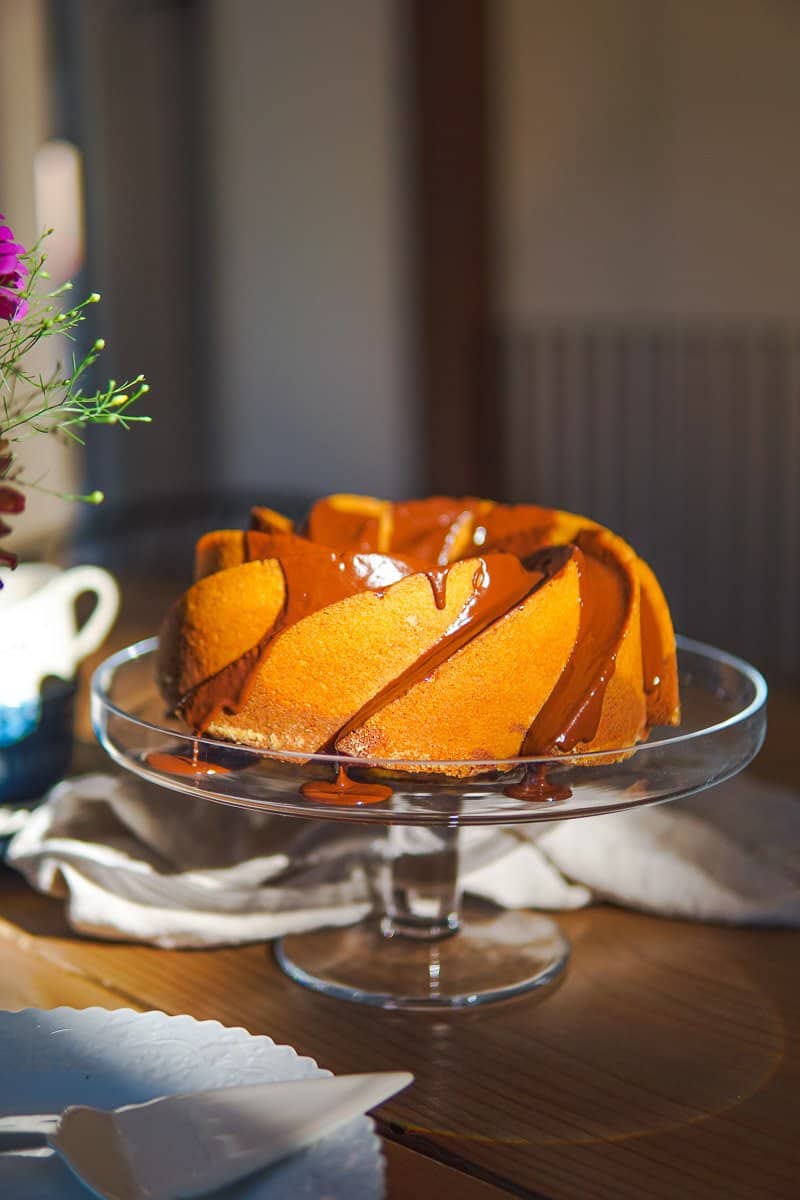 How To Make A Moist And Fluffy Marble Cake
There are a couple of tips and tricks I follow to achieve a moist and fluffy marble cake. Keep in mind that this cake is not like American cake, but rather like a German coffee cake with a texture similar to muffins. The most important things to keep in mind:
Don't overmix the batter
It's a great rule for most baking recipes. You fluffed the egg whites to add fluffiness to your cake. Don't ruin the fluffiness by overmixing your batter. As soon as you see no more white streaks going through your batter after mixing in the beaten egg whites, stop mixing! Yes, it's okay to use your stand mixer with a paddle attachment for this step, just keep it on low and scrape down the sides of the bowl periodically.
Add in a little extra milk with the cocoa powder
This is a trick to help the chocolate layer stay nice and moist and just the way you want it!
Don't overbake the cake
Instead, to be safe, set your timer for 10 minutes less and then test your cake in increments of a couple of minutes each. As soon as there is no raw batter on your toothpick (plenty of crumbs are great), get it out of that oven!
Get it out of that pan!
Your cake will continue to cook a little bit once it leaves the oven, especially if you baked it in a cast iron pan like I did, which will retain the heat for longer. Only let your cake cool in the pan for a few minutes before turning it upside down to release the cake.
I tend to also forget about my cake once it's out of the oven, but this one makes a huge difference! It's important to grease your pan with plenty of butter and dust it with white flour before adding the batter, so the baked cake releases like a charm!
Add a chocolate glaze to retain moisture
Not only does it make the cake taste even richer and better, but it also serves as a barrier, retaining moisture inside the cake! Genius!
All of these tips will ensure your cake is as delicious as can be.
Ingredient

s

The following ingredients make for a delicious marble cake like the one I grew up with.
Butter. Use the good stuff. I like buying New Zealand grass-fed butter or Kerrygold from Costco to use for my baking needs.
Sugar. I use pure cane sugar.
Pure Vanilla Extract. The good stuff. You could also use the seeds of one vanilla bean instead.
Lemon zest. This is an interesting touch, while not being overwhelming. I promise it's so good!
Spiced rum. Almost every cake my Oma Sieghilde baked for us growing up had a little bit of rum added to it. I love using the Austrian STROH rum (what she used) for authentic flavor.
Eggs. 6 of them. You'll beat the egg white separately from the yolks to add a more fluffy texture to the cake.
Sea salt. Just a hint. This helps to keep the egg whites stiff while also bringing out more of the chocolate flavor.
Flour. I use organic all-purpose flour.
Baking powder. To help add even more fluffy texture.
Milk. Room temperature is best, but don't worry if it's a little cold when adding it to the batter.
Cocoa powder. It's important to use a good quality cocoa powder. Believe me, you will be able to taste the difference. I always buy fair trade as well.
Dark Chocolate. The same goes for chocolate. I like using good-quality semi-sweet baking chips, but you can use any chocolate of your choice. Even white chocolate would be fun to use.
More Butter. This is to make the glaze pour nicely over your cake.
Sprinkles or other garnish like gummy bears or chocolate candies (optional). Instantly puts this cake over the top without much effort. It's common to do in Germany. Just make sure to add when the glaze is still wet.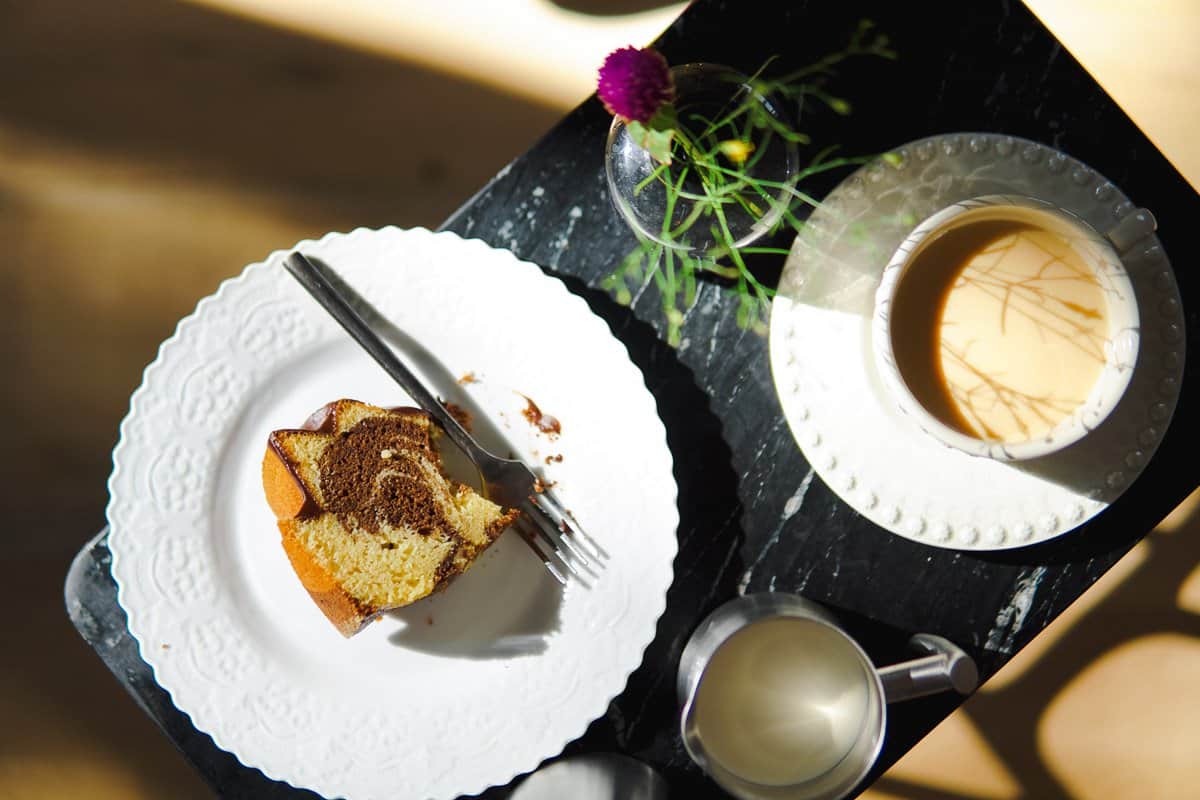 Marbling Cake Batter
You will be happy to know that it's so simple. Simply grab a fork and pull the bottom layer of the batter through to the top. Turn your bundt pan as you repeat this step. It helps to do this in figure eight motions. This simple trick creates a subtle marble effect in each slice of cake. You can also use a butter knife with the flat side facing up to achieve bolder marbling.
Storing Marble Cake
You can store this cake covered at room temperature for about three days or in your fridge for up to a week. I love using this stand with a dome to display the cake and keep it fresh at the same time. The glaze helps to keep the cake moist and fresh, too.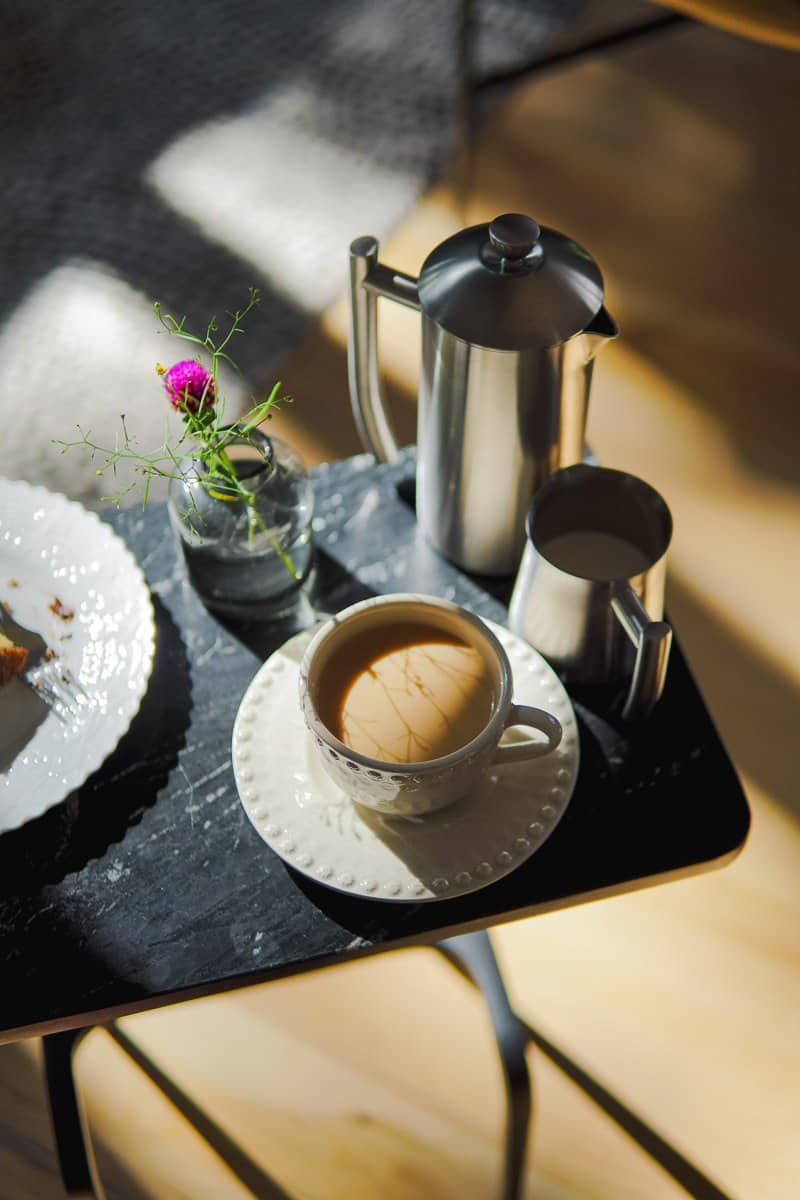 Marble Bundt Cake For Afternoon Coffee
In Germany, it's tradition to have a slice of cake or a little something sweet in the afternoon with a cup of coffee. And this cake is perfect for that and even appears often topped with chocolate candies, gummy bears or sprinkles and candles for birthday celebrations.
As for the coffee, I love this beautiful French press by the brand Frieling. It's German-designed, thus extra sturdy and uses a patented filter to keep your coffee mug free of the grimy coffee sludge. I have it in 2 sizes. A larger one that we make a generous amount of morning coffee in and a smaller one that I use with my smaller cups for my afternoon coffee. They're worth every penny and I know you'll love them, too.
Other bundt cakes I love for afternoon coffee are my egg liqueur cake (really, it's so good!) and my red wine pear cake (one of my favorites growing up!).
The BEST Marble Cake (Marmorkuchen)
This super delicious and fluffy vanilla and chocolate marble cake recipe is here to convince you that everybody needs to eat more marble cake! It's a German recipe (called Marmorkuchen there) with a hint of rum and lemon to keep things just a tad sophisticated!
Equipment
Bundt Pan

Silicone Bundt Pan

Hand-held blender

Cake tester
Ingredients
Cake Batter
100

grams

butter

280

grams

sugar

1

teaspoon

vanilla extract

1

teaspoon

lemon zest

2

Tablespoons

spiced rum

I love using the Austrian STROH rum like my Oma Sieghilde always did!

6

eggs

size large, separate yolks and whites

1

pinch

sea salt

280

grams

flour

8

grams

baking powder

100

milliliters

milk
Chocolate Cake Batter
20

grams

good cocoa powder

The quality is important. I always buy fair trade as well.

20

milliliters

milk
Chocolate Glaze
140

grams

semi-sweet chocolate chips

Good quality though! You could also use a good chocolate bar. I always buy fair trade.

40

grams

butter
Instructions
Preheat your oven to 310 Fahrenheit/155 Celsius on the convection setting, or 355° Fahrenheit/ 180° Celsius on the traditional setting (not convection).

Using your paddle attachment of a stand mixer, beat the soft butter with ¾ cup (160 grams) of the sugar and the vanilla extract, lemon zest and the spiced rum until creamy, about 3 minutes. Scrape down the sides of the bowl using a rubber spatula.

100 grams butter,

280 grams sugar,

1 teaspoon vanilla extract,

1 teaspoon lemon zest,

2 Tablespoons spiced rum

Gradually add in one egg yolk at a time until combined.

In a separate bowl, using the whisk attachment on a hand-held blender, beat the egg white with the salt until almost stiff. Add in the remaining sugar (½ cup plus 2 tablespoons or 120 grams) and beat until stiff.

6 eggs,

1 pinch sea salt,

280 grams sugar

Sift your flour and baking powder together, then add to the egg yolk butter mixture, alternating with the milk and beaten egg whites until incorporated. I still use my stand mixer for this step on the low setting, but you can also opt to fold everything in using a rubber spatula. Mix until you see no more visible streaks of fluffed egg white or flour, but be careful not to overman the batter.

280 grams flour,

8 grams baking powder,

100 milliliters milk

Fill in half of the batter. Sift the cocoa powder and extra milk into the remaining batter and fold in using a rubber spatula until combined. Then add it into the bundt pan as well. Using a butter knife, fork or serving fork, slightly swirl the batters together, creating the marble pattern.

20 grams good cocoa powder,

20 milliliters milk

Bake in the preheated oven for approximately 40 to 50 minutes or until a cake tester or toothpick comes out clean (set your timer for 40 minutes, especially when using a cast iron bundt pan. Then check every few minutes. You want several crumbs on your toothpick and NO raw batter. Do not bake for too long (only until starting to turn golden), or else you can easily dry out the cake. Allow to cool slightly (5 to 10 minutes) in the form before turning it upside down and removing it from the bundt pan.

You can enjoy the cake fresh out of the oven, dusted with some powdered sugar or with a dark chocolate glaze. For the glaze, heat the chocolate in a microwave-safe container for 2 minutes, removing and stirring it every 30 seconds. Then stir in the room temperature butter and spread it over the cake. I shake my cake onto my work surface to get it to run down the sides. The cake does not need to be cool in order to glaze it.

140 grams semi-sweet chocolate chips,

40 grams butter

Decorate with sprinkles or chocolate candies or gummy bears if desired, especially when getting festive! This cake is often served in the afternoon with coffee as a birthday cake for kids and adults in Germany.
Notes
HELPFUL TIPS:
Marbling Your Cake: I used a serving fork to pull up the dark batter through the light batter in figure eights, creating a subtle pattern. You can also swirl through the batter with a butter knife and achieve bolder effects.
Storing: You can cover this cake at room temperature for 3 days (wrapped up or under a dome) or in your fridge for up to a week.
Bundt Pans: Baking time depends on what kind of bundt pan you use. Metal pans, especially cast iron pans, retain heat more than silicone bundt pans. Therefore set your timer for 40 minutes and check with a toothpick or cake tester in 3 minute increments. You want plenty crumbs on your tester, but no raw cake batter.
Nutrition
Calories:
375
kcal
Carbohydrates:
49
g
Protein:
7
g
Fat:
17
g
Saturated Fat:
10
g
Polyunsaturated Fat:
1
g
Monounsaturated Fat:
5
g
Trans Fat:
1
g
Cholesterol:
109
mg
Sodium:
116
mg
Potassium:
234
mg
Fiber:
2
g
Sugar:
28
g
Vitamin A:
433
IU
Vitamin C:
1
mg
Calcium:
70
mg
Iron:
3
mg