Eierlikörkuchen is one of the easiest and most rewarding Gugelhupf cakes I have ever made! The Eierlikör or German egg liqueur gives it that richness, warmth, and moistness everyone is looking for in a simple, fluffy coffee cake.
Easy Gugelhupf Cake with Eierlikör
About this Recipe
This Is A Sponsored Post That Contains Affiliate Links
What is Gugelhupf?
Gugelhupf (in German) is another word for a bundt cake (a cake with a hole in the middle for even baking), made from a simple batter, sponge cake batter, or a yeast-raised dough. It's most popular in the south of Germany, Austria, Switzerland and the Alsace region of France. The most popular kind is a marble cake or Marmorkuchen (my recipe is so simple and divine if you haven't tried it!). Eierlikörkuchen is also a popular kind of Gugelhupf and I can't wait for you to try mine! The word bundt cake was invented by an American and is not typical in German. In the German language, it's more common to say either Topfkuchen (pot cake) or Napfkuchen (dog bowl cake) for a Gugelhupf cake, but where's the fun in that?
What is Eierlikör?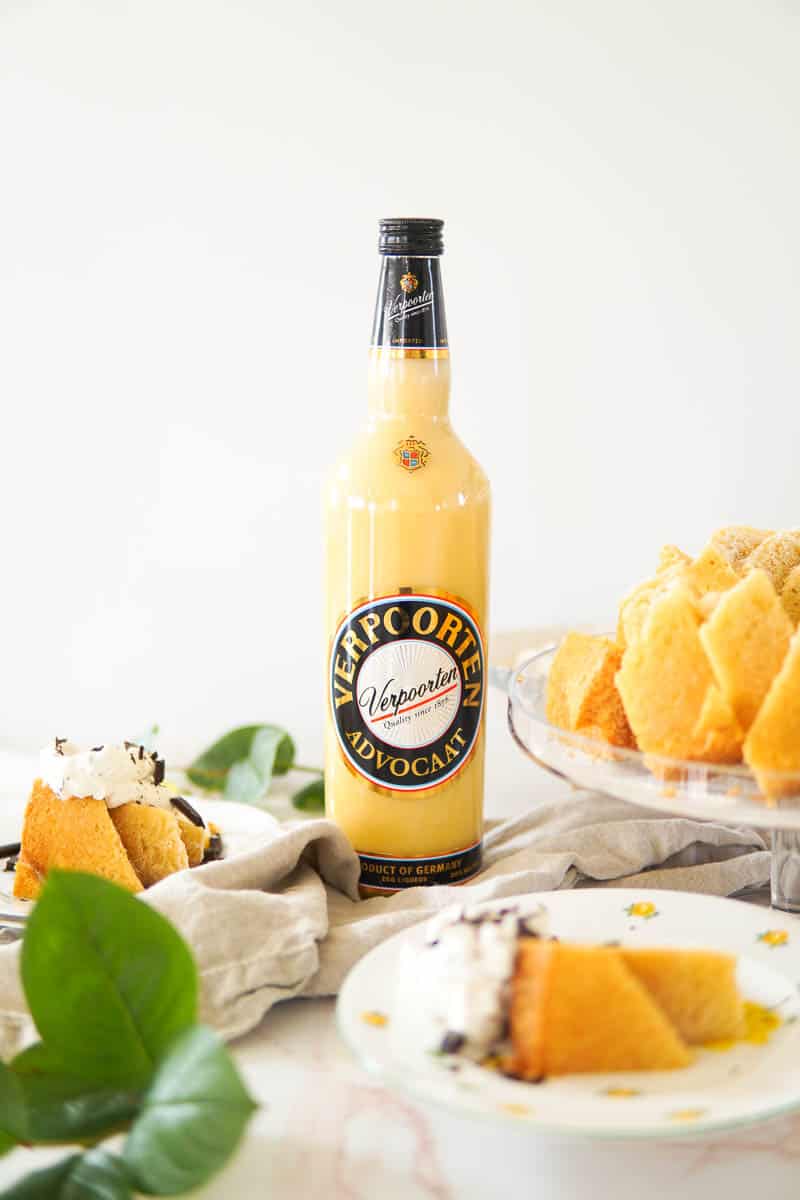 Eierlikör, a German egg advocaat or egg liqueur is, as you would expect, made from eggs. It's thick, creamy, delicious, and is often enjoyed on its own, in drinks (like Fette Henne, which is a hot chocolate with a shot of Eierlikör and my favorite Christmas market drink), or used in desserts and for baking. If you asked Oma Sieghilde, the best way to enjoy Eierlikör is to pour it over vanilla ice cream. One way to incorporate it into a cake is with this simple, moist and delicious Eierlikör Gugelhupf, baked in a beautiful bundt cake pan. Please leave a comment below with what your favorite Eierlikör recipes or uses are!
What's In Egg Liqueur Cake?
eggs. 5 of them to be exact. I use high-quality, organic free range eggs in size L.
sugar. I use organic, pure cane sugar.
vanilla. I love adding vanilla in most of my cakes! Make sure you're using the real vanilla extract.
vegetable oil. I use avocado oil because I cook with it all the time and have it on hand, but feel free to use any neutral-tasting oil you have in your pantry.
Eierlikör. German-made egg liqueur - gotta have it for this cake! Find out where Verpoorten Eierlikör is available here.
spiced rum. Just a shot for a little extra fun. It really brings together the flavors of this cake! I love using the iconic Austrian STROH rum and always have a bottle on hand. Want to lower the alcohol content of the cake? Use rum aroma instead.
cake flour. Just get some (I love this organic one). It really helps this cake be fluffy. If you're having a hard time finding it, you could also substitute it with pastry flour. You can substitute a gluten-free all-purpose flour to make this cake gluten-free (I like these tips on how to substitute for gluten-free cake recipes).
baking powder. Should be in your pantry hopefully.
non-stick cooking spray. I used one without added flour (avocado spray) and it worked fine.
WHERE TO FIND EIERLIKÖR
Verpoorten is not only the brand of Eierlikör, but it is the most popular in the world. Verpoorten in fact is even the inventor of Eierlikör! The original recipe from 1876 is still the same one today because why change what's already great? Only grade A eggs are used in this egg advocaat from Heinsberg, Germany. When I first moved to the United States in 2009, I had an incredibly hard time finding Eierlikör (I never found it). Luckily you won't have to smuggle it across the Atlantic anymore!
Click here find out where you can purchase a bottle for yourself. 
IS EIERLIKÖRKUCHEN KID-FRIENDLY? I ATE IT!
If you're thinking to serve this to your kids, I used to eat this all the time when I was little, and turned out great! 🙂 Apparently (I just had to look it up), about 25 percent of the alcohol would still be left after one hour of baking this cake, so the 20 percent alcohol content in the liqueur (and shot of rum) does not completely disappear in a magic-like fashion during the baking process unlike what I was thinking… but I still turned out fine. If that makes you feel uneasy about serving this to the kids or anyone else who can't have alcohol, you can simply leave out the liqueur and rum (use rum aroma instead), but then again, what is Eierlikörkuchen without Eierlikör? I definitely wouldn't plan to make this at a kids party, so maybe more of an adult birthday party or brunch?
My Favorite Tools For This Cake
More German Cakes You Need To Try
Gedeckter Apfelkuchen
Marmorkuchen
Himbeer Käsekuchen
Next Up:
Böfflamott
A drool-worthy German beef roast recipe that my uncle Gerd recommended I make is coming up next! Make sure to subscribe to my blog now, so you're not missing out when my improved Böfflamott recipe goes live.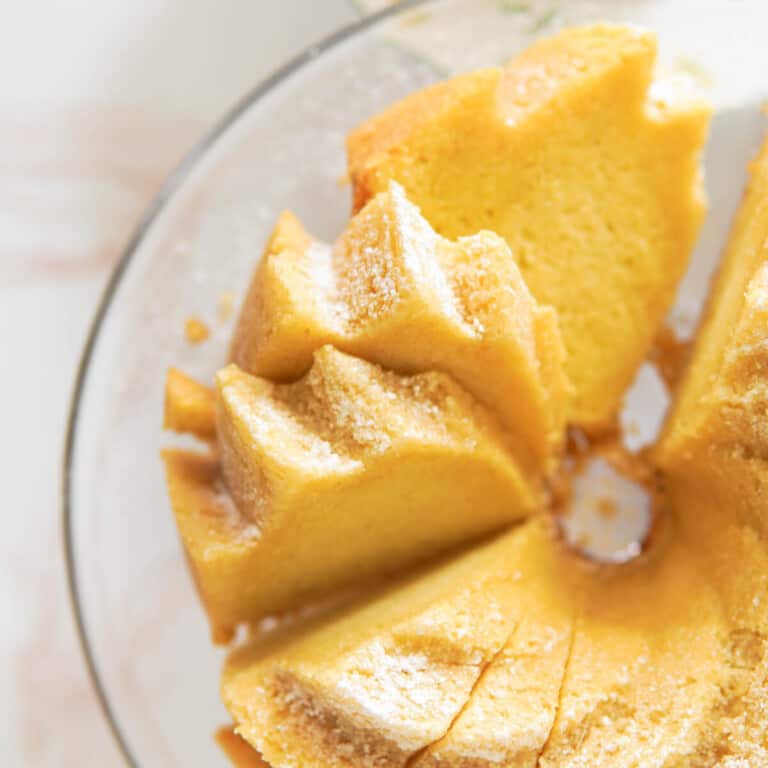 Easy Gugelhupf Cake with Eierlikör
Eierlikörkuchen is one of the easiest and most rewarding Gugelhupf cakes I have ever made! The Eierlikör or German egg liqueur gives it that richness, warmth, and moistness everyone is looking for in a simple, fluffy coffee cake.
Ingredients
Stracciatella Whipped Cream
Instructions
Preheat the oven to 355° Fahrenheit (180° Celsius).

Beat the eggs with the sugar and vanilla until foamy.

5 large eggs,

250 grams sugar,

2 teaspoons pure vanilla extract

Gradually add in the oil and Eierlikör (and rum if desired – it enhances the flavor of the Eierlikör).

250 milliliters vegetable oil,

250 milliliters Verpoorten Eierlikör,

1 shot STROH rum

Sift together the flour and baking powder, then slowly add to the egg-sugar mixture until incorporated. Don't overmix the batter.

250 grams cake flour,

16 grams baking powder

Spray a bundt pan with non-stick cooking spray, pour in the batter and place on a baking sheet to keep the cake stable.

Bake on the middle rack of your oven for about 50 minutes or until a toothpick comes out clean. Allow to cool for 15 minutes before turning over and releasing from the pan.

You can either eat the cake cooled down completely or still warm.

For the whipped cream, beat the heavy whipping cream, powdered sugar and vanilla until stiff. Roughly chop up the chocolate and fold into the whipped cream (you could also add chocolate chips). Keep cool in the fridge until ready to serve with your cake.

240 milliliters heavy whipping cream,

2 Tablespoons powdered sugar,

1 teaspoon pure vanilla extract,

60 grams high quality dark chocolate
Notes
Like it extra chocolatey? Add some chocolate chips to your batter!
Like it extra boozy? Fold in some Eierlikör with your finished whipped cream.
Nutrition
Calories:
282
kcal
Carbohydrates:
37
g
Protein:
4
g
Fat:
9
g
Saturated Fat:
5
g
Polyunsaturated Fat:
1
g
Monounsaturated Fat:
3
g
Trans Fat:
1
g
Cholesterol:
72
mg
Sodium:
27
mg
Potassium:
175
mg
Fiber:
1
g
Sugar:
24
g
Vitamin A:
297
IU
Vitamin C:
1
mg
Calcium:
66
mg
Iron:
1
mg
This is a sponsored post by Marussia Beverages. Although I use their product in this post, I would never present you a product I do not adore and don't love myself! This post contains affiliate links, which means that I may be compensated if you click certain links.