This German Mole Cake (Maulwurfkuchen) is the banana cream cake that my family made over and over again growing up in Germany. Beneath the pile of dirt (crumbled up chocolate cake) are bananas, whipped cream with chocolate sprinkles and more chocolate cake.
What is Maulwurfkuchen?
Maulwurfkuchen is a classic German chocolate banana cake we made for birthdays growing up. It consists of a simple chocolate cake base, fresh bananas and a whipped cream frosting marbled with Dutch milk chocolate sprinkles! Yum! Maulwurfkuchen translates from German to 'mole cake' as it's made to look like a mound of dirt that a mole left in your backyard.
You can probably already tell that German birthday cakes look quite a bit different from American birthday cakes!
Other cakes that would often make it to the table for German kids birthdays were this cute Igelkuchen (hedgehog cake), Marmorkuchen (German marble cake), and Erdbeerrolle (strawberry and cream sponge cake)! Maulwurfkuchen is easy enough to make that my 3-year-old helped me, and tastes super delicious! The only tool you need is a spring form. Another German dessert to look like something else is my Spaghettieis (or spaghetti ice cream).
Decorate Your German Chocolate Banana Cake!
We always ate this chocolate banana cake plain, but you could easily decorate it by coloring and hand-shaping fondant or marzipan (the ladder being more commonly used in Germany for cake decorations). It would be super fun to play along with the mole theme of this cake by adding a few carrots, flowers, and even little moles. You could even just add some gummy worms into the pile of dirt. I'd love to see your cake pictures, so please tag me on Instagram when you post them!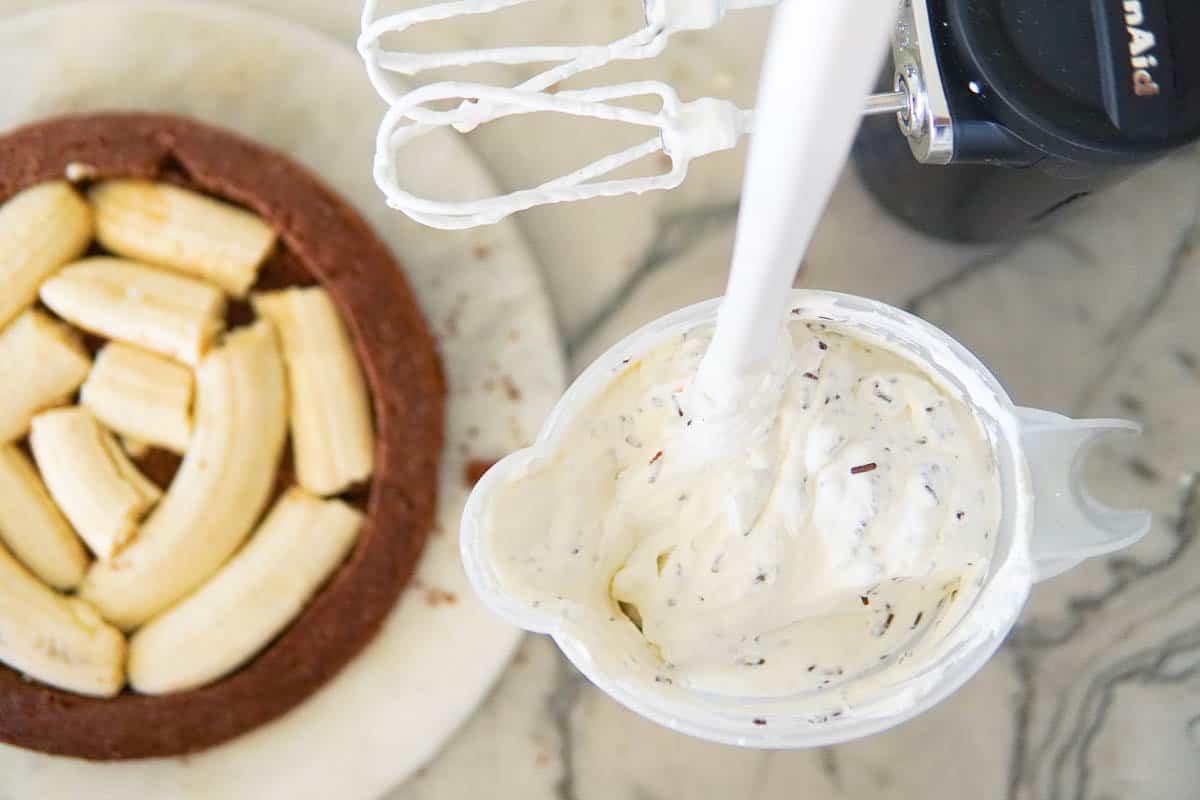 Mole Dessert Ingredient Notes
Butter. The real deal. I bake a lot and love buying either Kerrygold or the New Zealand grass-fed butter from Costco.
Sugar. The real deal. This cake is not a diet cake.
Flour. Just simple all-purpose flour. You could also substitute with gluten-free flour to make this cake gluten-free.
Cocoa Powder. Use a good quality cocoa powder.
Baking Powder. NOT baking soda.
Eggs. I use free-range eggs from happy hens.
Milk. I use whole milk. Feel free to use any milk (dairy or non-dairy) you like.
Bananas. Depending on the size, you may need more or less. For an average banana size, you'll need 3 though.
Heavy Whipping Cream. And lots of it. Some don't whip up as good as others. I like the Horizon Organic brand.
Powdered Sugar. Just a bit.
Vanilla Extract. The real stuff whenever possible.
Chocolate Sprinkles. You can randomly find chocolate sprinkles in the sprinkles section of your grocery store or a craft store, but I recommend getting a package of these sprinkles because they just taste better and you'll need more than what a sprinkles jar holds. We used to eat these on buttered bread or buttered toast growing up. They're also great to sprinkle over cupcakes! So good!
Want to see more German recipes in your inbox? Subscribe now and never miss a new post!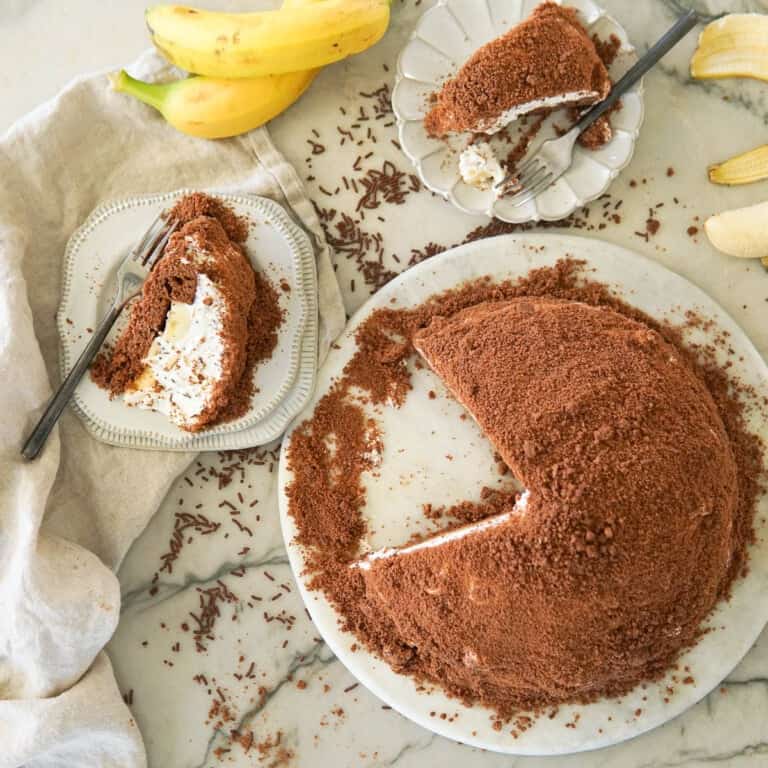 German Chocolate Banana Cake Recipe (Maulwurfkuchen)
This German Mole Cake (Maulwurfkuchen) is the Banana Cream Cake that my family made over and over again growing up in Germany. Beneath the pile of dirt (crumbled up chocolate cake) are bananas, whipped cream with chocolate sprinkles and more chocolate cake.
Ingredients
Toppings
3

bananas

medium sized, may use less or more

500

milliliters

heavy whipping cream

25

grams

powdered sugar

1

teaspoon

pure vanilla extract

50

grams

chocolate sprinkles

I use the milk chocolate ones, but you could use dark chocolate instead if you would like. Alternatively, use shaved milk chocolate or mini milk chocolate chips.
Instructions
In a smaller bowl, sift together flour, cocoa powder and baking powder.

150 grams all-purpose flour,

20 grams cocoa powder,

1 teaspoon baking powder

In a large bowl, beat the sugar and butter until creamy, 5 minutes. Add the eggs and beat until combined. Gradually add in the flour mixture and milk until the batter is just combined. The batter should be thick and hold its shape.

100 grams butter,

140 grams sugar,

75 milliliters milk,

2 eggs

Using a spatula, transfer the batter into the spring form and distribute evenly.

Bake on the middle rack for about 30 minutes or until a cake tester or toothpick comes out clean. Cut around cake using a knife, remove the ring and transfer (still parchment paper attached to the bottom) to a cooling rack. Allow cool completely. To speed up this process, you could move it to a fridge.

Now gently remove the middle of the cake, leaving about a one inch rim and some of the bottom. I cut a circle about 1 inch deep to help with this. Crumble the scooped out cake and set aside.

Peel the bananas, half lengthwise and lay flat side down onto the hollowed out cake.

Combine the heavy whipping cream, powdered sugar and vanilla in a deep bowl and whisk until stiff. Fold in the chocolate sprinkles and distribute evenly over the bananas (come all the way to the rim), forming a mound.

500 milliliters heavy whipping cream,

25 grams powdered sugar,

1 teaspoon pure vanilla extract,

50 grams chocolate sprinkles

Sprinkle the crumbs over the mound and gently press onto the whipped cream mound. I left mine as is and that's pretty common to do in Germany. If you would like, you can decorate this cake with moles, carrots, grasses and flowers made from marzipan or fondant. This makes a great cake for a kid's birthday party!
Notes
Storage:

Store in the fridge until ready to serve and store any leftovers in the fridge as well, for up to 3 days.
Nutrition
Calories:
363
kcal
Carbohydrates:
37
g
Protein:
4
g
Fat:
23
g
Saturated Fat:
15
g
Polyunsaturated Fat:
1
g
Monounsaturated Fat:
6
g
Trans Fat:
1
g
Cholesterol:
93
mg
Sodium:
79
mg
Potassium:
240
mg
Fiber:
2
g
Sugar:
23
g
Vitamin A:
889
IU
Vitamin C:
3
mg
Calcium:
61
mg
Iron:
1
mg