Champignonpfanne Recipe: Mushroom Skillet w/ Garlic Sauce
This Is A Sponsored Post That Contains Affiliate Links
Oh the amazing scents and flavors of the German Christmas markets.. the markets or Weihnachtsmärkte are a huge part of the reason why I love Germany for Christmas so much! If you have a chance of experiencing it, it's so so worth it! I am trying to talk my in-laws into coming to spend Christmas with us in Germany next year - wish me luck! 😉
The Flavors Of The Weihnachtsmarkt
But back to the aromas, the smells, the flavors... that's what makes the experience so amazing and helps manifest the great memories. Dampfnudeln, Kartoffelpuffer, Bratwurst, Glühwein, Lebkuchen, roasted chestnuts and candied nuts melt together with the smell of pine and needle branches, the wood from the construction of the little cottages the vendors sell out of, burning candles and snow (or a lot of times rain) to create the Christmas market scent. Are you ready to go yet? 🙂
Today we're honing in on one of those flavors coming from a little wooden cottage with giant skillets burning up in the middle of it. It's there where the mushroom roasting is done and where happy customers get to fill their bellies with one of my favorite   dish served at the Christmas markets: the Champignonpfanne. My version consists of spiced mushrooms that are sautéed and served with a creamy garlic yoghurt sauce. I am head over heels for mushrooms, so this one is definitely right up my alley. So in case you don't have a Germany trip planned to make it for Christmas market 2018, there is no need to wait until you can make it there because you now have the recipe - and it's simple! 🙂
Wine Pairing: Affentaler Monkey Mountain White
The German Affentaler winery makes a delicious Riesling blend that goes amazingly well with today's Champignonpfanne. The Monkey Mountain dry white blend from Germany's Black Forest helps to balance out the spices in this dish with its lightness, slight acidity, and crisp fruit tones. To find out availability of this wine in your area, click here.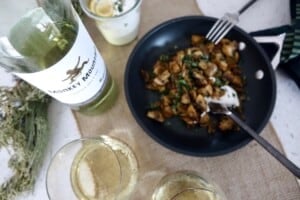 Next Up: Gingerbread Spiced Apple Cake
Remember that gingerbread spice I had you make for the Lebkuchen cookies? We'll use the same one again for my next recipe! Make sure you're subscribed to receive weekly email notifications, so you never miss out on new recipes!

---
Champignonpfanne Recipe:
Mushroom Skillet:
Garlic Sauce:
200 g yoghurt
100 g sour cream
2 garlic cloves
1 tablespoon lemon juice
1 tablespoon olive oil
crushed chili flakes, salt & pepper
Method:
Cut mushrooms into quarters. Medium dice the onions.

Heat skillet to medium high and add the olive oil. Add in the mushrooms and sauté until starting to brown. Scoot mushrooms to the outer edge of the skillet and add in the onions. Sauté until starting to brown, then stir mushrooms and onions together.

Add in garlic cloves and sauté until fragrant for about 30 seconds to 1 minute. Season with salt, pepper and herbs, then turn off the heat and stir in parsley.

To make the garlic sauce, combine all ingredients, then season to taste with chili flakes, salt and pepper.
Serve in skillet with slices of artisan bread or arrange on plates. Garnish with more parsley if desired.
German Christmas Cookie Recipes For Those Last Minute Bakers:
My Champignonpfanne Essentials
I received compensation from Niche Import Co. in exchange for writing this post. Although this post is sponsored, all opinions, thoughts and recipes are my own. This post contains affiliate links, which means that I may be compensated if you click certain links.