These flaky, homemade German cinnamon rolls are addictive! This German version is called Franzbrötchen and uses a German croissant dough (Plunderteig) for its base. It's a danish specialty from Germany's harbor city of Hamburg.
What are Franzbrötchen?
Franzbrötchen are a flaky, German cinnamon roll pastry that have reached cult status across Germany. Originally from one of my favorite German cities of Hamburg, if you're lucky, you can find Franzbrötchen at bakeries throughout Germany.
They are more common in the north of Germany, which explains why I rarely came across this pastry when I grew up in Trier (in the southwest of Germany). And what a shame that is! Franzbrötchen are so delicious!
How are German cinnamon rolls made?
Traditionally Franzbrötchen are made from German croissant dough called Plunderteig filled with a cinnamon sugar mixture. How does that not sound delicious? In their birth city of Hamburg, many variations of the fillings ranging from chocolate to apples and hazelnut are also popular.
The German cinnamon rolls start with a German croissant dough called Plunderteig that is filled with a butter-cinnamon mixture. It's then rolled up, cut and shaped using a wooden stick (I used the handle of a kitchen utensil) into the signature 'smushed' shape. Unlike American cinnamon rolls, there is no added glaze or frosting on top after baking.
Where are Franzbrötchen from?
Franzbrötchen translates to 'Franz rolls,' short in German for French rolls (Französiche Brötchen). They are a specialty pastry from Germany's harbor city of Hamburg.
A few rumors exist about how they were invented. One popular story mentions that when Hamburg was occupied by the French in the 19th century, bakeries started baking French bread and one baker, in search for a new pastry recipe, or maybe just by mistake, baked some French bread in a skillet with butter, cinnamon and sugar.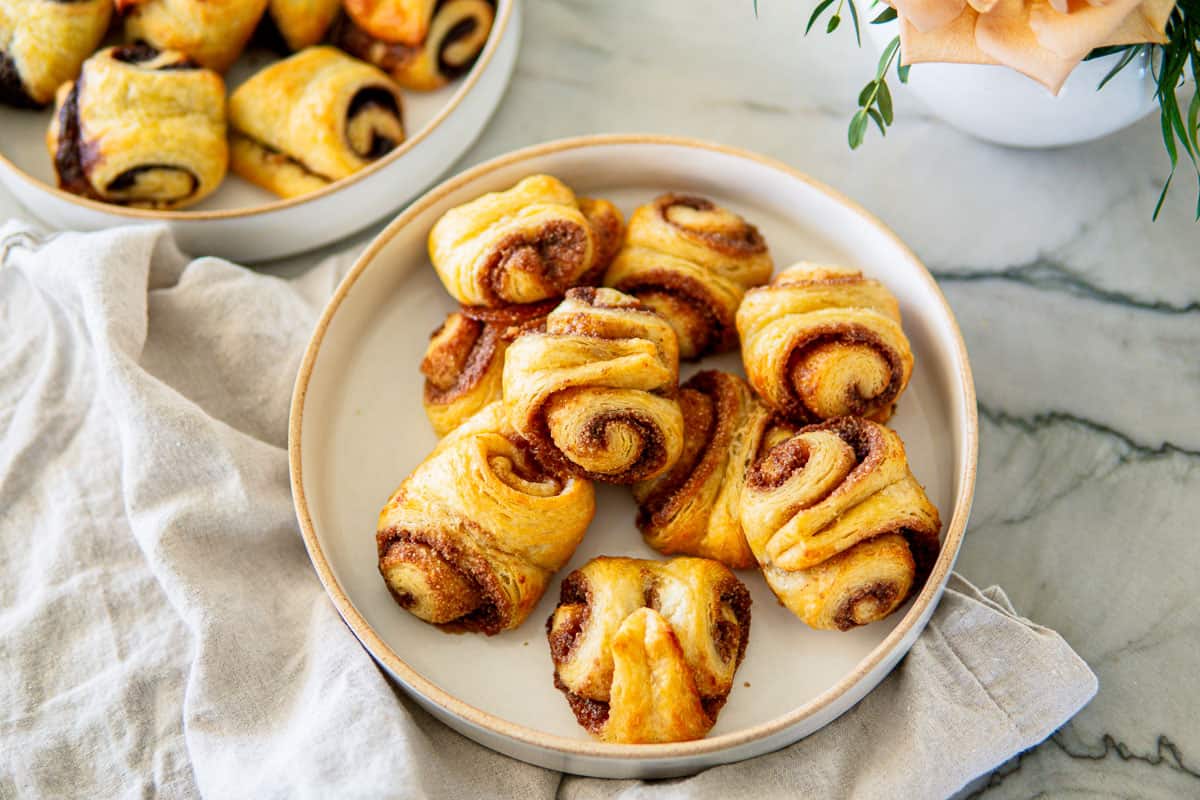 Another rumor presents the idea of the French demanding croissants and the bakers of Hamburg decided to smush them, expressing their resistance. There are even books about Franzbrötchen!
However Franzbrötchen were invented, they are the flakiest and BEST cinnamon rolls I've ever had! I can't wait for you to try them and let me know what you think!
Ingredients for German Cinnamon Rolls
The ingredient list for these authentic German cinnamon rolls is short, so it's all in the quality of the ingredients! The major difference between Franzbrötchen and American cinnamon rolls is that the dough of Franzbrötchen is flakier and there is no frosting/glaze.
Croissant Dough. To make authentic Franzbrötchen, make a batch of my German croissant dough called Plunderteig. It's the basis for many German pastries and German croissants. It is a bit less time-consuming as making French croissants, as it does not have quite as many lamination layers built into the dough. The dough can be made ahead of time and frozen, ready to thaw, fill and bake when you are.
Butter. I use grass-fed butter that I rub onto the rolled-out dough.
Brown Sugar. It has a warmer taste than plain cane sugar, although cane sugar works well as a substitute if you don't have brown sugar.
Ground Almonds. Use either almond flour (skins removed) or ground almonds (skins on).
Cinnamon. This gets mixed in with the sugar and almonds to create the Franzbrötchen filling.
Egg Yolk. Create an egg wash from egg yolk and water and brush it onto the Franzbrötchen before baking. This gives them a nice shine.
Video
To help you understand how Franzbrötchen are made, I created this short video for you.
Subscribe to my weekly email newsletter now, so you never miss out on German recipe inspiration!
Authentic German Cinnamon Rolls (Franzbrötchen)
These flaky, homemade cinnamon rolls are addictive! This German version is called Franzbrötchen and uses a German croissant dough (Plunderteig) for its base. It's a danish specialty from Germany's harbor city of Hamburg.
Ingredients
Egg Wash
1

egg yolk

mixed with equal parts water to brush on before baking
Instructions
Prep the Plunderteig (Croissant Dough)
I often work ahead and make the croissant dough (Plunderteig) ahead of time, roll it out (60 by 28 cm or 24 by 11 inches) and freeze it. Transfer to the fridge 1 day before using, then proceed with the steps below.
Make the Filling
Combine the brown sugar, cinnamon and almond flour and set aside. Bring the butter to room temperature and set aside (I heat it in the microwave in 5 to 10 second increments if I run short on time).
Make the Franzbrötchen
Spread the room temperature butter onto the dough (I just use my hands). Then evenly distribute the brown sugar-cinnamon-almond flour mixture. Roll up longwise.

Using a knife or dough cutter, cut into 12 rolls at a slight angle, alternating the angle every time. This is to achieve each roll having a short side and a wide side.

Turn each roll with the wide side facing the bottom. Now dust the tops with a bit of flour and using the stick of a cooking spoon, push the narrow top side down, forcing the cut sides to tilt towards the top.

Preheat oven on the convection setting to 350 Fahrenheit / 180 Celsius. Place the rolls onto a baking sheet prepped with parchment paper or a reusable silicone mat. Cover them loosely with a kitchen towel, and allow to rise another 30 minutes while the oven preheats.

Give the baking sheet a gentle shake. If the rolls are jelly-like and wiggly, they're good to go into the oven. If they are not yet, let them rest and rise some more.

Brush on an equal mixture of egg yolk and water.

Bake on the middle rack for 13 to 15 minutes or until golden brown. Enjoy either warm or cold.
Notes
The final rise: since the dough will be cool, you'll want the filled, unbaked Franzbrötchen to have one final rising period before baking. How long this will take really depends on how warm the room is you're in. I would plan for 30 minutes to an hour. When you give the baking sheet a gentle shake, the rolls should wiggle slightly. That means they're ready for the oven.
Nutrition
Calories:
437
kcal
Carbohydrates:
48
g
Protein:
8
g
Fat:
24
g
Saturated Fat:
13
g
Polyunsaturated Fat:
1
g
Monounsaturated Fat:
6
g
Trans Fat:
0.2
g
Cholesterol:
83
mg
Sodium:
355
mg
Potassium:
117
mg
Fiber:
3
g
Sugar:
18
g
Vitamin A:
770
IU
Vitamin C:
0.2
mg
Calcium:
60
mg
Iron:
2
mg