Summertime in Germany: (socially distanced) evenings grilling outside with loads of bratwurst, marinated meats and (in my opinion) the best of all: the awesome fresh breads and salads.
Pesto Pasta Salad
About this Recipe
This Is A Sponsored Post That Contains Affiliate Links
I must say that today's recipe post reeeeeally made me miss my family. I was supposed to see them a couple of weeks ago, and I am pretty sure this pasta salad would have been on our menu with some grilled Bratwurst and Schwenkbraten one night if I could have made it home. So unfortunately I have to eat it in Kansas City without my family, but at least the great memories are there and knowing that everyone is safe and healthy at home (knock on wood). We've also been extremely busy with the home building, so a cancelation for our planned trip couldn't honestly have come at a better time (if we could have picked one!). We still have so much to look forward to despite the bumming situation of me not getting to see my family in over a year.
But coming back to today's pasta pesto salad... it's like a vacation to Italy in your mouth. And since we all can't travel to Italy right now, I think this and a bottle of Chianti will just have to do. I make my own, simple pesto for it using my immersion blender because for one, it tastes amazing, and secondly, I have a severe cashew allergy and never noticed that EVERYONE puts cashews in their jarred pesto until I paid more attention to the labels because of my allergy (it just developed 4 years ago). For my pesto, I combine only the freshest ingredients: loads of fresh basil, fresh lemon juice, skillet-roasted pine nuts, aged parmesan, fresh garlic, and lubricate it all with a healthy amount of extra virgin olive oil. The olive oil and ancient grain penne pasta I used today comes from Italy's hot spot of longevity and wellness: Sardinia.  I mean, if I had to pick a spot to quarantine, Sardinia would not be a bad choice by any means! If you would like to the products, click here and use code 'DINRDL25' at checkout for 25 percent off your purchase of 100 Euros or more.
I then toss my hot penne with the fresh pesto and sautéed veggies for a refreshing, vegetarian pasta salad to accompany your favorite grilled goods (I suggest you try making some Schwenkbraten soon!). I serve the salad warm or cold, both are great! You can also make the pesto a few days ahead of time to cut the day-of prep time down to a silly short 15 minutes. Guten Appetit!
Scroll on down for the recipe, now in printable version.
Pesto Pasta Salad Essentials
Drink Pairing:
Pumpkin Spice Martini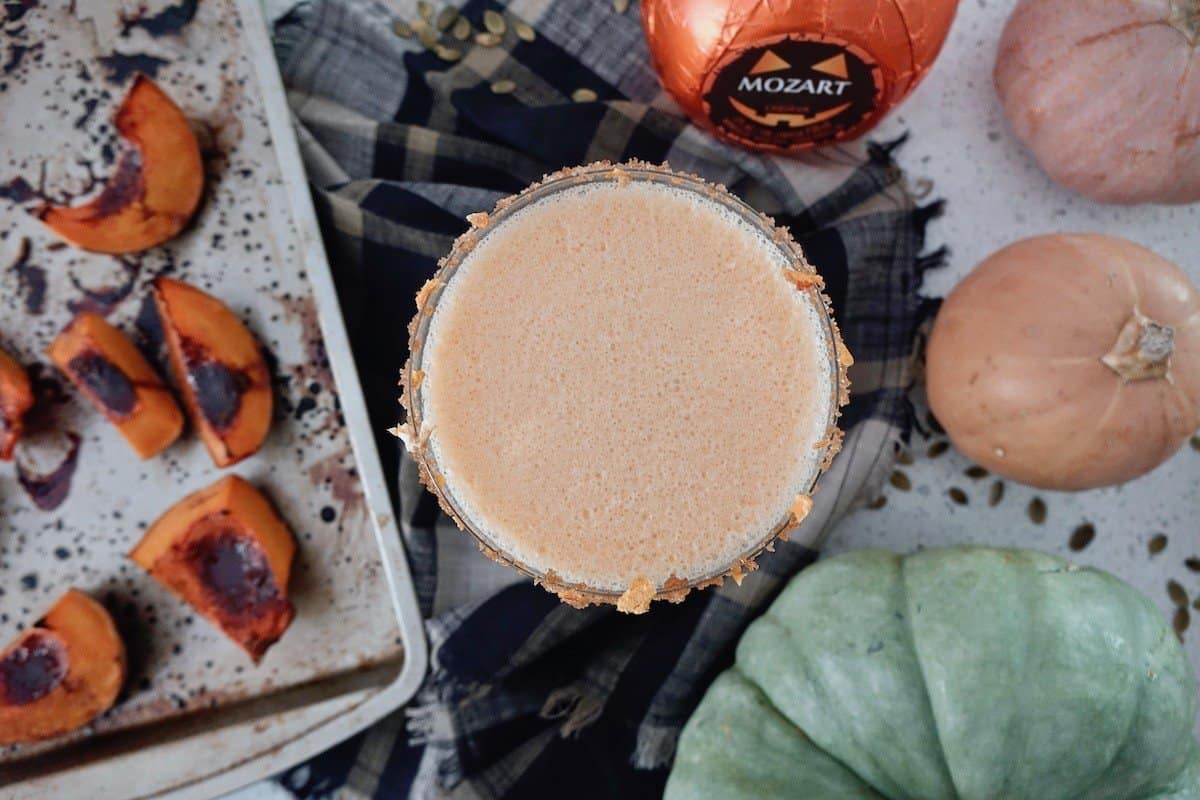 Yup, there is more pumpkin spice because if you're like men then there is no such thing as too much pumpkin spice. 🙂
Here a pumpkin spice martini using one of my all-time favorites: Austrian-made, creamy Pumpkin Spice Liqueur by the Mozart distillery. This simple cocktail will be perfect for dessert for the upcoming holidays and I promise you that every pumpkin spice and pumpkin pie fan will love this!
To make, simply shake together the following ingredients with some ice, then pour into a martini glass:
2 oz good vodka (such as Mamont)
To find out where Mozart Pumpkin Spice Liqueur (also available in Milk, White and Dark Chocolate as well as Strawberry Cream) is available in your area, fill out the short product finder form.
Prost!
more German BBQ NIGHT Recipes
Creamy Potato Salad
Brotblume
Schwenkbraten
Next Up:
No-Bake Schwarzwälder Kirschtorte
It's hot out, so leave your oven off! Make sure to subscribe to my blog now, so you're not missing out when this new no-bake Schwarzwälder Kirschtorte post goes live!
Ute's Pesto Pasta Salad Recipe
Summertime in Germany: Schwenkgrills filled with bratwurst, marinated meats and veggies. And as if that wasn't wonderful enough, here come the sides: fresh bread and salads galore including this mediterranean-inspired pesto pasta salad that is like the one my Mama Ute makes.
Ingredients
For Salad
500

g

pasta

I used Nuraxi's ancient grain Sardinian pasta

2

tablespoon

extra virgin olive oil

2 or 3

zucchini or yellow squash

I used 2 zucchini and 1 yellow squash

2

cloves

fresh garlic

minced

2

tablespoon

roasted pine nuts

I dry roast mine in a skillet for a few minutes

2

large tomatoes

medium diced

¼

cup

parmesan cheese

shredded

1 to 2

tablespoon

Calabrian Chili Paste

optional
For Pesto
¼

cup

extra virgin olive oil

I used Nuraxi's highest quality Sardinian olive oil

2

tablespoon

fresh lemon juice

¼

cup

roasted pine nuts

I dry roast mine in a skillet for a few minutes

½

cup

parmesan cheese

shredded

2

cloves

fresh garlic

1

handful

basil leaves

salt and freshly ground black pepper to taste
Instructions
Bring a large pot of salted water to a boil and cook the pasta to al dente (follow instructions on package). Drain and set aside.

In a large skillet, heat the oil on medium high, then add the zucchini and cook for 10 minutes or until lightly browned. Add the minced garlic and cook for another minute or until fragrant and starting to brown. Add calabrian chili paste if desired. Season with salt and pepper and set aside.

For the pesto, combine all pesto ingredients in a food processor (I actually use a cup and an immersion blender), and blend until smooth, 1 to 2 minutes.

Combine pasta, pesto, sautéed veggies, pine nuts and diced fresh tomatoes in a large serving bowl, then top with grated parm and some fresh basil leaves. Guten Appetit!
Nutrition
Calories:
217
kcal
Carbohydrates:
10
g
Protein:
7
g
Fat:
18
g
Saturated Fat:
3
g
Cholesterol:
6
mg
Sodium:
478
mg
Potassium:
638
mg
Fiber:
3
g
Sugar:
7
g
Vitamin A:
848
IU
Vitamin C:
32
mg
Calcium:
144
mg
Iron:
2
mg
I received compensation from Niche Import Co. in exchange for writing this post. Although this post is sponsored, all opinions, thoughts and recipes are my own. This post contains affiliate links, which means that I may be compensated if you click certain links.