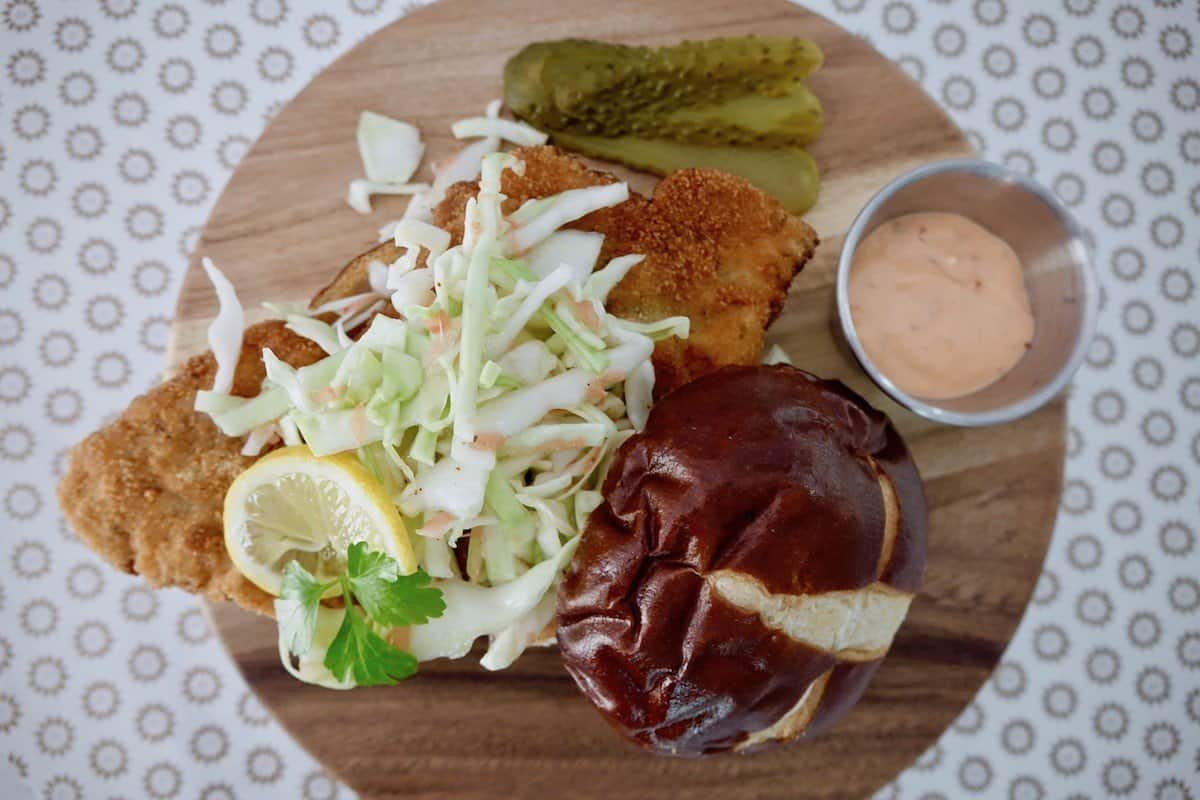 Schnitzel Pretzel Sandwich
If I could marry some of my absolute favorite German foods in the world, this would be their wedding. Crisp-fried, über-thin pork schnitzel meets pretzel bun and they lived happily ever after.
Servings:
4
Ready In:
45 mins
Calories:
600
Good For:
Dinner
Schnitzel Sandwich
About this Recipe
This Is A Sponsored Post That Contains Affiliate Links
I think the secret to a really good schnitzel is simply pounding it so thin (using the flat side of your meat tenderizer) that you can almost see through it. Okay, I am sort of joking, but seriously. A schnitzel needs to be thin. One boneless pork chop gives me two large schnitzels, that's how thin they are. It's also important to season it well with lots of sea salt and fresh pepper. Additionally, I used a Bavarian Seasoning on my meat, giving it a little extra depth in flavor. When sautéing, I would recommend using a higher smoking point oil such as sunflower seed oil or safflower oil.
The grapefruit slaw gives it that touch of freshness this meal is so longing for, and the sambal mayo adds a decent kick that's pretty unusual in German food, but I love sambal (a spicy chili paste), and it's very common in Turkish cuisine, which is like what Mexican food is to Americans. I served my sandwiches on store-bought, salty pretzel buns, which are an easy go-to for when I don't want to make my own or am simply running low on time. For those of you wanting to make your own buns authentically, simply follow this pretzel bread recipe and shape the dough into buns instead - so worth the extra time and effort if you're not constantly running low on sleep like I am with a little 8-month-old! Last but not least, each sandwiches was garnished with a Hengstenberg barrel pickle on the side (we always keep a jar in our fridge - my husband ate more of these during my pregnancy than I did!).
Ingredients For Schnitzel Sandwich
Cabbage Slaw:
Sambal Mayo:
HELPFUL TIPS:
German Side Dishes
Ofenkartoffel
Creamy Potato Salad
Schnitzel Sandwich Essentials
Schnitzel Sandwich Step By Step Instructions
Step 1
Trim any excess fat off the meat, then butterfly each pork chop in half (basically turning each chop into two thinner chops). Now place each pork chop half into a gallon-size freezer bag, and using the flat side of a meat tenderizer, pound it until about 3 times its size (it will be very thin).
Step 2
In the meantime, wash and thinly slice the cabbage, and combine with the grapefruit segments and other ingredients in a medium sized bowl. Season to taste with salt and pepper. Allow to marinate for at least 10 minutes, stirring every so often.
Step 3
Prep three flat dishes with the flour, egg (whisked) and breadcrumbs. Season each schnitzel with salt, pepper and Bavarian Seasoning, then dust each one in flour (shake off any excess flour), pull it through the egg and lastly press on the breadcrumbs.
Step 4
Cover a large skillet in oil (making sure it has a high smoking point like safflower oil or sunflower seed oil) and heat to medium high heat. Add the Schnitzel (working in batches if they don't all fit, or having two skillets going at the same time). Cook until golden brown, then flip and cook the other side. Allow to drain on a plate covered in paper towel for a minute or so.
Step 5
Toast your pretzel buns before serving either using the skillet or a toaster (I use the bagel settings to not burn the outside). Prepare the sambal mayo by simply combining the sambal and mayo.
Step 6
Arrange your Schnitzel Sandwiches by spreading the sambal mayo on the toasted bun, topping it with your schnitzel and coleslaw (if you're feeling dangerous, try adding a fried egg as well!). Serve with a pickle and lemon wedge on the side (I like adding lemon juice on top of my schnitzel). Guten Appetit!
Next Up:
Windbeutel
Windbeutel are German cream puffs - but my recipe doesn't just use your standard ingredients! Make sure to subscribe to my blog now, so you're not missing out when the new Windbeutel post goes live!
I received compensation from Niche Import Co. in exchange for writing this post. Although this post is sponsored, all opinions, thoughts and recipes are my own. This post contains affiliate links, which means that I may be compensated if you click certain links.