Toast Hawaii is a super simple German nostalgia food at its best, invented in the 50's by bringing together pineapple, ham and cheese on toast. As a kids favorite food, we made it all the time growing up in Germany.
What is Toast Hawaii?
Toast Hawaii is an open-faced ham and pineapple sandwich that's topped with American cheese (yes, you can buy the popular individually wrapped sliced in Germany, too), then baked in the oven. It has been one of my favorites as a kid growing up in Germany, and our kids love it, too.
I love spreading a homemade garlic butter on mine and I use fresh pineapple instead of the more traditionally used canned pineapple. While it's name is Toast Hawaii, I have never heard of it in America. It desperately needed to be a featured recipe on the blog!
Who Invented It?
Toast Hawaii was invented by German chef Clemens Wilmenrod in the 1950's and is super popular throughout Germany as a quick dinner. It is most definitely a household staple for my family, too. Whenever my Mama Ute was looking to whip up something quick and delicious, Toast Hawaii was often the answer.
Ingredients
Bread. I use white, sliced sandwich bread found in the the prepackaged bread isle. In Germany, we call this type of bread 'toast bread' because we typically use it for toast.
Pineapple. Traditionally, you use canned pineapple rings, HOWEVER I don't mind going the extra step of cutting up a fresh pineapple to create a much more flavorful Toast Hawaii.
Ham. I use smoked, cooked ham that's not too thickly sliced. My favorite ham to use for Toast Hawaii is the Black Forest Ham from Whole Food's deli counter. It's not like German Black Forest ham, but in my opinion it's the perfect smoked ham.
Cheese. In Germany and in the USA, I use individually wrapped American cheese singles for making Toast Hawaii.
Garlic butter. It's simple to make my own. I first bring the butter to room temperature either by letting it sit out or by microwaving it for a few seconds. I then add minced garlic and a little salt to create a simple, homemade garlic butter. I spread garlic butter on the bread slices before topping with the ham, pineapple and cheese.
Peruvian Peppers. This is my alternative to adding maraschino cherries in the middle of the bread, which is what the original recipe calls for. Peruvian peppers have just a hint of spice and a nice sweetness. I typically find them in the pickle isle and sometimes at an olive or antipasti bar. You can totally not add anything to the middle of your toast (my mom never did).
Variations
Traditionally a maraschino cherry filled the hole of the pineapple ring, but I don't remember my mom ever filling it with a cherry (I am not a huge fan of them either). Instead, I fill the holes with some little Peruvian pickled peppers, adding a sweet and subtle spice to this otherwise already perfect dish. Again, this is just something extra that I came up with, and that we never did growing up.
Video
Here a short video showing you how to make Toast Hawaii. You'll see just how easy it really is!
Next time you're in the mood for a little weeknight Hawaii getaway, try it this recipe and let me know what you think in the comments below!
Also try my Chicken Schnitzel Hawaii if you're a ham and pineapple lover, and for other easy meals that kids will love, some favorites are Frikadellen (German hamburgers) and Kartoffelpuffer (German potato pancakes).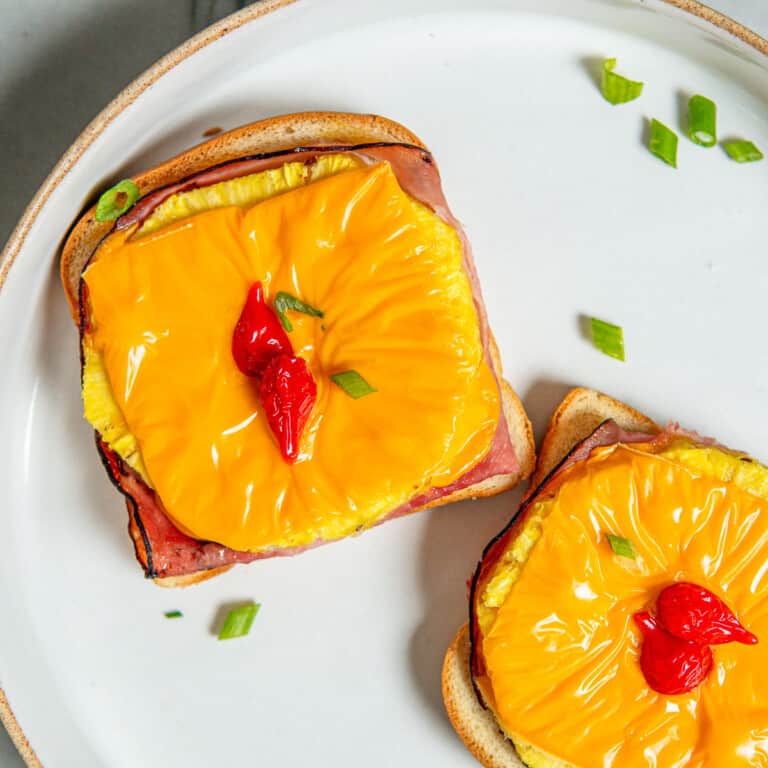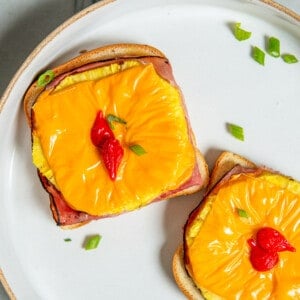 Toast Hawaii (Baked Ham and Pineapple Sandwich)
Toast Hawaii is a super simple German nostalgia food at its best, invented in the 50's by bringing pineapple, ham and cheese together on toast. As a kids favorite food, we made it all the time growing up in Germany.
Equipment
1

Pineapple corer

Optional, but a great tool for when using fresh pineapple a lot!
Ingredients
8

slices

white sandwich bread

8

slices

cooked, smoked ham

8

slices

American cheese

8

pineapple rings

I use fresh pineapple because it tastes so much better, but traditionally you use canned pineapple.

2

cloves

garlic

minced

50

grams

butter

room temperature

peruvian pickled peppers

optional
Instructions
Preheat oven to 350° Fahrenheit / 180° Celsius.

Prep two baking sheets with parchment paper and place 8 slices of bread on them, next to each other.

Now proceed in this order: Spread garlic butter on the top of each bread slice, add one slice of ham to each bread slice, add a pineapple ring each, add the cheese on top and the Peruvian pickled peppers (optional) in the middle (they will sink down as they bake).

Bake for 20 to 25 minutes or until cheese is melted and starts to brown.

Serve immediately with a green salad or on its own.
Notes
Maraschino cherries are traditionally used as a pop of color when making Toast Hawaii, although my mom never used them. Instead I use pickled Peruvian peppers as I love the sweet taste with a hint of spice. You can also use nothing in the middle of your Toast Hawaii and I promise it will taste just as great. Using canned pineapple is just fine for making Toast Hawaii, however I love using fresh for mine and I think it really adds to the overall taste of this dish.
Nutrition
Calories:
493
kcal
Carbohydrates:
44
g
Protein:
20
g
Fat:
27
g
Saturated Fat:
15
g
Polyunsaturated Fat:
2
g
Monounsaturated Fat:
7
g
Trans Fat:
1
g
Cholesterol:
89
mg
Sodium:
1532
mg
Potassium:
377
mg
Fiber:
3
g
Sugar:
20
g
Vitamin A:
767
IU
Vitamin C:
11
mg
Calcium:
573
mg
Iron:
3
mg