Creamy, cheesy sauce with a hint of garlic melts together with caramelized pineapple and ham over sautéed, mildly seasoned chicken breast. This one's a new family favorite!
Chicken Schnitzel Hawaii
About this Recipe
This Is A Sponsored Post That Contains Affiliate Links
Toast Hawaii was always a weeknight go-to quick meal at our house growing up. It was also one of the only times we used Toast Brot ('toast bread') as us Germans call it (basically typical American pre-bagged bread). And I have always loved Toast Hawaii so much! It's an easy meal to feed a crowd, it's a kids favorite, and if you haven't given it a try and need my recipe, you can find it here. Today's recipe is a new take on Toast Hawaii, taking chicken breast as the base. I thin my breast out, simply by cutting it in half longways, creating two thin chicken breasts per breast. The chicken then gets lightly seasoned with some paprika, pepper and salt, sautéed and what happens next is heavenly.
The fresh pineapple chunks caramelize in the chicken fond, and finally garlic, cream, Schmelzkäse (white American cheese) and finally sour cream turn into the cheesy goodness that we will call the Hawaii sauce. The chicken gets away without a breading because most typically schnitzel topped with sauces don't get breading (although I always love my schnitzel breaded when topped with Jägersoße). It also really doesn't need the breading. The cheese sauce is so rich, a breading won't be missed. It also helps cut down on time, cooking steps, and most importantly, dirty dishes (we're still hand washing dishes over here until our dishwasher finally gets repaired!).
Scroll on down for the recipe, now in printable version.
Chicken Schnitzel Hawaii Essentials
Drink Pairing:
Cognac French 75
This cocktail is elegant, clean and will hit you like a gun given all the booze and goodness. Quite literally the name French 75 was derived from a field gun used in the First World War. While traditionally it's served with gin instead of cognac, many argue that the recipe first existed with cognac instead of gin. Whatever came first, this version with cognac is wonderful, and Aqua Ignis Cognac by the French Larsen distillery is the first cognac aged in triple steam-toasted barrels. It's got wonderful aromas of vanilla, toasted bread, mocha and brioche and a long and silky soft finish. I think you just need to try it.
To make, add the ice, cognac, lemon juice, bitters and simple syrup in a cocktail shaker. Secure the lid and shake vigorously. Strain into a coupe glass and finish with the sparkling wine and lemon twist.
To find out where Larsen Cognac is available in your area, fill out the short product finder form.
more German Chicken Recipes
Chicken Döner Salad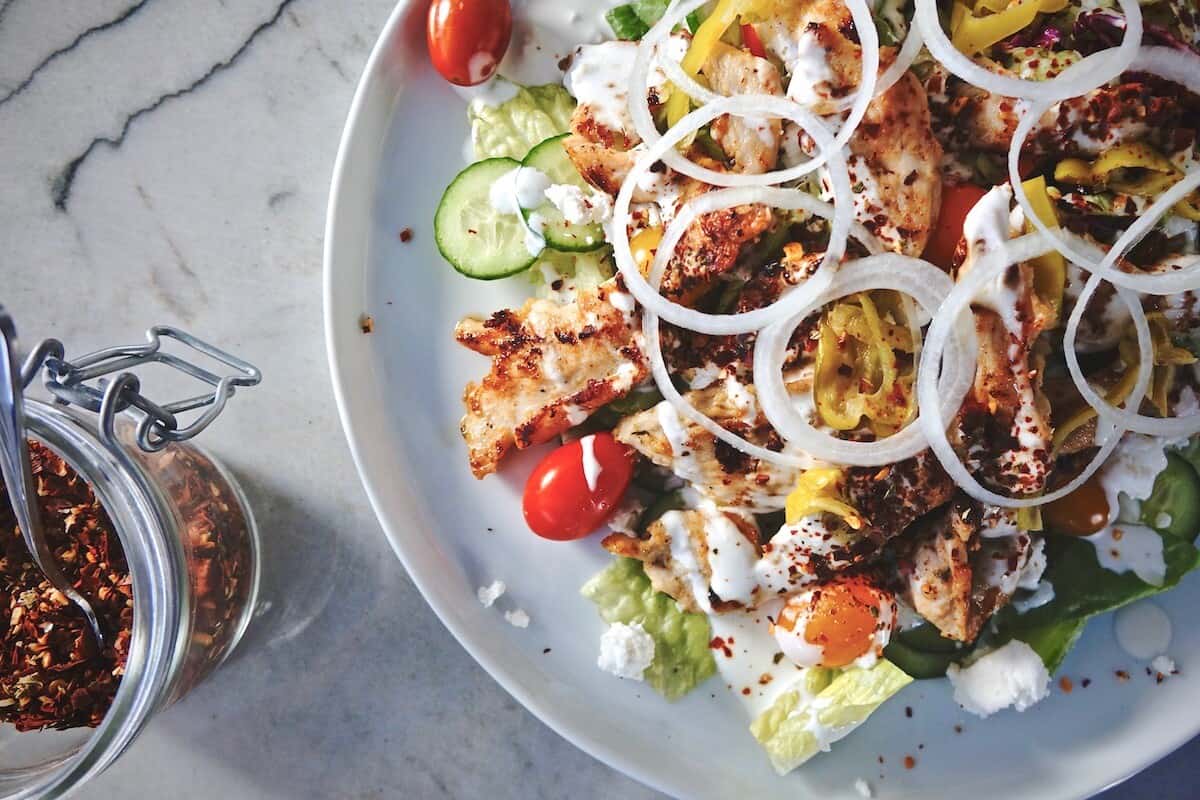 Next Up:
Nutella Quarkbällchen
Nutella is the Germans' peanut butter. Next up are some quick German donut made with plenty of Nutella and Quark and served with a berry dipping sauce. So good! Make sure to subscribe to my blog now, so you're not missing out when this new Quarkbällchen post goes live!
Chicken Schnitzel Hawaii
Creamy, cheesy sauce with a hint of garlic melts together with caramelized pineapple and ham over sautéed, mildly seasoned chicken breast. This one's a new family favorite!
Ingredients
2

chicken breasts

salt, pepper, paprika powder

to season chicken breast with

28

g

butter

28

g

avocado oil

or other high quality, high heat oil

165

g

fresh pineapple chunks

1

clove

fresh garlic

minced

90

g

white American cheese

Whole Foods didn't have it in the prepackaged cheese section, but you can buy it at the deli counter!

100

ml

heavy cream

2

tablespoon

sour cream

4

slices

black forest ham

you could use other smoked ham (Note that the American version of black forest ham is cooked ham, not cold smoked ham. You want to use cooked ham.)
Instructions
Butterfly the chicken breasts, cutting all the way through the breast (meaning cut them in half to get two, thin chicken breasts per chicken breast).

Season the chicken breast with salt, pepper and a little paprika powder. Sauté in 2 tablespoons of butter and 2 tablespoons of avocado oil (or other high quality, high heat oil), about 5 minutes each side over medium heat. Add pineapple chunks shortly after flipping over the chicken breast and sauté until caramelized.

Remove chicken and pineapple from pan and and keep warm. Leave fond in the pan.

Add minced garlic to the pan and sauté for one minute or until fragrant. Add heavy cream and cheese to the pan and stir until the cheese is melted. Once melted, add the ham and pineapple chunks (reserving some of the pineapple as a garnish on top).

Arrange the chicken on 2 plates. Pour ham, pineapple and cheese sauce over the chicken and garnish with the reserved pineapple chunks.

Serve with rice and broccoli (I boiled my rice - used basmati - and steamed my broccoli, only seasoning it with some salt and pepper). Guten Appetit!
Nutrition
Calories:
948
kcal
Carbohydrates:
17
g
Protein:
68
g
Fat:
67
g
Saturated Fat:
31
g
Trans Fat:
1
g
Cholesterol:
325
mg
Sodium:
1724
mg
Potassium:
1209
mg
Fiber:
1
g
Sugar:
12
g
Vitamin A:
1701
IU
Vitamin C:
43
mg
Calcium:
544
mg
Iron:
2
mg
I received compensation from Niche Import Co. in exchange for writing this post. Although this post is sponsored, all opinions, thoughts and recipes are my own. This post contains affiliate links, which means that I may be compensated if you click certain links.