Bavarians sure know their Bologna and Cheese Salads! This quickly made Wurst-Käse-Salat, perfect for an afternoon in your backyard 'Biergarten,' features plenty of those things along with a bunch of radishes, onion and pickles tossed in a light pickle juice dressing.
Wurst-Käse-Salat
About this Recipe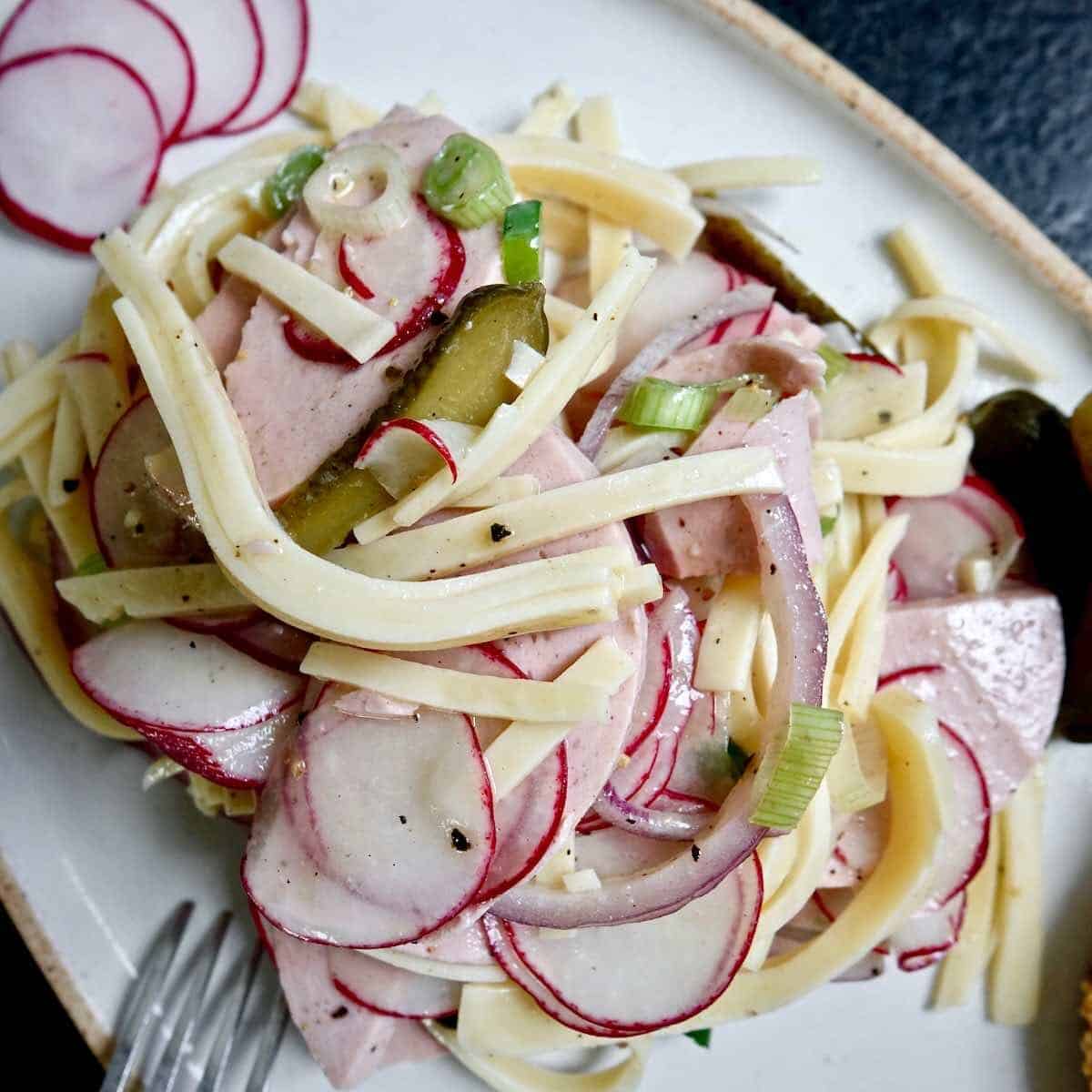 This Is A Sponsored Post That Contains Affiliate Links
Our backyard is totally tilled up right now and looks more like empty farmland than the oasis I envision for it one day hopefully soon! However, if you can make a Biergarten-like atmosphere happen in your backyard, this exact Wurst-Käse-Salat would be a fabulous addition to serve along with some homemade Pretzel Beer Bubble Bread or simply some rustic bread from your local bakery - again homemade works too! And while you're at it, don't miss out on making a quick Obatzda camembert cheese spread to along with it! The combination of all these Biergarten foods is making me miss Germany so much!
This 'salad' disguises as one, but is really just a crazy medley that consists mainly of meat! What a guy's dream of a salad 😉 For the meat I used a chunk of German-style bologna purchased from a Kansas City local butcher shop called Werners (check out their in-house-made Leberwurst too - so good!), but most bologna will work! The meat is then sliced into pieces and combined with cheese (I used a Swiss Emmentaler, but Gouda or any cheese you like works too!), a bunch of sliced radishes, cornichon pickles, onions and a light pickle juice dressing! It's so addictive! This Bologna and Cheese Salad perfect for a warm Spring or Summer night when you don't feel like cooking. It's quickly made in about 15 minutes and requires no cooking at all!
Scroll on down for the recipe, now in printable version.
Wurst-Käse-Salat Essentials
Drink Pairing:
Beet-Pineapple Cooler
Beets in a cocktail you ask? Yes! These underground magic roots supposedly lower blood pressure, improve blood flow and exercise performance. Pineapple adds tropical flavor and also reduces inflammation. Just looking out for your health, you all! 🙂 I also love these juices added together and mixed with sparkling water for a healthy spritzer!
Add a little chili pepper for some optional heat and digestive health. If you choose to add the pepper, cut one pepper into quarters per 4 drinks (the recipe on the right is for one drink), and allow to infuse in your fridge for at least an hour. Strain before serving.
TIP: Warming up the chili in a bit of juice before adding to the juices and vodka helps to release the heat.
The beets add an earthy aspect to this drink and a little bitterness, which is nicely balanced by the sweetness of the pineapple juice. No additional sweeteners are needed in this drink! It's great made in advance and served over ice. Koskenkorva Vodka is the perfect vodka pairing for this earthy-tropical drink. The distillery is located in the village of Koskenkorva in Finland and they're one of the greenest operating distilleries out there, recycling 99.9% of everything. The taste is incredibly smooth.
To make, simply roll in a cup of ice between 2 glasses or shakers, strain into a glass with fresh ice. I love using these Weck canning jars for a beautiful garden-like, homemade presentation.
1.5 oz Beet Juice
2 oz Pineapple Juice
To find out where Koskenkorva vodka is available in your area, fill out the short product finder form.
Prost!
more German Salad Recipes
Omas Kartoffelsalat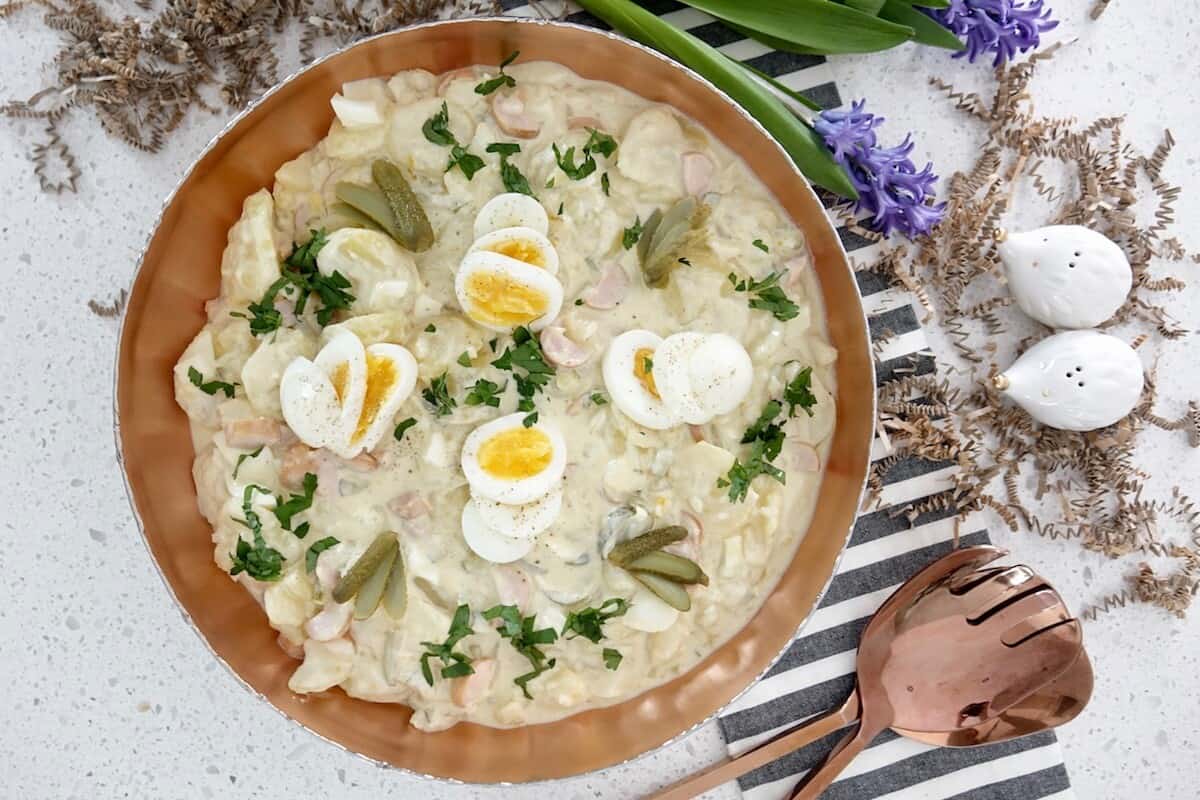 Curry Eiersalat
Next Up:
Zitronenberliner
Berliner aka German donuts make me happy. There is no other way to put it. I can't stop experimenting with different flavors and came up with a winner for Spring and Summer: a refreshing Lemon Berliner filled with homemade lemon pudding. Make sure to subscribe to my blog now, so you're not missing out when this new Zitronenberliner recipe goes live!
Bayrischer Wurst-Käse-Salat: Bavarian Bologna-Cheese-Salad
Bavarians sure know their Bologna and Cheese Salads! This quickly made salad, perfect for an afternoon at a Biergarten, features plenty of that along with a bunch of radishes, onion, pickles tossed in a light pickle juice dressing.
Instructions
If you bought the bologna in one piece, cut into slices (they don't have to be very thin) and depending on how large the slices are, cut them in half.

Slice up the radishes and pickles as well (I like those thinner sliced and I love using this slicer to achieve quick, even slices). Cut the cheese into strips. Cut the red onion into thin slices and the green onion into rings. Combine all ingredients in a medium sized bowl.

In a small bowl, whisk together the mustard, jam (or honey), olive oil and pickle juice and season to taste with salt and pepper. If desired, you can add fresh, chopped parsley as well. Add the dressing to the salad ingredients, toss, and serve with fresh slices of rustic bread.
Nutrition
Calories:
503
kcal
Carbohydrates:
12
g
Protein:
24
g
Fat:
40
g
Saturated Fat:
16
g
Cholesterol:
84
mg
Sodium:
1709
mg
Potassium:
379
mg
Fiber:
2
g
Sugar:
7
g
Vitamin A:
680
IU
Vitamin C:
4
mg
Calcium:
499
mg
Iron:
1
mg
I received compensation from Niche Import Co. in exchange for writing this post. Although this post is sponsored, all opinions, thoughts and recipes are my own. This post contains affiliate links, which means that I may be compensated if you click certain links.