This Chicken Döner Salad recipe is a simpler and quicker version of Germany's most loved fast food Döner Kebab.
Dönersalat
About this Recipe
This Is A Sponsored Post That Contains Affiliate Links
I feel like I have to preface that I absolutely love the traditional Döner Kebab sandwich and that this is in no way an attempt to suggest some kind of diet version of it! Simply put, I personally just don't believe in diets because of my history with eating disorders. I went down the wrong path when I was 16 and it all started with dieting out of fear that I would gain weight during my year as an exchange student here in Kansas. Enough about that, but every now and then I do open up about it on Instagram. If you feel like you want to connect with me about this, please send me a message here or connect with me on social media. So back to this Döner Salad, the reason why you showed up here! It came to me when I was craving a Döner so badly (it's been 17 months since the last time I was home), but wanted to simplify the recipe and the many steps it takes to get to the end result: having my food craving go down my mouth hole. That meant ditching making the bread and also cutting down on the time it takes to prepare the meat. So instead of marinating the meat, rolling it into a log and freezing it, then slicing it and cooking it, I only marinate and cook it. And it's still reeaaally good!
I would recommend marinating for at least an hour before cooking, although 6 hours or even up to a day is ideal. For the coleslaw, I used a presaged mix from Trader Joe's that I quickly massaged with a bit of oil and vinegar, and to the traditional toppings (tomatoes, cucumbers, feta cheese), I added sliced pepperoncini for a bit of a briney kick. Of course I always have to have some "scharf" (spicy in German) sprinkled atop of my Döner or Döner Salad, a dried spice and herb blend. While I will go through the steps to make a Döner sandwich again sooner than later, I am grateful that I can throw together this Döner-inspired meal in a matter of an hour if need be with not all that much actual busy time involved. And any time saved is more time I get to spend drinking oat milk lattes and getting some me time in during my littles' naps. It's a total win win. On a final side note: If you're still craving some bread with it, serve with some toasted pita on the side.
Scroll on down for the recipe, now in printable version.
Dönersalat Essentials
Drink Pairing:
Pumpkin Spice Martini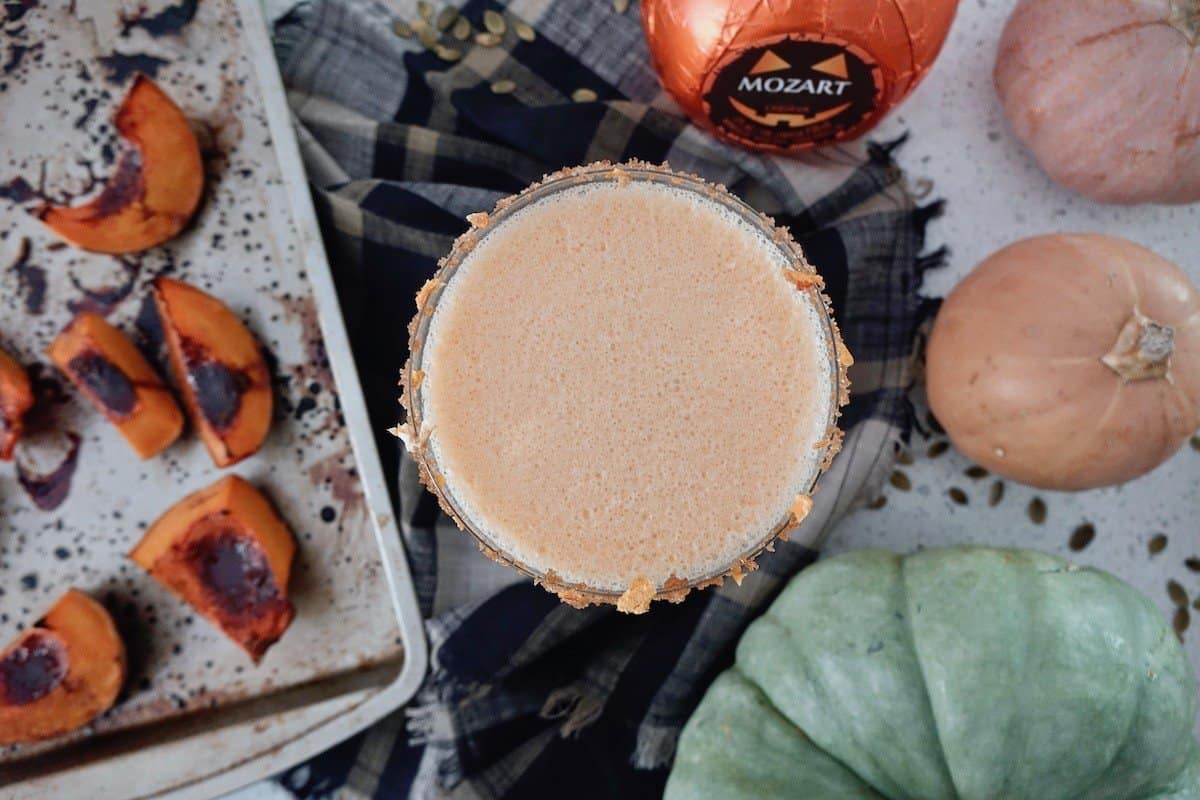 Yup, there is more pumpkin spice because if you're like men then there is no such thing as too much pumpkin spice. 🙂 Here a pumpkin spice martini using one of my all-time favorites: Austrian-made, creamy Pumpkin Spice Liqueur by the Mozart distillery. This simple cocktail will be perfect for dessert for the upcoming holidays and I promise you that every pumpkin spice and pumpkin pie fan will love this! To make, simply shake together the following ingredients with some ice, then pour into a martini glass:
2 oz good vodka (such as Mamont)
To find out where Mozart Pumpkin Spice Liqueur (also available in Milk, White and Dark Chocolate as well as Strawberry Cream) is available in your area, fill out the short product finder form. Prost!
German Fast Food Made At Home
Currywurst
Frikadellen
Next Up:
Berliner
It's carnival season and the season of German donuts, called Berliner or Krapfen or so many other things. Next I'll show you some of my favorite Berliner variations. You'll want to make this, I promise! Make sure to subscribe to my blog now, so you're not missing out when this new Berliner recipe post goes live!
Dönersalat: German Chicken Döner Salad Recipe
This Chicken Döner Salad recipe is a simpler and quicker version of Germany's most loved fast food.
Ingredients
Instructions
Marinate the Meat
Thinly slice the chicken breasts to create skinny, bite-sized pieces. Then combine all the ingredients for the marinade and massage into the chicken pieces. Cover up and allow to rest in the fridge for 6 hours or up to a day.
Prepare the Dressing
Whisk together all ingredients and keep cool until ready to serve.
Prepare the Salad Ingredients
Slice up the onion into rings, slice up the cucumber, crumble or dice the feta, cut the lettuce into bite-sized pieces.
Cook the Meat
I love using a griddle for this, so you can easily scrape up all the bits on the bottom as the chicken cooks. Because of the marinade, the chicken is more likely to burn in a skillet. If you don't have a griddle, I would suggest removing excess marinade from the chicken as you're transfering it to a skillet to cook. I simply use tongs to transfer the chicken and let the excess drip off. Cook over medium heat for about 10 minutes, turning the chicken occasionally and browning it from all sides.
Assemble the salad
Layer the lettuce, onion, tomatoes, cucumbers and cheese. You can either toss your salad in the dressing or drizzle it on top. Add the meat on top after tossing, and drizzle with some more of the dressing. I also like to add pepperoncinis into the salad, but that's optional. Optionally sprinkle the salad with this spice blend mix for some heat. If desired, serve with some toasted pita on the side.
Nutrition
Calories:
793
kcal
Carbohydrates:
25
g
Protein:
61
g
Fat:
50
g
Saturated Fat:
13
g
Cholesterol:
190
mg
Sodium:
1459
mg
Potassium:
1443
mg
Fiber:
5
g
Sugar:
16
g
Vitamin A:
2726
IU
Vitamin C:
68
mg
Calcium:
333
mg
Iron:
3
mg
I received compensation from Niche Import Co. in exchange for writing this post. Although this post is sponsored, all opinions, thoughts and recipes are my own. This post contains affiliate links, which means that I may be compensated if you click certain links.