This better-than-Sauerbraten German Beef Pot Roast is a family favorite recipe by Alfons Schubeck! It features lots of wine and spice AND is SO GOOD!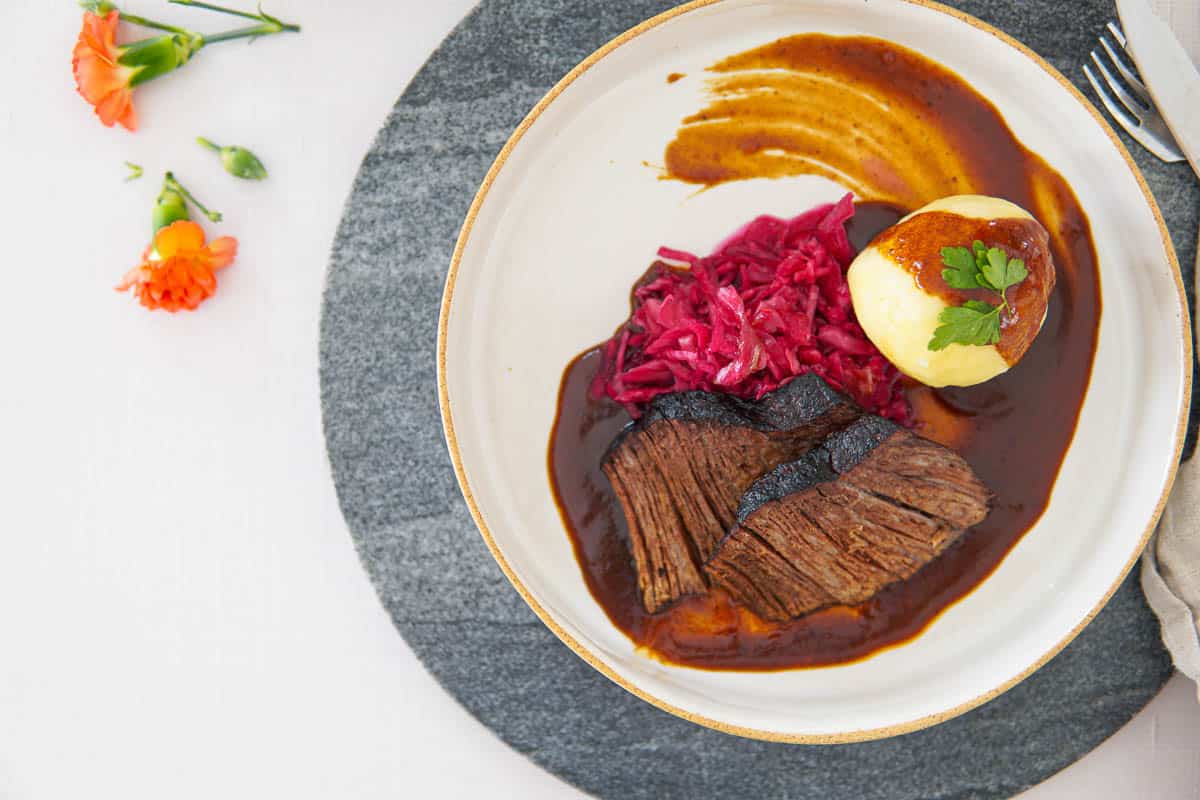 This Is A Sponsored Post That Contains Affiliate Links
A FAMILY FAVORITE GERMAN POT ROAST
Before our trip to Germany over Christmas a couple of years ago, I asked my family to please share with me their very favorite recipes. The first person to respond was my uncle Gerd, who texted me pictures from a Bavarian cookbook called 'Bayerisch Geniessen' by famous, German chef Alfons Schuhbeck. My mouth started watering immediately and so uncle Gerd's favorite Böfflamott pot roast recipe quickly found a spot for a blog post. Other recipes my family has shared are Hefepfannkuchen, Kirschmichel und Sauerkrautauflauf.
What's in this Bavarian Beef Roast?
The recipe first asks you to marinate the beef shoulder for 3 to 6 days in a mixture of caramelized sugar and red wine (Affentaler Pinot Noir described below would be a great option!). Then you'll simmer it in a pot with tomato paste and a bunch of liquids like brandy, the reduced wine marinade, and chicken broth. Then the beef simmers with chopped onion, carrot, and celery root for 3 hours until the meat is tender. In the last 20 minutes, a bunch more spices are added (pepper, allspice, star anise, cinnamon, juniper berries, bay leaf), as well as garlic, citrus peel, and fresh ginger. This results in the most sophisticated, flavorful gravy when straining. Your kitchen will smell delightful and your taste buds will thank you for days!
How is this pot roast different from Sauerbraten?
The beef is traditionally the same cut of beef (shoulder), but there are differences in how it's prepared. Sauerbraten is marinated in more vinegar and sugar than Böfflamott. It's then cooked with fewer spices than this version. Böfflamott uses a lot more wine in the recipe than Sauerbraten. Both are guaranteed delicious and if you haven't tried my Sauerbraten tacos yet (yes, my crazy invention), please give it a go! And if you ever have trouble finding the leaner beef cut of beef shoulder (it doesn't seem to be as common in the US), you could also use beef chuck instead.
What to serve with Böfflamott?
I love serving mine with homemade potato dumplings to soak up that velvety, flavorful gravy and German-style red cabbage! This dish is heaven on a plate and I am so happy I can cook this authentic German roast in the US.
Here are some other sides I love with it!
- Spätzle
- Semmelknödel (German bread dumplings)
- Brezelknödel (pretzel dumplings)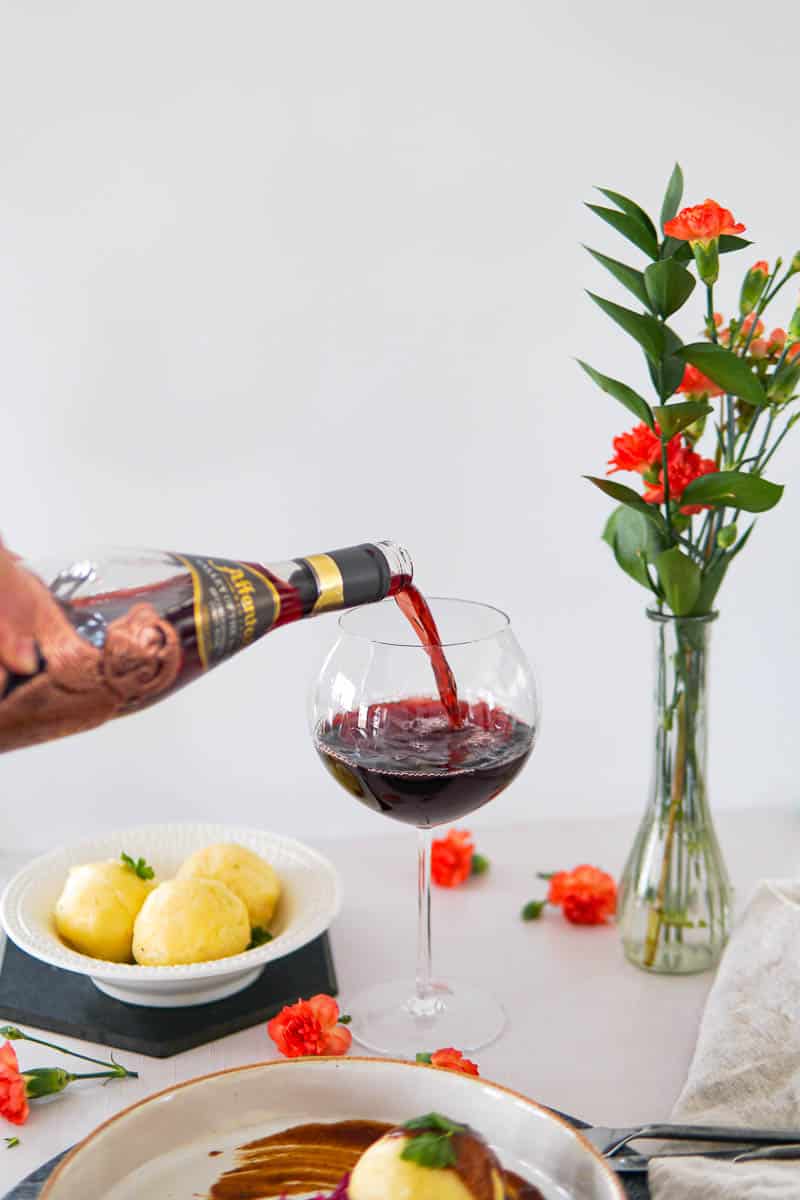 BÖFFLAMOTT WINE PAIRING: AFFENTALER PINOT NOIR
Böfflamott pairs perfectly with Affentaler's Pinot Noir – it's rich and a bit smoky, yet fruity with ripe aromas of cherries and berries. From Germany's Baden section of Baden-Württemberg, Pinot Noir grows well right along the Rhein river, making it one of the most common red grapes grown in Germany. If you haven't tried a German Pinot Noir, it's about time! Check the importer's website for availability in your area.
My Favorite Tools For This Recipe
More German Beef Recipes You Need To Try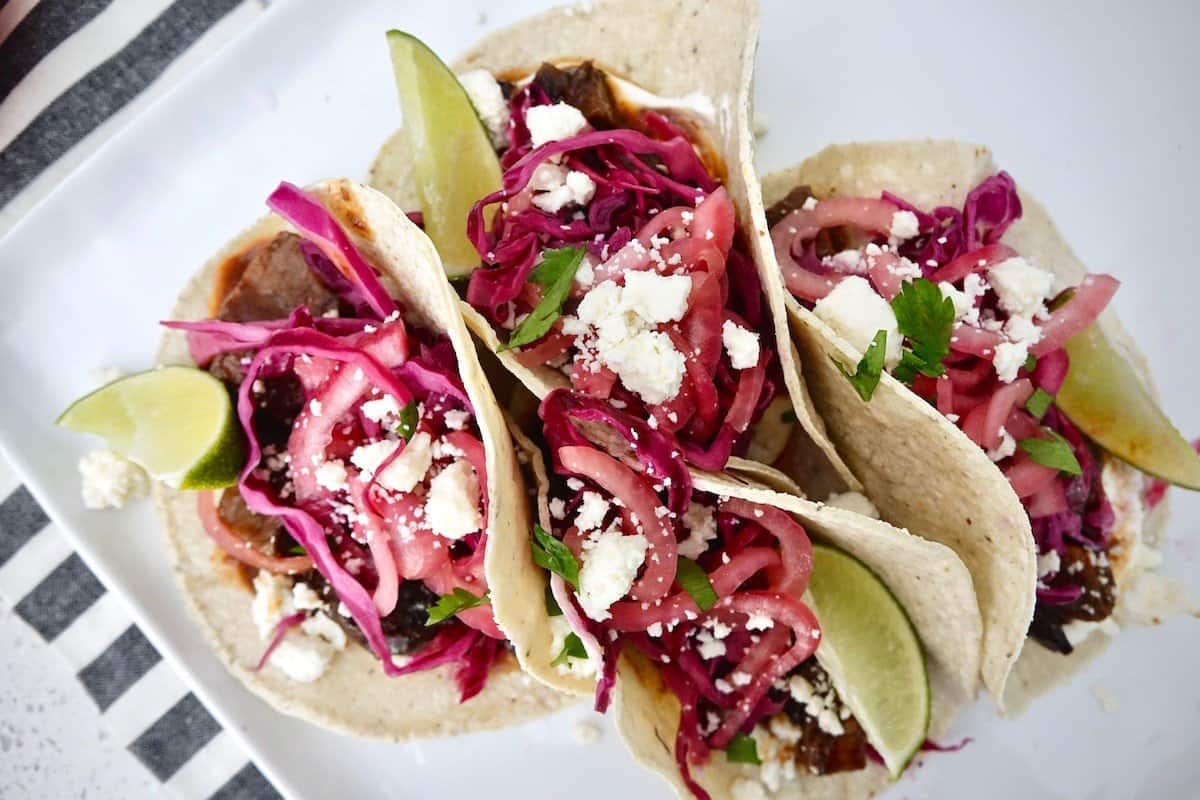 Sauerbraten Tacos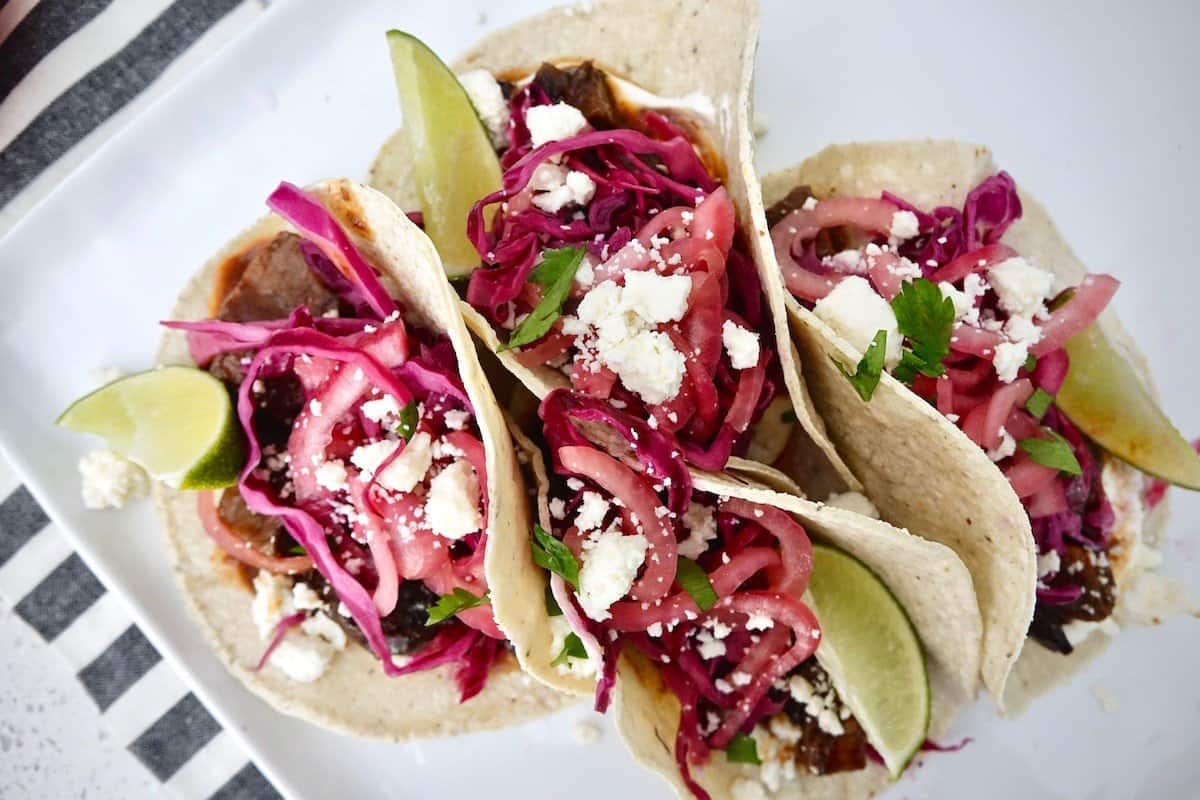 Glühweinbraten
Rinderrouladen
Next Up:
Classic Käsefondue
Up next is a classic recipe that I make several times a year and that is ALWAYS a guaranteed hit especially amongst cheese lovers! Make sure to subscribe to my blog now, so you're not missing out when my improved Käsefondue recipe goes live.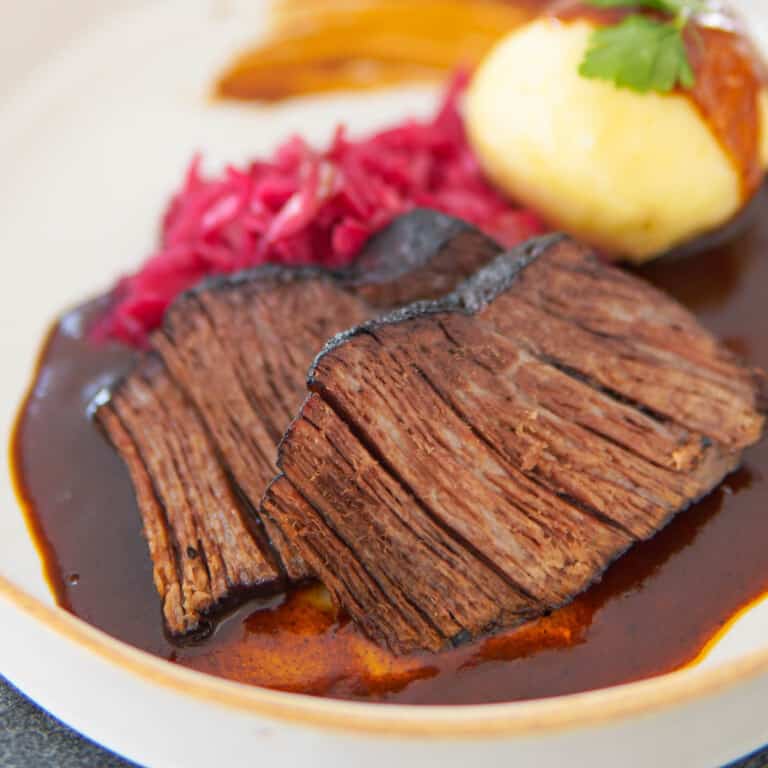 The BEST German Beef Pot Roast (Böfflamott)
This better-than-Sauerbraten German Beef Pot Roast is a family favorite recipe by Alfons Schubeck! It features lots of wine and spice AND is SO GOOD!
Ingredients
Marinade (3 to 6 days)
1

tablespoon

powdered sugar

1

bottle

red wine

Don't use a crappy wine! I love to use the German Affentaler Pinot Noir in this recipe! The smoke and berry notes pair so nicely with this German roast! Malbec, Cab Sauv or Shiraz would work great as well!

3

pounds

beef shoulder roast

Beef shoulder is less fatty than beef chuck. If you can't find it, you could use beef chuck instead (like I had to).
After Marinating
100

grams

celery root

Whole Foods usually carries it; coud also use celery stalks instead

150

grams

yellow onion

80

grams

carrots

2

Tablespoons

olive oil

1

Tablespoon

tomato paste

20

milliliters

cognac

500

milliliters

chicken broth

½

teaspoon

whole allspice

½

teaspoon

whole black peppercorns

1

1 centimeter piece

cinnamon stick

1

dried bay leaf

1

garlic clove

cut in half length wise

2

½ inch slices

fresh ginger

1

2 inch piece

lemon peel

1

2 inch piece

orange peel

2

tablespoon

powdered sugar

50

milliliters

red wine vinegar

40

grams

cold butter

cayenne pepper & sugar to taste

some cornstarch to thicken

if needed
Instructions
To create the marinade, in a medium-sized pot, let powdered sugar melt and caramelize until light brown. Add in the red wine and bring to a boil over high heat. Let cool completely. Place the beef shoulder in a large container (I used a gallon size freezer bag), pour the wine marinade onto it, and let marinate in your fridge for 3 to 6 days.

1 tablespoon powdered sugar,

1 bottle red wine,

3 pounds beef shoulder roast

100 grams celery root,

80 grams carrots,

150 grams yellow onion

Pour the marinade into a pot and reduce it to a third of the liquid, removing any foam with a skimmer.

Add oil in a large pot over medium heat, brown the beef from all sides, then remove it from the pot (mine sprayed hot oil a lot, so make sure to use a splatter guard).

Add the tomato paste to the oil and let brown for 30 seconds to a minute while stirring, then add the cognac, the reduced marinade, and chicken broth.

1 Tablespoon tomato paste,

20 milliliters cognac,

500 milliliters chicken broth

Return the beef to the liquid and add the chopped-up vegetables. Cover with a lid and let roast on the stovetop for 3 to 4 hours at just below boiling (medium simmer), until the meat is tender.

20 minutes before the end of cooking time, add in the allspice, pepper, anise, cinnamon, juniper berries, bay leaf, garlic, ginger, lemon peel, and orange peel.

½ teaspoon whole allspice,

2 whole star anise,

1 1 centimeter piece cinnamon stick,

5 whole juniper berries,

1 dried bay leaf,

1 garlic clove,

2 ½ inch slices fresh ginger,

1 2 inch piece lemon peel,

1 2 inch piece orange peel,

½ teaspoon whole black peppercorns

At the end of the 20 minutes, remove the beef and strain the roasting liquid, maybe returning it to the pot to let reduce some more if still too thin.

In a small skillet, caramelize the powdered sugar over medium-high heat, then pour vinegar into the skillet and let boil down until the mixture has a syrup-like consistency.

2 tablespoon powdered sugar,

50 milliliters red wine vinegar

Add butter to the reduced roasting liquid and season to taste with the just-made vinegar mixture, salt, cayenne pepper, and sugar.

40 grams cold butter,

cayenne pepper & sugar to taste

If still too thin, thicken by removing a few tablespoons of the sauce, whisking in a little bit (½ tablespoon at a time) of cornstarch, then removing to the sauce and bringing to a boil. Repeat if necessary.

some cornstarch to thicken

Cut the beef into slices and cover in sauce. Serve with potato dumplings to soak up more of that yummy sauce and braised, red cabbage. Guten Appetit!
Nutrition
Calories:
611
kcal
Carbohydrates:
14
g
Protein:
66
g
Fat:
19
g
Saturated Fat:
7
g
Polyunsaturated Fat:
2
g
Monounsaturated Fat:
11
g
Trans Fat:
1
g
Cholesterol:
185
mg
Sodium:
518
mg
Potassium:
1196
mg
Fiber:
2
g
Sugar:
7
g
Vitamin A:
2289
IU
Vitamin C:
5
mg
Calcium:
69
mg
Iron:
8
mg
Sponsored Content and Affiliate Links Disclosure
This is a sponsored post by Marussia Beverages. Although I use their product in this post, I would never present you a product I do not adore and don't love myself! This post contains affiliate links, which means that I may be compensated if you click certain links.