Eierlikör is a German specialty liqueur made from guess what... eggs! Eierlikör is wonderful in waffles! Try these cake-like treats for Kaffee and Kuchen or Brunch.
Eierlikörwaffeln
About this Recipe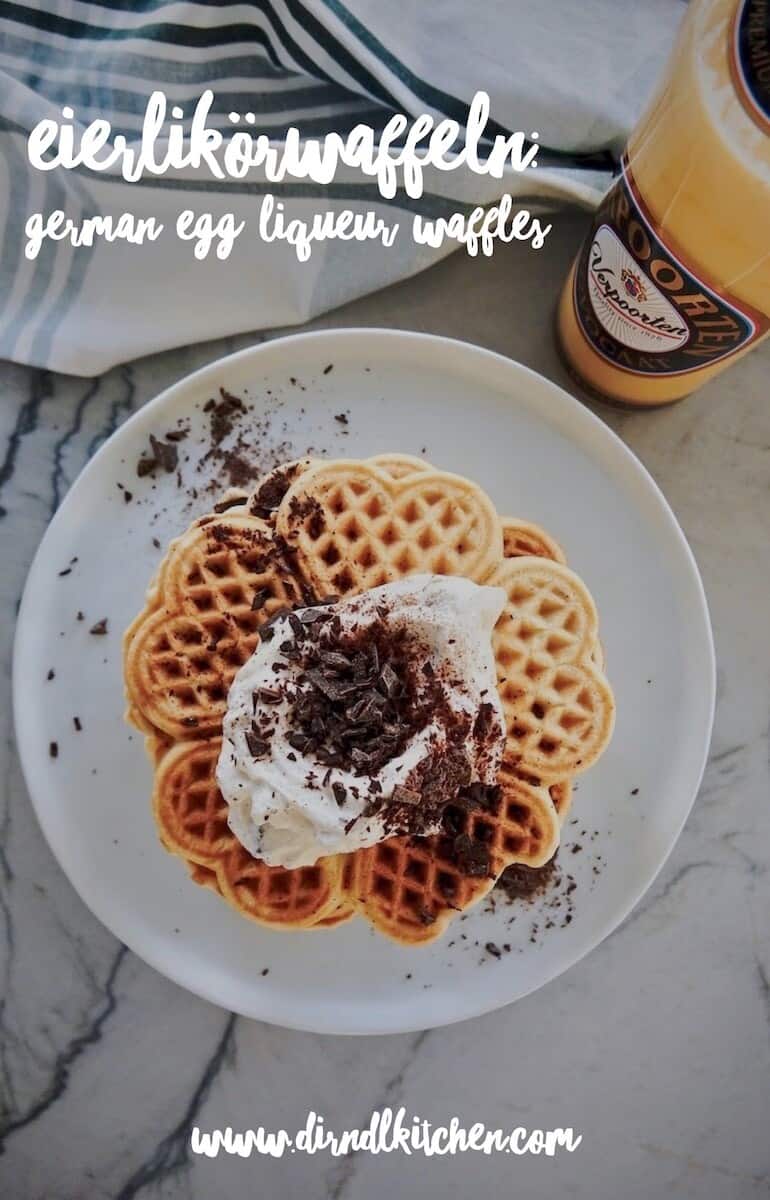 This Is A Sponsored Post That Contains Affiliate Links
"I'm making egg liqueur waffles! Do you want some?" me as I yell outside at 2:30 p.m. to Jason painting the exterior of our new house. "Erm.. isn't that a morning thing?"
Maybe in America, but growing up in Germany, I never had waffles for breakfast. Waffeln mit Sahne (and usually hot cherries) was always an afternoon treat to eat for Kaffee und Kuchen (the German coffee and cake break in the afternoon, typically at the very least observed on Sundays). And typically all my family has a heart-shaped waffle maker, so of course I had registered for one for our wedding that we ended up receiving as a gift! That's a must for me!
One thing after moving to the US that I noticed is how frequent Americans ate a sweet breakfast: pancakes with syrup, waffles with more syrup, cereal and French Toast are all too common here (although I do love me a good Pfannkuchen for Frühstück filled with jam and sprinkled with some powdered sugar!). In Germany, most Frühstück consisted of fresh baked grain-studded rolls with sliced meats and cheeses, a Frühstücksei (soft boiled egg) and some fresh fruit with yogurt or quark. Oh how I miss it! Waffles were reserved as a special treat for the afternoon.
No offense though! I would very much love these Eierlikörwaffeln for a nice brunch! They're really delicious at any time of day! The all-natural Eierlikör by Verpoorten (Germany's most famous egg liqueur) is made from the freshest eggs and adds a rich, deep flavor that I love so much. Check here for availability of Verpoorten in your area.
The alcohol (20%) mostly disappears during the baking, but if you're playing it super safe, I would advise against serving these to kids. If you would like, you can also add Eierlikör into the chocolate chip whipped cream after it's done whipping - so good! Serve with some cornstarch thickened Schattenmorellen (dark morello cherries) if you would like! So good! Guten Appetit!
Scroll on down for the recipe, now in printable version.
Eierlikörwaffeln Essentials
German Christmas Recipes
Stutenkerle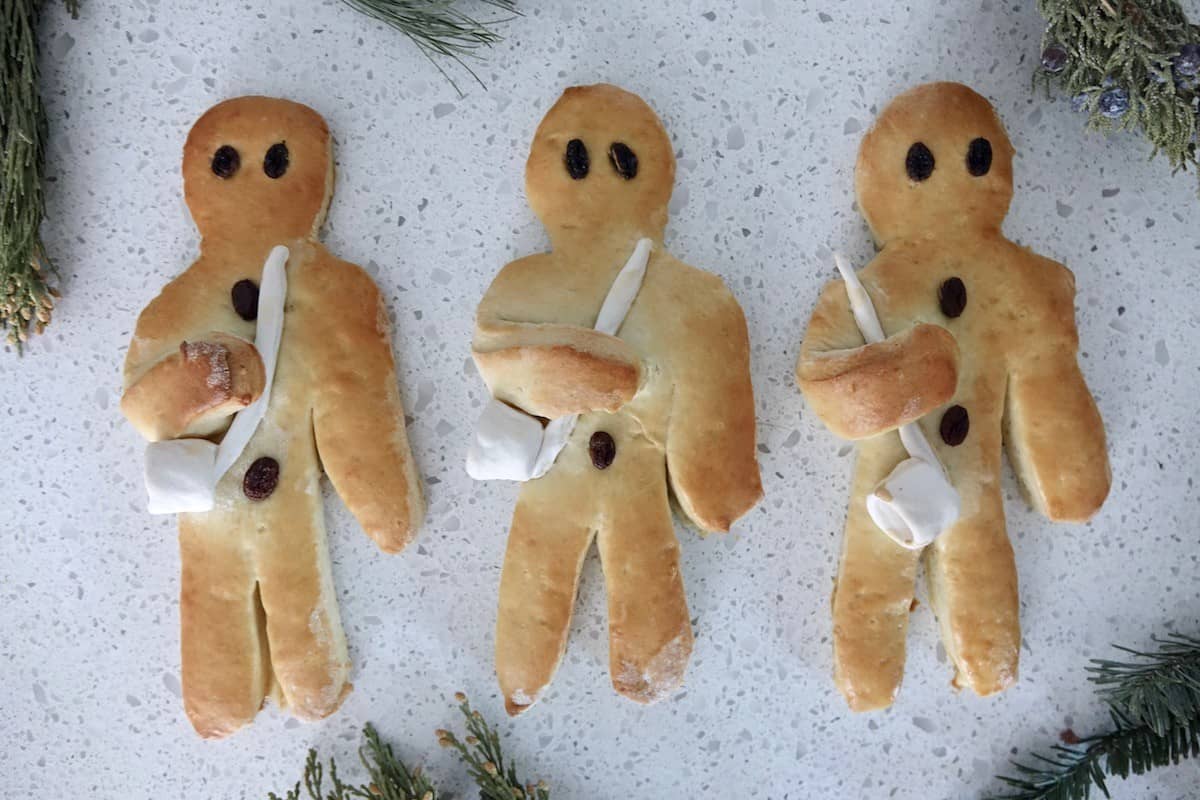 Lebkuchen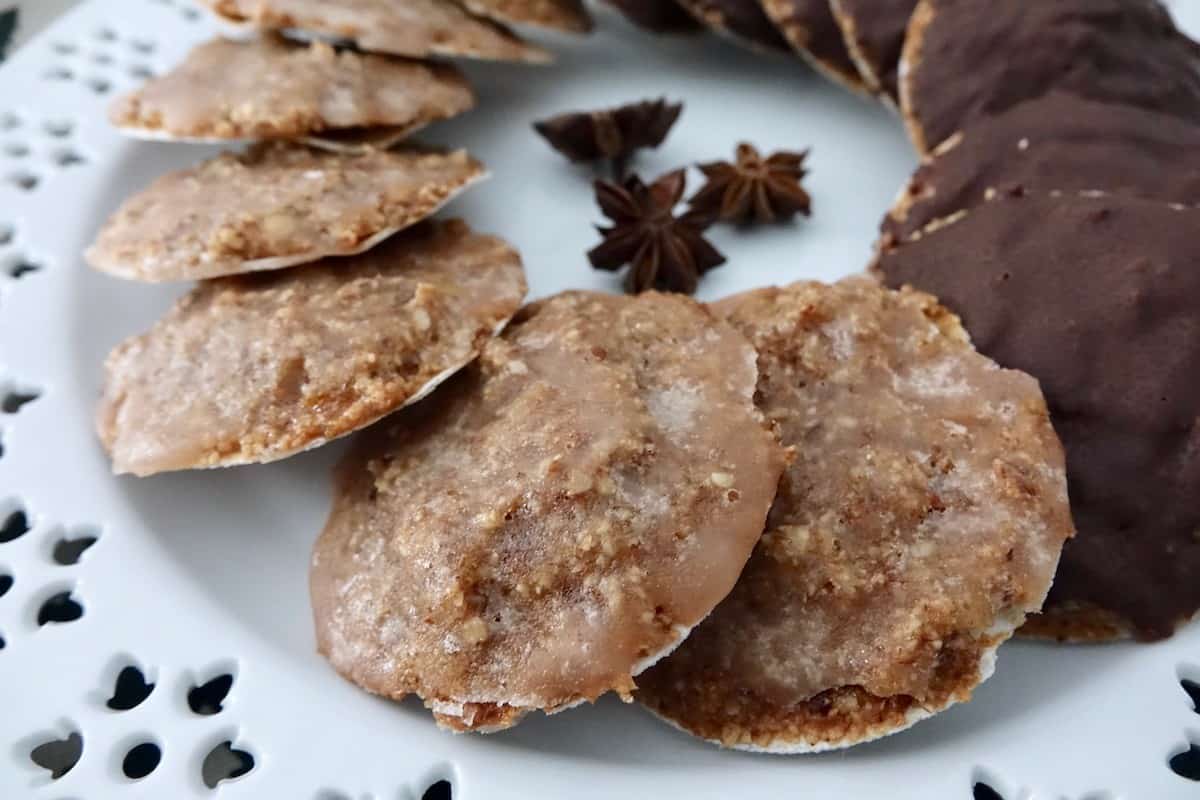 Champignonpfanne
Next Up:
Oma's Spritzgebäck
Christmas is around the corner and that means German Christmas cookies are, too! Make sure to subscribe to my blog now, so you're not missing out when Oma's Spritzgebäck German Christmas cookies recipe post goes live!
Eierlikörwaffeln: Egg Liqueur Waffles
Eierlikör is a German specialty liqueur made from guess what... eggs! UIt's great in waffles! Try these cake-like treats for Kaffee and Kuchen in the afternoon.
Instructions
Make Eierlikör Waffle Batter
Beat egg whites with a pinch of salt until stiff and set aside. Beat together the yolks, powdered sugar and vanilla until creamy and combine with the melted butter. Sift together the flour, cornstarch and baking powder.

Now alternating, add the dry mixture and Eierlikör into the batter until combined. Finally, gently fold in the beaten egg whites.

Brush some butter on the cooking plates of a waffle maker and bake to a golden color using whatever kind of waffle maker you have (I have always loved the heart-shaped waffles I grew up with in Germany).
Make Whipped Cream
Beat together the cream, powdered sugar and vanilla until stiff, then fold in the chopped chocolate. If desired and not serving to kids, fold in additional Eierlikör.
Nutrition
Calories:
400
kcal
Carbohydrates:
47
g
Protein:
7
g
Fat:
21
g
Saturated Fat:
12
g
Cholesterol:
141
mg
Sodium:
208
mg
Potassium:
261
mg
Fiber:
1
g
Sugar:
15
g
Vitamin A:
705
IU
Vitamin C:
1
mg
Calcium:
122
mg
Iron:
2
mg
I received compensation from Niche Import Co. in exchange for writing this post. Although this post is sponsored, all opinions, thoughts and recipes are my own. This post contains affiliate links, which means that I may be compensated if you click certain links.