This Saarland specialty recipe 'marries' potatoes and dumplings in a creamy herb sauce finished with lemon, bacon, and parsley. It's a total German comfort food and just happens to be budget- and kid-friendly as well!
Verheiratete: German Potatoes & Dumplings
About this Recipe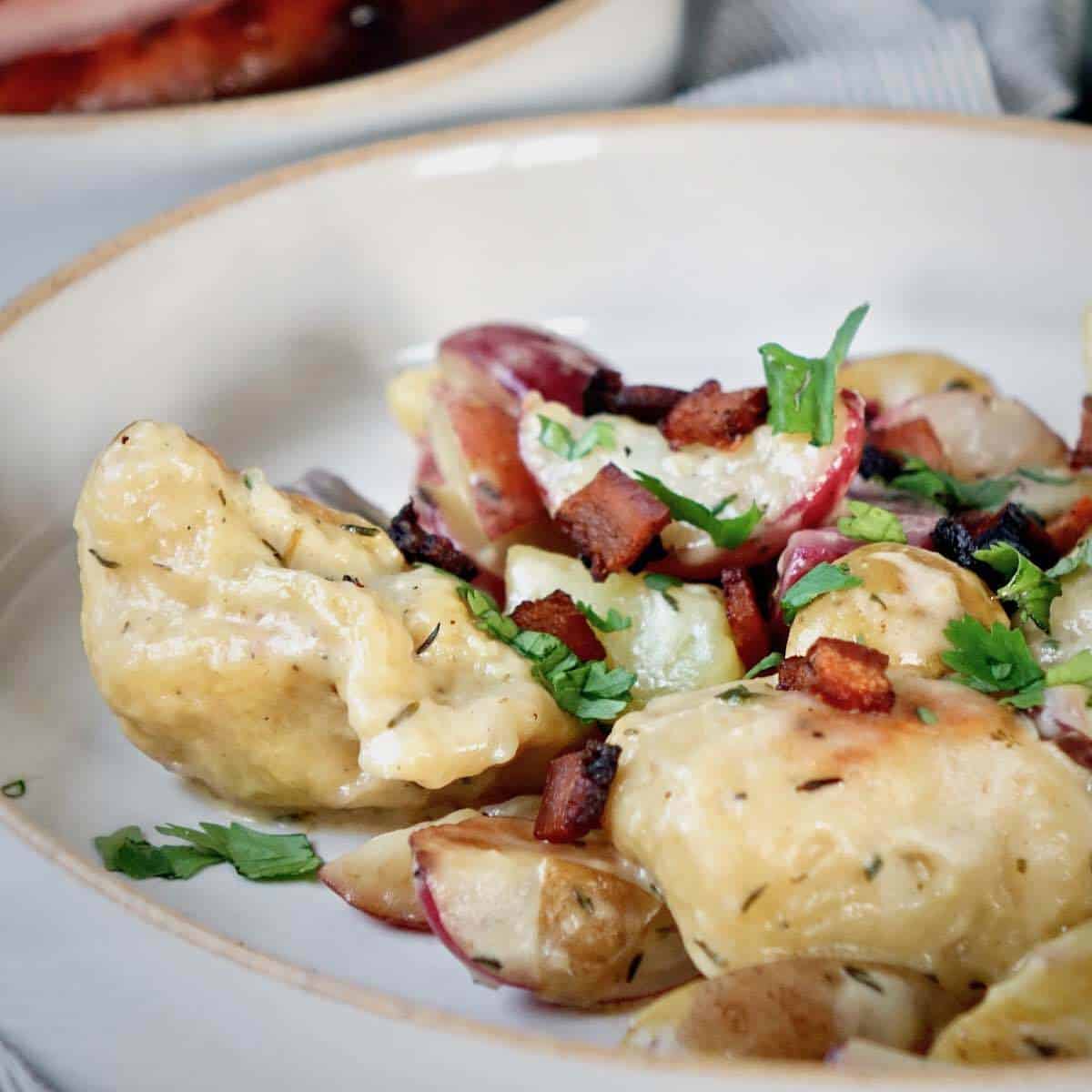 This Is A Sponsored Post That Contains Affiliate Links
What is Verheiratete?
Verheiratete is a German potato and dumpling recipe that's not just for married people! Even though it directly translates to 'married people,' mainly because we're combining the two starches and heroes from this recipe, potatoes, and homemade dumplings, in a creamy sauce with herbs and lemon. The final touch: some bacon and fresh chopped parsley. So when my Stiefmama (stepmom) suggested I give this recipe a home on my blog, I felt intrigued. My Papa (dad) and Stiefmama live in Saarbrücken after all, which is the capital of the Saarland state of Germany and where this dish was born.
But who in the right mind would combine potatoes and dumplings in one dish?
Well honestly, why not? I had my initial hesitations as well, but I am a lover of all things starches. The more, the merrier is really how I feel about them. So trying this combination didn't throw me off too much. And honestly, once it all came together, I couldn't get enough. The simplicity, deliciousness, and comfort of Verheiratete are convincing! Even better: my kids were total fans, too!
What tools do I need for this German potato and dumpling recipe?
If you don't already own this kitchen tool, you may want to invest in a skimmer. The boiling water in this recipe serves two purposes: 1. to cook the potatoes that take a little longer to cook and 2. to cook the dumplings that take no time at all to cook. After boiling the potatoes, you will remove them from the boiling water with the said tool and then drop the dumpling dough bits in that same water, saving dishes and time. But not if you don't have a skimmer. On a side note: If you've ever made Spätzle or homemade Berliner, a skimmer comes in handy here, too, as you're working in batches and you'll want to reserve the hot water or oil for the next batch. A fine grater would be great to have if you're using whole nutmeg (my Oma Inge taught me a long time ago that grating nutmeg fresh on demand is so worth it!).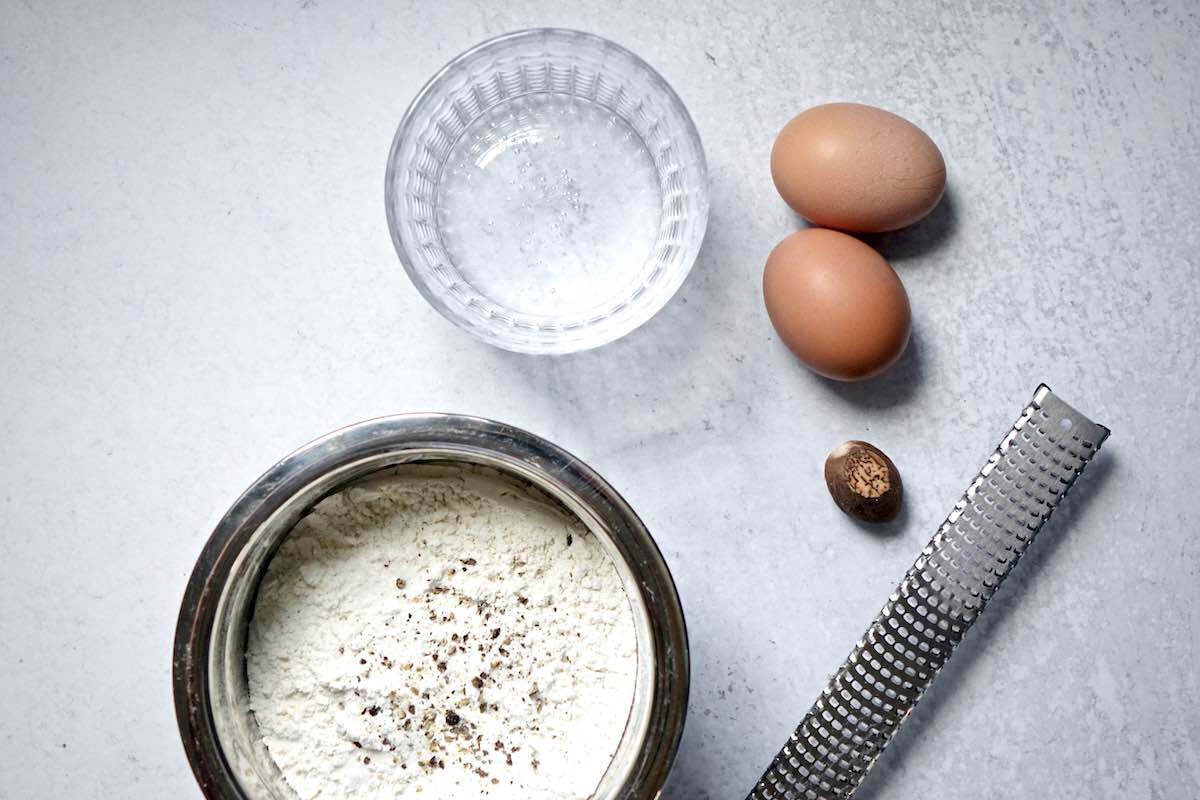 Which sparkling water do you recommend?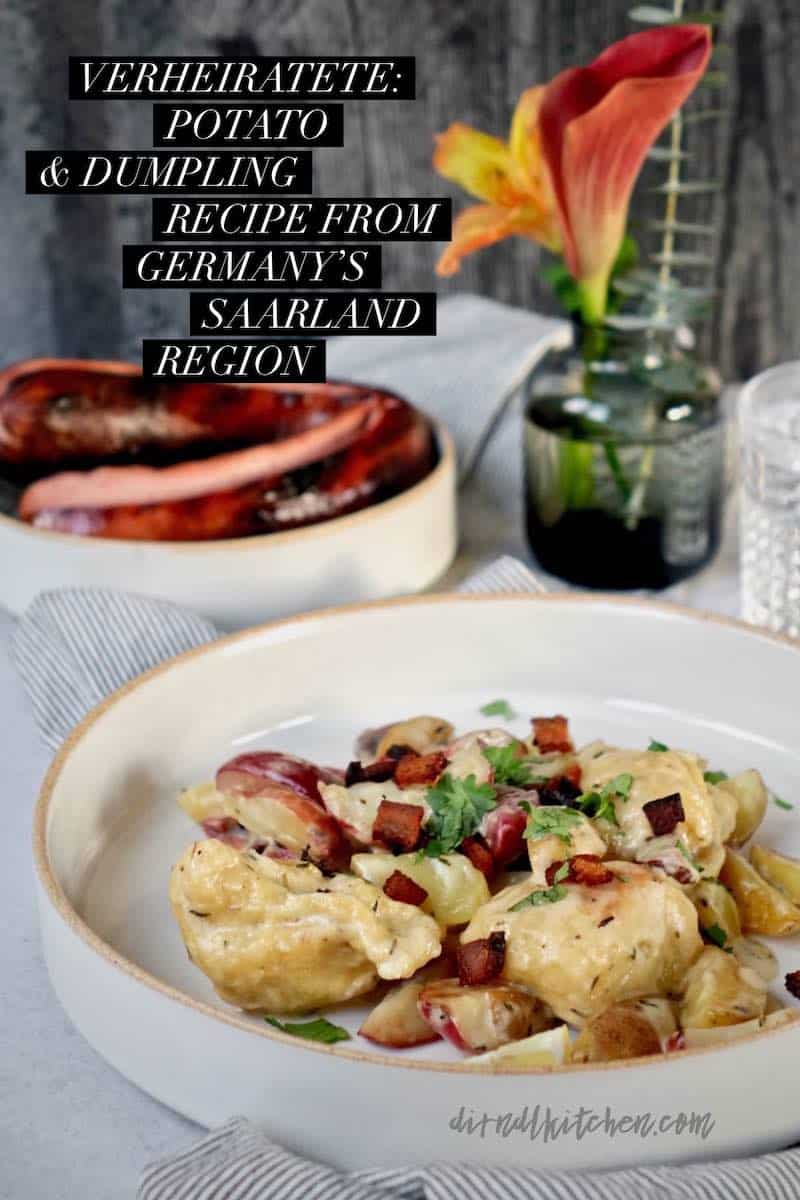 For the sparkling water in the dumpling dough and for general consumption, I recommend Gerolsteiner, as it's from a water source very close to where I grew up in Trier. And I've always loved the taste of Gerolsteiner's mineral-rich water and have made a couple of field trips to the factory growing up. We recently invested in a SodaStream bubbly water maker though (linked the exact bundle we got!) and if you don't have one yet, maybe it's the time! We love ours! We've saved so many trips to the store this way and it's been a huge cost-saver, too. Because Jason knows I can't live without my Sprudel!
What are some more foods from the Saarland region?
I thought about focusing on one German state at a time for next year and the year after, including travel tips, history, food, and all. So I won't take away too much! I have also already posted about Schwenkbraten, which is onion and seasoning marinated pork that's then finished (ideally) on a Schwenkgrill, a 'swaying grill.' We have recently constructed our own Schwenkgrill and while it's not perfect, it works pretty well. I will post some more about this when I focus on the Saarland region next year!
Grilled bologna?
Another suggestion my Stiefmama had was to grill a ring of Fleischwurst (German bologna) because it turns out that's a very Saarland-esque thing to do (and I can't believe this was the first time that I grilled some Fleischwurst!). It was so good!! Supposedly, there is even a dish to put the Fleischwurst in before grilling and my Stiefmama has one. I'll be sure to take a picture of it when I go back to Germany next time!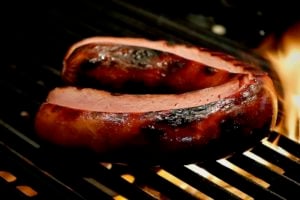 So go ahead and give this Saarland specialty called Verheiratete a try! It's a perfect German meat and potato kind of dish (especially if you add the Fleischwurst!) that I am sure nobody would turn down. I'd love it if you let me know how it goes by leaving a comment below!
Verheiratete Essentials
More German Comfort Food Recipes
Bier Gulasch
Hungarian Gulasc
Next Up:
Gedeckter Apfelkuchen
I honestly don't know what you all are doing with all the apple orchard apples, but my mind is constantly thinking about apples these days! So I had to make it a priority to bring this German apple cake recipe to the blog! Make sure to subscribe to my blog now, so you're not missing out when this new Gedeckter Apfelkuchen post goes live!
Verheiratete: Saarland Potatoes & Dumplings
This Saarland specialty recipe 'marries' potatoes and dumplings in a creamy herb sauce finished with lemon, bacon, and parsley. It's a budget- and kid-friendly recipe.
Ingredients
Dumplings Ingredients
200

grams

flour

2

eggs

nutmeg, salt, pepper
Other Ingredients
800

grams

waxy potatoes

like red potatoes or a waxy potato medley

100

grams

thick-cut bacon

200

milliliter

heavy whipping cream

½

teaspoon

dried thyme

or 1 teaspoon fresh, see note

½

teaspoon

dried rosemary

or 1 teaspoon fresh, see note

1

Tablespoon

butter

salt and pepper

to taste

½

lemon

juice only
Instructions
To make the dough, combine flour, eggs with some salt, pepper and nutmeg (finely grating whole nutmeg on demand I learned from my Oma Inge is the way to go!), then gradually whisk in some sparkling water until you have a thick dough. Set aside to rest.

200 grams flour,

2 eggs,

nutmeg, salt, pepper,

sparkling water

Quarter the potatoes and boil in salted water until done. In the meantime, medium dice the thick-cut bacon and cook in a pan over medium heat until crisp. Allow to drain on a paper towel, reserving the bacon grease in the pan. Turn off the heat.

800 grams waxy potatoes,

100 grams thick-cut bacon

Remove the boiled potatoes from the water using a strainer. Gradually add the dumpling dough to the boiling water using two spoons, until you've used up all the dough. My dumplings ended up a little bit big. If you'd like to have smaller dumplings, use smaller spoons to shape your dumplings.

Once the dumplings rise to the surface, allow to boil for one more minute, then drain.

Add butter to the bacon grease and turn heat to medium. Add potatoes and noodles once the butter has melted and cook for about 5 minutes or until starting to brown. Add the herbs and cook for another minute. Then add the cream and lemon juice. The sauce will thicken quickly from the starches in the dumplings and potatoes.

½ teaspoon dried thyme,

½ teaspoon dried rosemary,

1 Tablespoon butter,

200 milliliter heavy whipping cream

Season to taste with salt and pepper, then serve with chopped, fresh parsley and the crisped bacon pieces. If you'd like to feel extra Saarland-style, serve with a grilled ring of bologna (Fleischwurst) like it's so common to do in Germany's Saarland region!
Nutrition
Calories:
656
kcal
Carbohydrates:
72
g
Protein:
16
g
Fat:
34
g
Saturated Fat:
17
g
Polyunsaturated Fat:
3
g
Monounsaturated Fat:
11
g
Trans Fat:
1
g
Cholesterol:
174
mg
Sodium:
278
mg
Potassium:
1083
mg
Fiber:
5
g
Sugar:
3
g
Vitamin A:
970
IU
Vitamin C:
18
mg
Calcium:
77
mg
Iron:
4
mg
I received compensation from Niche Import Co. in exchange for writing this post. Although this post is sponsored, all opinions, thoughts and recipes are my own. This post contains affiliate links, which means that I may be compensated if you click certain links.