Kohlrabi Spaghetti
Kohlrabi, the tiny little cabbage that's very commonly found in Germany, is starting to gain popularity in the US as well. To celebrate this versatile vegetable, I decided to let it shine in a springy spaghetti dish.
Servings:
3
Ready In:
30 mins
Calories:
500
Good For:
Dinner
Kohlrabi Spaghetti
About this Recipe
This Is A Sponsored Post That Contains Affiliate Links
Kohlrabi is one of those vegetables you may have seen at the store, were confused about because you didn't know if it was a midget cabbage or fennel, left it alone, and never thought about again. However, I encourage you to NOT ignore this super fun vegetable next time you see it! The texture is crisp and fresh like radish or jicama, and that's what I think of for the taste as well, mixed in with a mild cabbage taste. Ease into Kohlrabi-easting by simply peeling, cutting into sticks, and adding it to your dipper assortment for a quark and chive dip or hummus. That's one of my favorite ways to eat it. Another great way to enjoy Kohlrabi is to cook it though, and then the possibilities are endless. Last year I featured a stuffed Kohlrabi recipe, which is so delicious! This time I made a pasta recipe with Kohlrabi and it's scoring equal points for deliciousness (and I am a total pasta freak, so this one is definitely one of my kind of meals!). The Kohlrabi gets diced and sautéed before taking a simmering bath in a sauce of Riesling, cream cheese, capers and ham. Finally it's mingled with spaghetti and topped with chopped pumpkin seeds, chives (and parmesan if you would like!). This is a must try and will satisfy everyone! Also, thank you for your inspiration for future Kohlrabi posts on my Instagram post yesterday - I will surely use some of the ideas for future recipes!
Ingredients For Kohlrabi Spaghetti
2 (about 200 g) Kohlrabi
2 Tbsp capers
½ c half & half
½ pound (about 220 g) spaghetti
3.5 oz (100 g) cooked ham
2 oz (55 g) cream cheese
½ c (120 ml) Riesling (semi-dry or dry such as Affentaler Riesling)
2 green onions
1 Tbsp pumpkin seeds
salt and pepper to taste
parmesan cheese (optional)
HELPFUL TIPS:
Peeling Kohlrabi: Because of it's rough outside texture, it's sometimes hard to peel. You can also simply cut off the bottom and top and then simply cut at an angle around it, which makes it a lot quicker.
Leftovers: To keep the sauce creamy, mix a little water before reheating, then slowly bring to temperature in a small pot or skillet. Stays good in the fridge for 3 days.
German Spring Recipes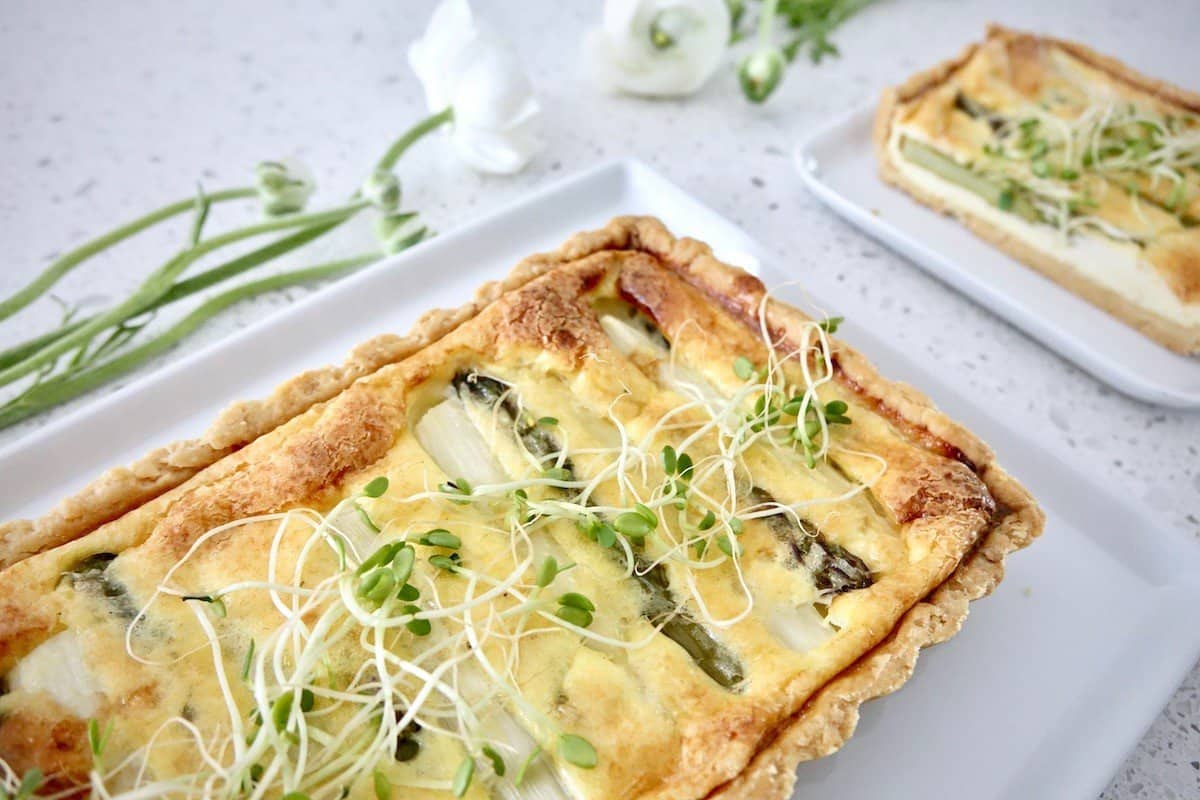 Rhubarb Cake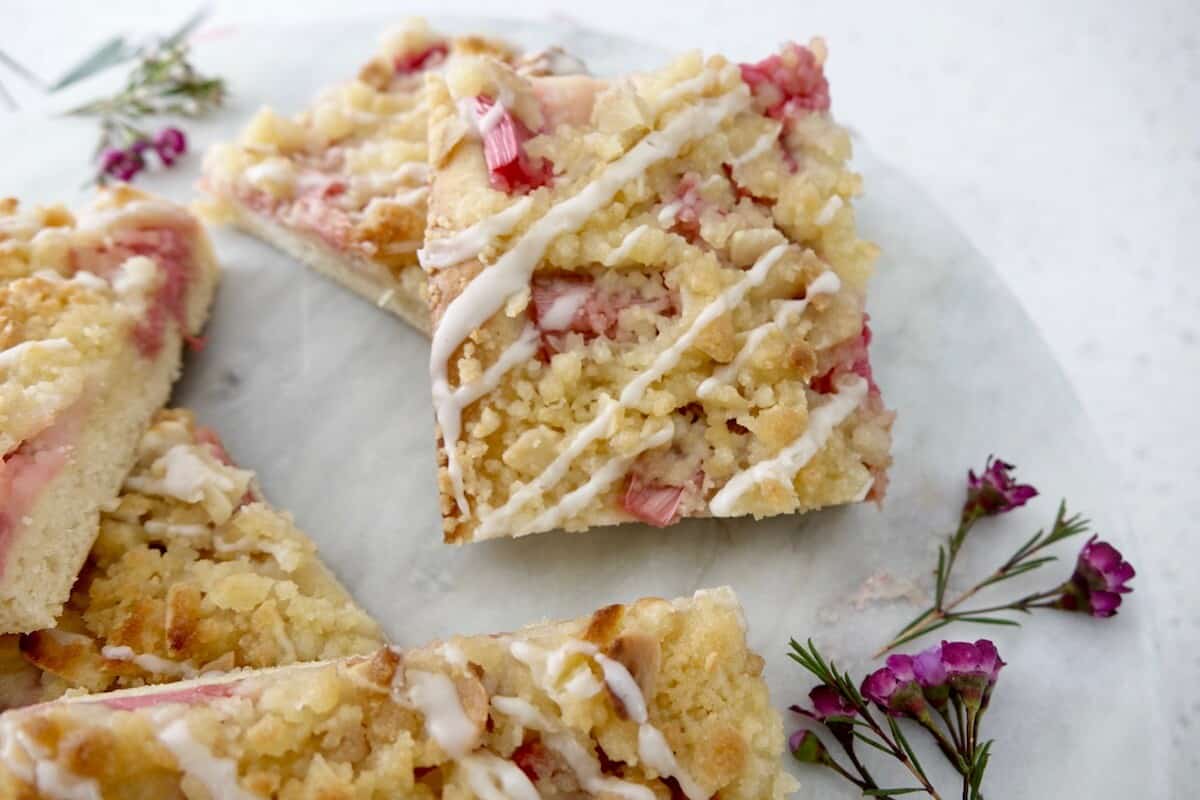 Curry Eiersalat
Kohlrabi Spaghetti Essentials
Save 20.0% on select products from Gourmet Living with promo code 20Q4WNMP, through 4/30 while supplies last.
Kohlrabi Spaghetti Step By Step Instructions
Step 1
Bring a pot of salted water to a boil. Cook pasta to al dente according to instructions on the package, reserving some of the cooking liquid before draining.
Step 2
In the meantime, peel and medium dice Kohlrabi. Slice the green onions, separating the white from the green parts. Chop the pumpkin seeds and capers.
Step 3
Heat ½ tablespoon of butter in a large skillet and sauté Kohlrabi and the white parts of the green onion until slightly browned, 5 minutes. Pour in the wine and let simmer for 1 minute. Add in the half and half and cream cheese and stir until combined.
Step 4
Lastly add the ham and chopped capers, and season with salt and pepper. If the sauce is too thick, add some of the starchy pasta water to thin it out. Add in the spaghetti and coat in the sauce.
Step 5
Serve in pasta bowls topped with chopped pumpkin seeds, the green parts of the green onion and parmesan (if desired). Guten Appetit!
Drink Pairing:
Affentaler Riesling
The German Affentaler winery from the Baden area makes a fantastic Riesling that's fresh, fruity and very balanced in sweetness.
It's more on the dry side and will work perfectly in the sauce as well as for a wine pairing for this Kohlrabi pasta dish. Find out here where Affentaler is available for purchase.
Next Up:
Erdbeerkranz
Next up is a fluffy, twisted yeast wreath that's perfect for Easter or cake and coffee time. Mine will be filled with a delectable strawberry filling! Make sure to subscribe to my blog now, so you're not missing out when my new Erdbeerkranz post goes live!
I received compensation from Niche Import Co. in exchange for writing this post. Although this post is sponsored, all opinions, thoughts and recipes are my own. This post contains affiliate links, which means that I may be compensated if you click certain links.