This roasted pork loin recipe looks sophisticated to make for Christmas Eve, yet is easy enough to pull off for a fancier stay-at-home dinner night. Served with spätzle in a creamy mushroom sauce, you'll want to make this over and over again to help you feel closer to Germany!
About this Recipe
Roasted Pork LoiN
This Is A Sponsored Post That Contains Affiliate Links
When I think about Christmas dinners in Germany, I think about hearty roasts, usually served with lots of yummy sauce and my favorite sides of either homemade spätzle or potato dumplings (and also red cabbage!). I am already dreaming about when I will be back home in less than 3 weeks and get to enjoy those rustic meals with my family again!
Roasted Pork Loin for Christmas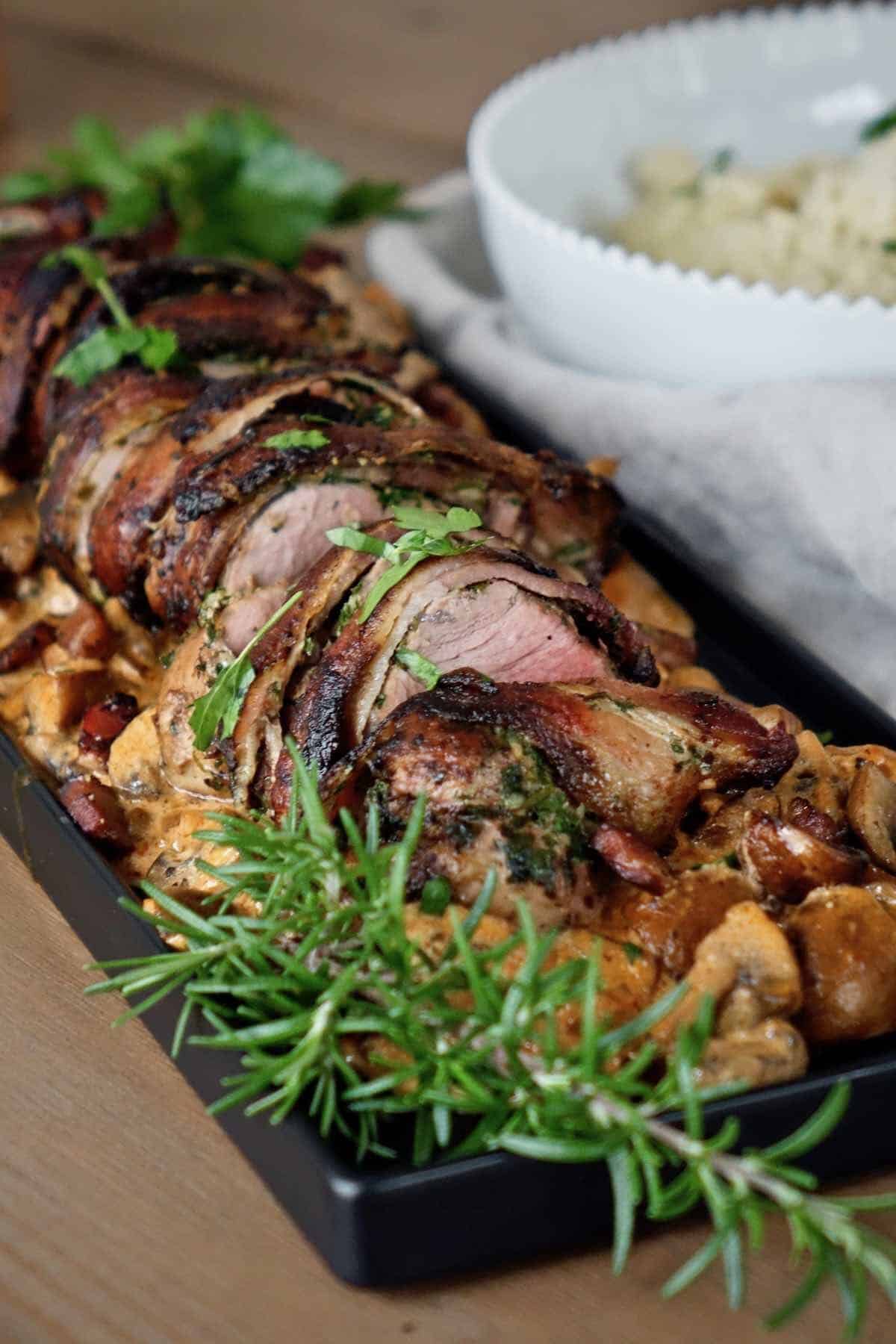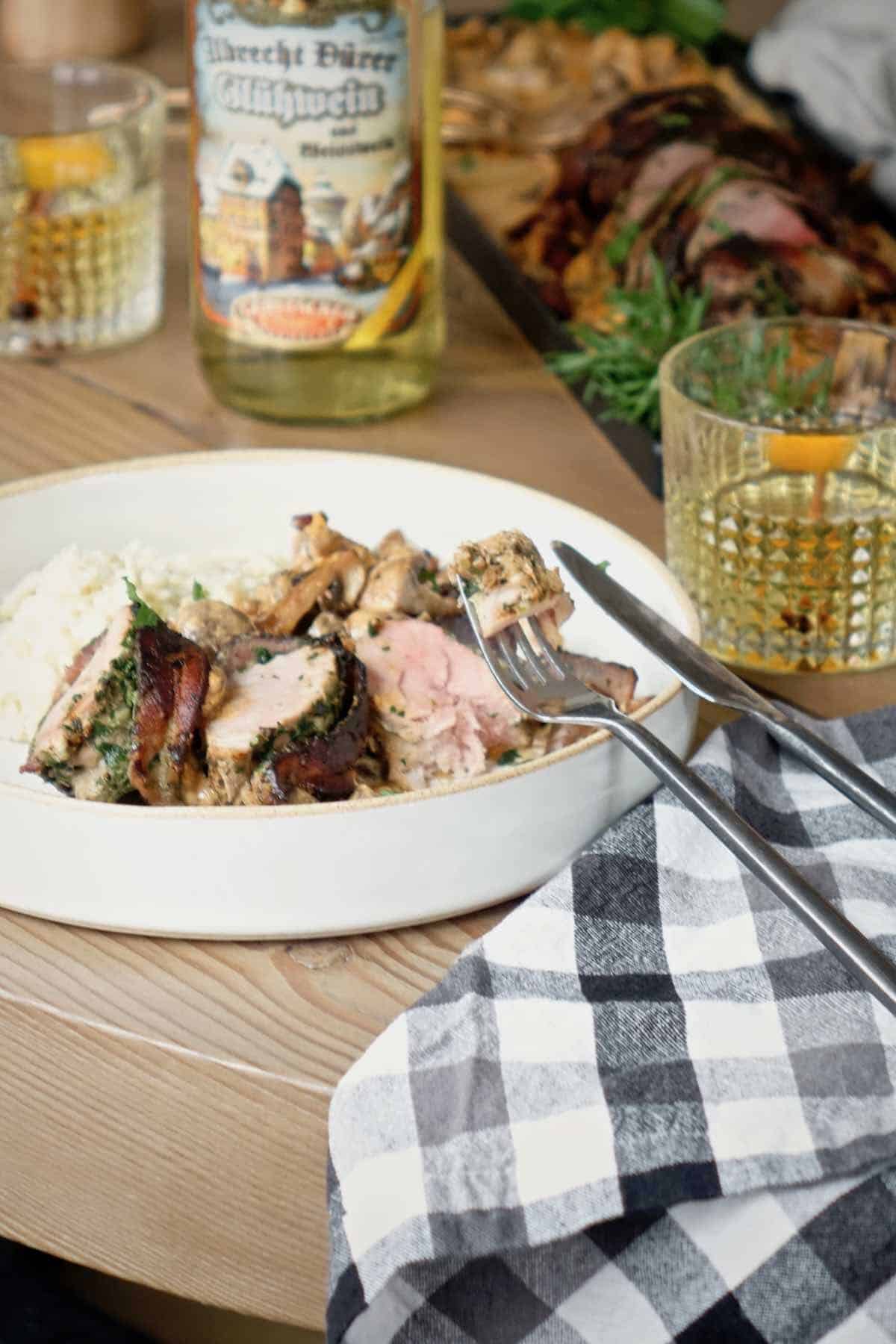 Today's Roasted Pork Loin recipe is the fancy version of those roasts, wrapped in a blend of fresh herbs and smoky bacon. It's sautéed in a pan, then finished in the oven to the perfect temperature (more notes on that below). In the meantime, the creamy mushroom sauce is prepared using a bit of white wine (I actually used White Glühwein by Gerstacker in my recipe, which adds some fun and delicate spice notes!). This roasted pork loin would be perfect for Christmas Eve Dinner or Christmas Dinner. It makes for a pretty presentation and I love serving it family-style just like my family usually does for Christmas.
Germany at Christmas Time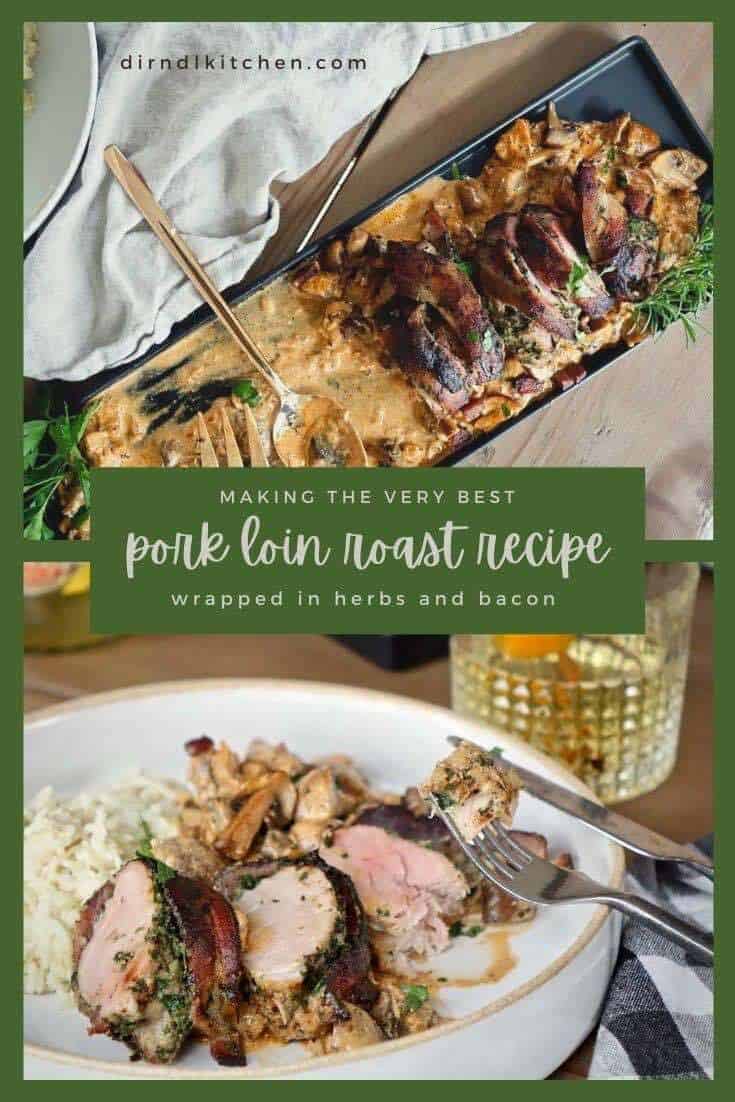 If you've never been to Germany during Christmas time, it's magical! It must be my favorite time of the year to go home! The streets are decorated with lights and garland everywhere and the Christmas markets spread the warmest scents of Glühwein, Dampfnudeln, Lángos through the cold winter air. I hope the Christmas markets will still happen this year because a lot of them have been shut down already. We may end up having to recreate a Christmas market-like atmosphere from home (and you can too!). I can't wait either way! If you're missing Germany this Christmas season, I hope that my German Christmas recipes including this roasted pork loin recipe will help you feel closer to all things German!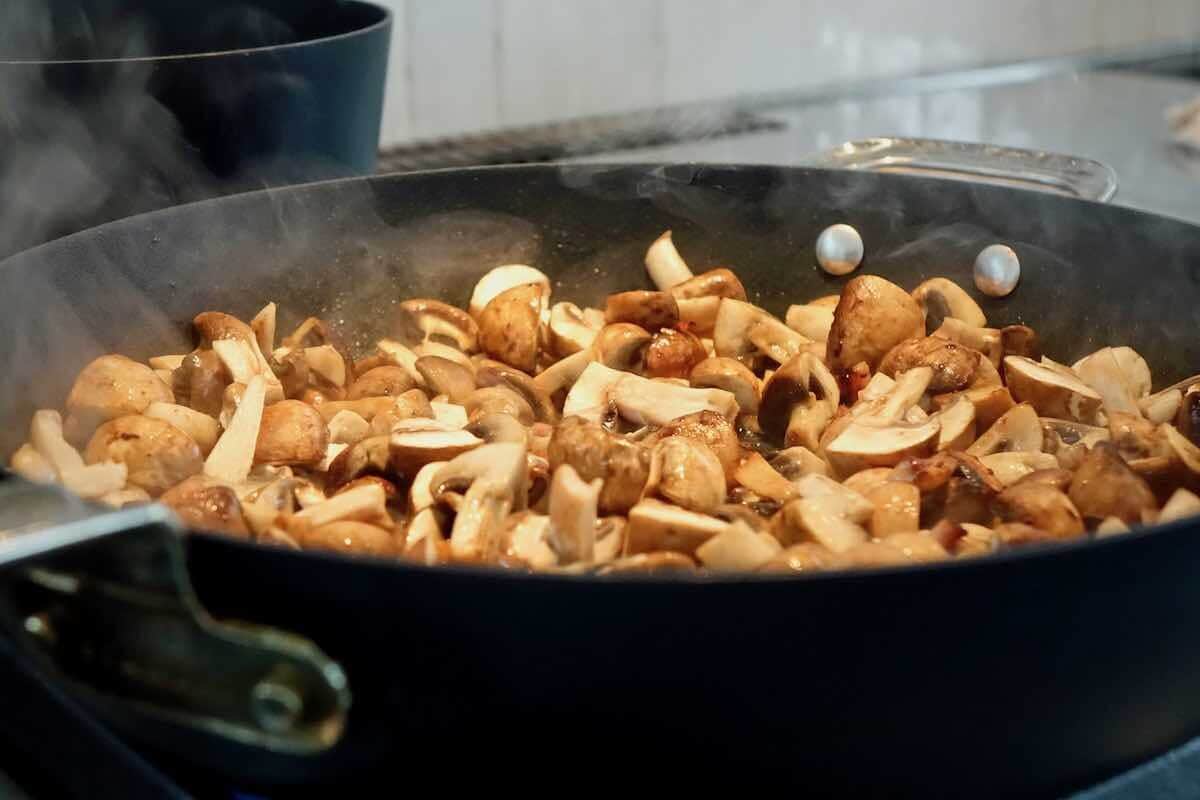 How long do you cook a pork loin in the oven?
I recommend sautéeing the pork loin from all sides first before transferring it to the oven to finish cooking. That way you are achieving a nice brown exterior and crisped bacon that will give you a nice contrast in texture. How long you need to cook the pork loin depends on a few factors:
what temperature the oven is set at

if the pork has been resting at room temperature or comes straight from the fridge

the thickness of your pork tenderloin

low much the pork was cooked in the pan before it was transferred 

to the oven
Thus the most fool-proof way to make sure you're not overcooking your pork is by inserting a temperature probe to track the correct temperature. Once the internal temperature has reached 140 degrees Fahrenheit (60 degrees Celsius) you can remove it from the oven and let it rest for 5 minutes before slicing and serving. I also like to have my serving platter warm up in the oven (between 140 and 190 degrees Fahrenheit is perfect), so your meat and sauce stay warm for longer once arranged on the platter.
Roasted Pork Loin Essentials
More German Christmas Recipes
Lángos
Christmas Cookies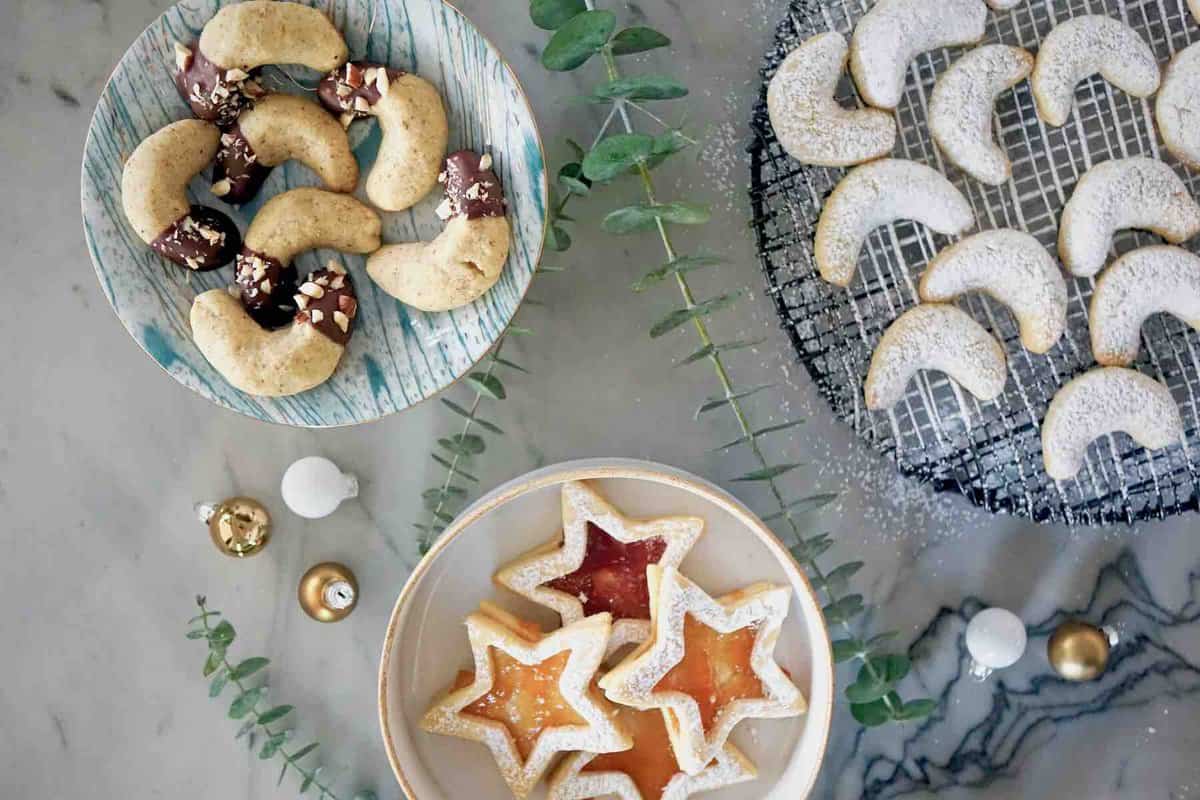 Next Up:
Even More German Christmas Recipes
Christmas season is around the corner (or maybe it's here for you already!). Make sure to subscribe to my blog now, so you're not missing out when this new German Christmas recipes go live!
Roasted Pork Loin Recipe (With Herbs & Bacon)
This roasted pork loin recipe looks sophisticated to make for Christmas Eve, yet is easy enough to pull off for a fancier stay-at-home dinner night. Served with spätzle in a creamy mushroom sauce, you'll want to make this over and over again to help you feel closer to Germany!
Ingredients
Instructions
Trim any fat off the pork tenderloin, then fold over any tapered ends to achieve approximately even thickness thrroughout. Preheat your oven to 300° Fahrenheit (150° Celsius).

650 grams pork tenderloin

Make the herb sauce by combining all herb ingredients and blend in a food processor until combined (don't salt too much because the bacon will add salt as well). Rub all over the pork, then lay out the bacon, letting it slightly overlap, until you have the length of your tenderloin.

1 handful fresh parsley,

1 rosemary twig,

1 handful fresh chives,

2 garlic cloves,

1 Tablespoon olive oil,

salt and pepper,

100 grams bacon

Get kitchen twine, short skewers or toothpicks ready. Roll the pork tenderloin in the bacon and secure with your tools. If using toothpicks, make sure you count how many you're using, so you know to remove them all! Believe me, it's easier said than done!

Heat ½ tablespoon of each butter and avocado oil over medium high. This is to bring down the smoke point of the butter, yet keeping the flavors. You can also just use avocado oil.

½ tablespoon butter,

½ tablespoon avocado oil

Add the pork tenderloin and brown from all sides. Place onto an oven-safe, rimmed baking sheet prepped with aluminum foil and bake until the internal temperature has reached 140° F or 60° C (it will continue cooking for a bit while you let it rest - recommended internal temperature is 145° F or 62.8° C).

In the meantime, bring a pot of salted water to a boil and whisk together spätzle ingredients (other than butter) and set aside (you could also use store-bought spätzle - my Oma has definitely done it, too).

2 eggs,

200 grams flour,

½ teaspoon salt,

150 milliliters milk,

⅛ teaspoon ground nutmeg

Sauté the mushrooms in the cooking liquids from the pork (I recommend either using a large pan or cooking them in batches). Grate or mince the garlic and add when the mushrooms are just about done for 1 minute. Add the wine and broth and allow to simmer down for 2 minutes. Add remaining ingredients and season with salt and pepper. Keep warm.

750 grams mushrooms,

100 grams bacon,

1 medium-sized onion,

3 cloves garlic,

1 tablespoon tomato paste,

200 milliliters heavy whipping cream,

100 milliliters sour cream,

100 milliliters broth,

100 milliliters white wine,

Worcestershire sauce,

salt and pepper

Cook spätzle by pressing the batter into the salted, boiling water. Stir and allow to boil for 2 minutes before straining (if working in batches, a large skimmer comes in handy). Place in a serving bowl while fresh out of the water and toss with the butter to allow it to melt. Garnish with a bit of chopped, fresh parsley.

Arrange the sauce on a platter, slice the tenderloin and place it over the mushroom sauce. Garnish with some fresh, chopped parsley.
Nutrition
Calories:
1029
kcal
Carbohydrates:
55
g
Protein:
57
g
Fat:
63
g
Saturated Fat:
28
g
Polyunsaturated Fat:
7
g
Monounsaturated Fat:
24
g
Trans Fat:
1
g
Cholesterol:
317
mg
Sodium:
976
mg
Potassium:
1665
mg
Fiber:
4
g
Sugar:
9
g
Vitamin A:
1474
IU
Vitamin C:
11
mg
Calcium:
162
mg
Iron:
6
mg
I received compensation from Niche Import Co. in exchange for writing this post. Although this post is sponsored, all opinions, thoughts and recipes are my own. This post contains affiliate links, which means that I may be compensated if you click certain links.