Sophie's Birthday Cake: Berry Yogurt Cake
This German yogurt and cream berry cake with no-bake filling is an absolute stunner, inside and out. It's the perfect Spring or Easter dessert or birthday cake that's great to share with all the special people in your life.
Servings:
12
Ready In:
5 hours
Calories:
190
Good For:
Kaffee & Kuchen
Berry Yogurt Cake
About this Recipe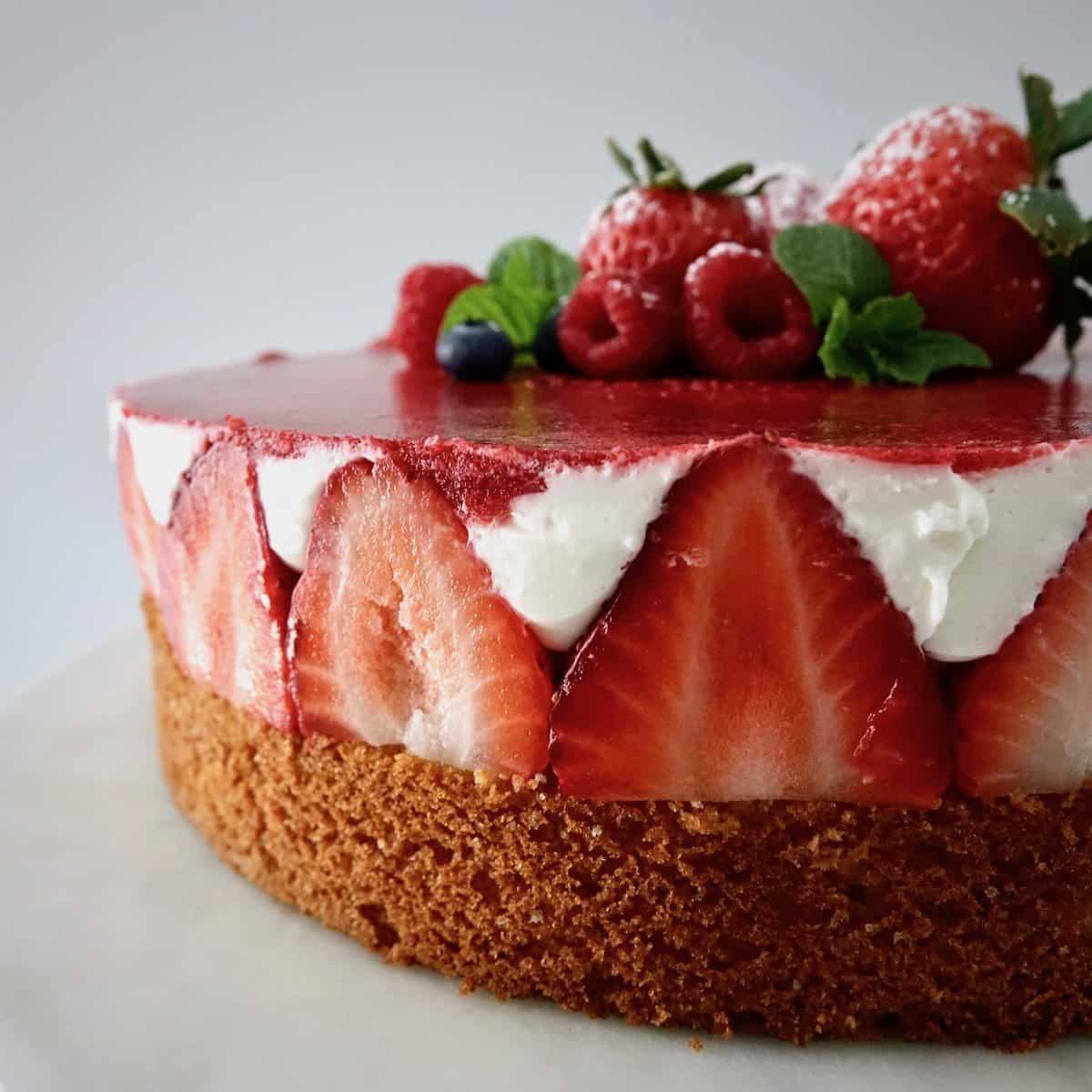 This Is A Sponsored Post That Contains Affiliate Links
Birthdays are always a great excuse to eat cake. My twin sister and I just turned 30 last week, and so I visited her in Berlin to celebrate our birthday together for once.. which has been way overdue! The last time we celebrated together must have been 10 years ago! My dad, stepmom and brother also visited us from Saarbrücken, and we spent the day eating ourselves through Berlin's culinary scene. To start the day, we met up at Benedict, a stylish, all day brunch restaurant with incredible food and a hipster vibe with tropical notes due to an entire forest of palm trees decorating the walls. It had to be Käsekuchen for German Kaffee and Kuchen time (the German afternoon tea), so I made reservations at Café Drei Käsehoch, a Käsekuchen restaurant with two locations in Berlin (I shared a pear and chocolate Käsekuchen as well as a red currant Käsekuchen with my mom). We then made our way through town and stopped by Berlin's Bikini Haus, a fun shopping mall with lots of unique, pop up stores and a great food court featuring a ton of different, local food options and a couple of cool bars and restaurants on the roof top. For dinner, we settled down at an Italian restaurant called Petrocelli for some Moët rosé champagne, shared appetizers, and steak and pizza. To get us from one stop to the next, we either walked or made use of the amazing, seamless subway, streetcar and bus system in Berlin (which I totally miss in Kansas City). VisitBerlin.com was generous to give me a Berlin WelcomeCard for part of my stay, allowing me discounts at local restaurants, attractions and shops (including Eat Berlin - a fun Berlin foodie souvenir store I featured in a post on my Instagram), and the unlimited use of the city's public transportation system.
But back to this birthday cake situation! I love strawberries and berries in general, they let me know that Spring is finally happening and we can say goodbye to Winter soon, and they usually also start being in season around my birthday, which is even more reason to add them into my birthday cake. The Beerentorte (berry cake) I made for this post is simply stunning! It also doesn't take that much time to make, it's just the waiting in takes time, so it's best to make this a day ahead. The cake itself is whipped together within 5 minutes. The filling has lots of yogurt in it, keeping it light and fresh. The fruit just adds the perfect amount of Spring fever to this delicious cake and makes for a gorgeous presentation. Try out this recipe for your text Kaffee and Kuchen with family or friends and I promise everyone will be impressed.
Ingredients For Berry Yogurt Cake
Cake Batter:
7 tablespoon (100 g) butter
⅔ c (150 g) sugar
1 tsp pure vanilla extract
3 eggs
2 c (250 g) flour
1 tablespoon + 1 teaspoon (14 g) baking powder
3.4 oz (100 ml) milk
Cake Filling:
10.5 oz (300 g) fresh strawberries
17.5 oz (500 g) plain yogurt (you can use Greek yogurt as well)
7 oz (200 ml) heavy whipping cream
2 tsp pure vanilla extract
⅓ c (65 g) sugar
3 pouches (8 sheets) gelatin
Glaze:
7 oz (200 ml) berry juice (see instructions)
2 to 4 Tbsp sugar
1 pouch (2.5 sheets) gelatin
HELPFUL TIPS:
Choose Your Yogurt: If you use whole milk or 2 percent Greek yogurt, you will get a much smoother, less tart cake than if you use plain, nonfat yogurt.
Make Ahead: For best results, make this cake the day before and allow to set up overnight in the fridge. The next day, make your glaze and decorate.
Storage: It's best to store this cake in the fridge with the cake ring or springform ring around it and to cover up the top, so it doesn't dry out. It's best enjoyed within 3 days.
Berry Yogurt Cake Essentials
German Spring Cake Recipes
Erdbeerboden
Beerenrolle
Berry Yogurt Cake Step By Step Instructions
Step 1
For the batter, combine all ingredients in a bowl and mix together with an electric, hand-held mixer until smooth, about 3 minutes. Cover the bottom of a springform with parchment paper and grease the sides, fill in the batter, and bake at 350 F (180 C) for about 30 minutes (depending on size of your springform) until cooked through. Allow to cool completely.
Step 2
Whisk together the yogurt and sugar. Prepare the gelatin by adding all packs to one cup of boiling water to dissolve it. Whisk in one cup of the yogurt sugar mixture with the dissolved gelatin to help bring down the temperature and avoid clumping. Then add this mixture into the remaining yogurt and allow it to gel some at room temperature.
Step 3
Remove the green parts of the strawberries, then half them longways. Beat the cream and vanilla until stiff.
Step 4
Trim the top of your cake and reserve it for other use. Secure a cake ring around the bottom crust or simply reattach the cleaned springform ring. Place the strawberries cut side facing out on the edge of the cake, then fill in the middle with cut up strawberries (or you can also add in other berries like I did). As soon as the yogurt mixture starts to gel, fold in the whipped cream and spread the filling over the berries. Allow to set up in the fridge for at least 3 hours (or even better overnight).
Step 5
Bring some frozen raspberries or strawberries to a boil and squeeze out the juice until you have 7 ounces of juice. Then add in the gelatin and sugar and allow to cool some, stirring occasionally. Carefully pour over the top of the cake and allow to set up (in the fridge for about 30 minutes).
Step 6
If desired, garnish the finished cake with berries, powdered sugar, fresh mint or basil and serve with coffee.
Next Up:
Curry Eiersalat
It's almost Easter and the Curry Eiersalat, a German curry egg salad, is going to be perfect for your Easter brunch menu! Make sure to subscribe to my blog now, so you're not missing out when the new Curry Eiersalat post goes live!
I received compensation from Niche Import Co. in exchange for writing this post. Although this post is sponsored, all opinions, thoughts and recipes are my own. This post contains affiliate links, which means that I may be compensated if you click certain links.