The German applesauce quark croissants are easy to make and hard to keep around! They're only slightly sweet, so they'r the perfect kid-friendly snack.
Apfelmushörnchen
About this Recipe
This Is A Sponsored Post That Contains Affiliate Links
There is something I look forward to the most when going back boarding the plane to go back home to Germany in just 4 short days. It's not flying by myself with a toddler and a baby (I have nightmares about that one), it's extended Frühstück at home with lots of Kaffee and lots of Brötchen and Teilchen (rolls and pastries). These seductive little Apfelmushörnchen that should definitely find their way on your breakfast- or brunch table soon! They're the perfect little things to pick up as a quick treat and they barely have any sugar added, which makes the the perfect treat for kids too. And which kid doesn't like applesauce?! Not only do these little German applesauce croissants have applesauce in the super easy dough, but also in the filling! And I didn't use just any applesauce! I used my favorite Grandma Hoerner's applesauce, a company inspired by Mabel, a Kansas Oma of German descent, cooking batches from her orchard and turning it into the best chunky applesauce, all natural. Her applesauce recipe, which has by now been carried down numerous generations, has tons of large pieces of apples in it (thus the name Big Slice), which are perfect for the filling of these Apfelmushörnchen! I love how the applesauce runs out the sides because those pieces become the best, caramelized bits! Click here to shop Grandma Hoerner's Big Slice Applesauce, delicious fruit fillings, sauces, salsas and more!
Another of the few, but very important ingredients in this recipe is QUARK! While I try to make quark about once a year and I'm never very happy with the result, I am referring back to Anja from Our Gabled Home, who has had much success making her own quark! If you're not as ambitious to make your own, you could purchase quark online as well. If that's too costly for you, then you could also substitute with full-fat Greek yogurt (5% fat). I like the Fage brand the best as it's a little thicker. Please know that the kneaded dough needs to chill in the fridge for 4 hours or longer (up to a couple of days), so if you're planning to make these Apfelmushörnchen, make the dough, toss it in the fridge, and make them the next morning. The rolling out, filling, shaping and baking goes quickly!
Please also note that these German applesauce rolls are on the barely sweet side! If you would like to add more sweetness, you could fill them with jam instead of applesauce, spread on jam after baking a or give them a good dusting them of powdered sugar after baking. Lecker! Lecker! Lecker!
These Apfelmushörnchen were originally posted on Emmi Kocht Einfach, and were adjusted for American measurements, ingredients and baking instructions that  worked better for me (I made 2 batches).
Scroll on down for the recipe, now in printable version.
Apfelmushörnchen Essentials
Drink Pairing:
Indian Summer Cocktail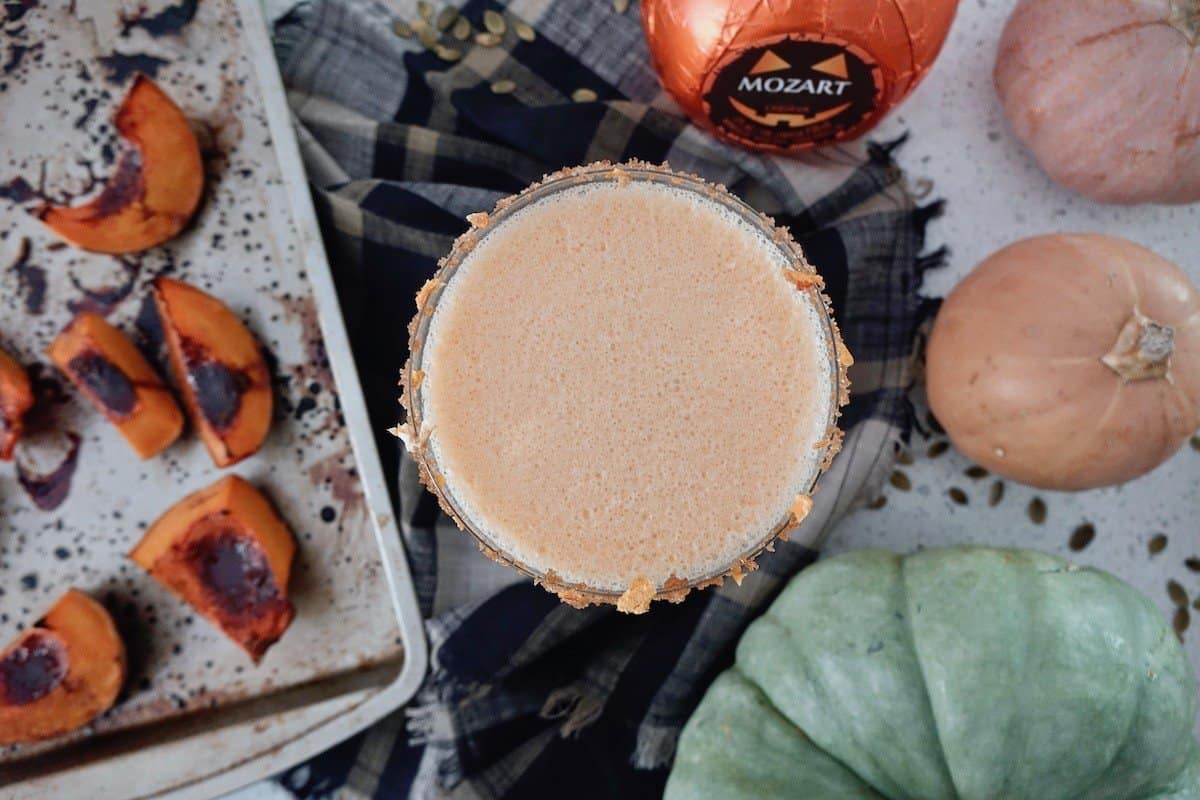 Yup, there is more pumpkin spice because if you're like men then there is no such thing as too much pumpkin spice. 🙂
Here a pumpkin spice martini using one of my all-time favorites: Austrian-made, creamy Pumpkin Spice Liqueur by the Mozart distillery. This simple cocktail will be perfect for dessert for the upcoming holidays and I promise you that every pumpkin spice and pumpkin pie fan will love this!
To make, simply shake together the following ingredients with some ice, then pour into a martini glass:
2 oz good vodka (such as Mamont)
To find out where Mozart Pumpkin Spice Liqueur (also available in Milk, White and Dark Chocolate as well as Strawberry Cream) is available in your area, fill out the short product finder form.
Prost!
more German Apple Recipes
Ghackets mit Hörnli
Quark Pfannkuchen
Next Up:
Quark-öl Mohnkuchen
I just love poppy seeds! On bagels, in muffins, but especially in CAKE! Make sure to subscribe to my blog now, so you're not missing out when my new Quark-Öl Mohnkuchen recipe goes live!
Apfelmushörnchen: German Applesauce Quark Croissants
The applesauce quark croissants are easy to make and hard to keep around! They're only slightly sweet, so they'r the perfect kid-friendly snack.
Ingredients
Apfelmushörnchen Dough
250

g

all-purpose flour

plus some more

250

g

quark

could also use full fat (5%) Greek yogurt if you can't find quark

150

g

butter

room temperature

100

g

applesauce

I love the chunky, kettle-cooked applesauce by Grandma Hoerner's

1

tablespoon

sugar
Instructions
Combine all dough ingredients in a bowl and either using a dough hook and your electric mixer or your hands, knead until you end up with a smooth dough that's not too sticky. You may need add more flour, so it stops sticking. Now wrap the dough airtight and move to the fridge for at least 4 hours or even better overnight to rest.

Preheat the oven to 350° Fahrenheit/ 180° Celsius (conventional setting, NOT convection). Divide the dough into 4 equal portions.

Working one quarter at a time, roll out the dough to rounds measuring about 12 inches or 26 centimeters in diameter. Cut the dough like a pie into 8 equal pieces. Now top each piece with one tablespoon of applesauce. If you're using Grandma Hoerner's chunky applesauce, some chunks are delicious, just avoid the large slices. It's okay if the applesauce oozes out a bit. Those pieces become extra caramelized and delicious.

Now roll up each section starting from the wide end and transfer to baking sheets covered with parchment paper. You should be able to fit 16 on a large baking sheet, so you'll need 2 baking sheets.

Whisk the egg in a bowl and brush onto the rolled up croissants. Move to the oven and bake for 20 minutes, then change to convection at 320° Fahrenheit/ 160° Celsius and continue baking for another 10 minutes. Remove from oven and. allow to cool for a few minutes before eating. These rolls aren't very sweet, so if you would like, you can give them a dusting of powdered sugar or enjoy them with some jam.
Nutrition
Calories:
77
kcal
Carbohydrates:
9
g
Protein:
2
g
Fat:
4
g
Saturated Fat:
2
g
Trans Fat:
1
g
Cholesterol:
10
mg
Sodium:
37
mg
Potassium:
23
mg
Fiber:
1
g
Sugar:
2
g
Vitamin A:
122
IU
Vitamin C:
1
mg
Calcium:
3
mg
Iron:
1
mg
I received compensation from Niche Import Co. in exchange for writing this post. Although this post is sponsored, all opinions, thoughts and recipes are my own. This post contains affiliate links, which means that I may be compensated if you click certain links.