This Austrian banana cream cake sure would be my Mama Ute's dream of a dessert. It has all of her favorites: banana and chocolate layered with a creamy pudding filling and fluffy sponge cake.
Bananenschnitten
About this Recipe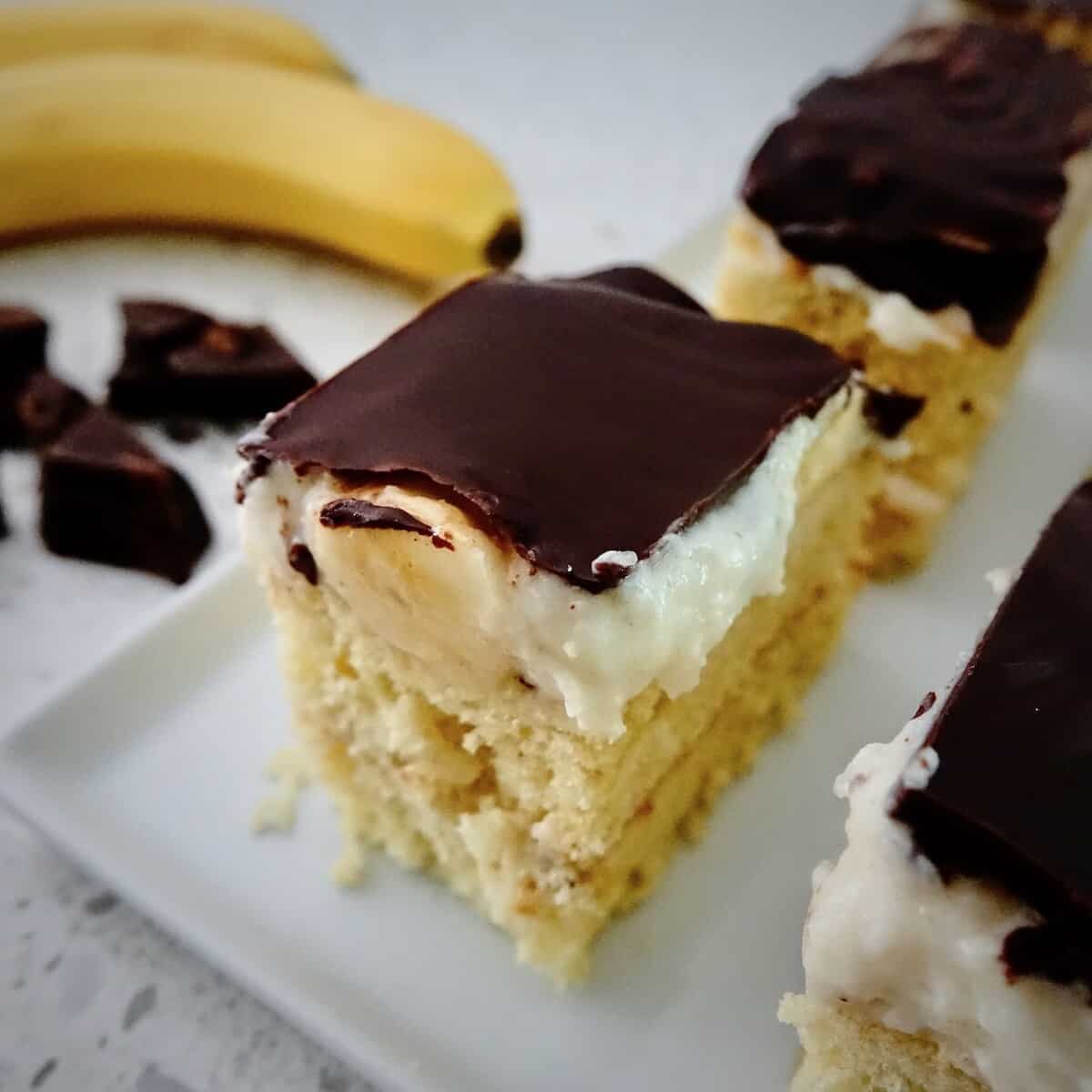 This Is A Sponsored Post That Contains Affiliate Links
It's a little odd to me that I didn't used to like bananas very much as a child because now I absolutely love them and find any reason to eat them: cut up in my morning müsli, blended in with smoothies or cocktails and of course baked or layered into cakes like this one!
Today's recipe post for Bananenschnitten was actually inspired by one of you, my readers. And after trying out and tweaking the recipe for American ingredients, I couldn't resist but make this available for all of you.
Fresh, sweet bananas get layered with fluffy vanilla sponge cake and a cream filling made from homemade vanilla pudding and whipped cream. The final chocolate coating gives this cake wings to fly straight to cake heaven. My Mama Ute, who has always loved the combination of chocolate and banana, would fall head over heels for this one and I may just have to make this for her whenever she can finally fly to the US again to come visit us!
Scroll on down for the recipe, now in printable version.
Bananenschnitten Essentials
Drink Pairing:
aUSTRIAN BANANA CHOCOLATE rUM DREAM
When two of my Austrian faves meet in a blender with vanilla ice cream and banana, nothing short of magic happens. Combining the iconic Austrian STROH rum with creamy Austrian Mozart chocolate liqueur makes for a dream team drink that is equally as delicious as authentically Austrian and just screams summer vibes to me.
To make, simply blend together the following ingredients with some ice, then pour into a tall glass and serve with a straw and a chocolate syrup rim:
½ banana
½ oz STROH rum
1 scoop vanilla ice cream
To find out where Mozart Liqueurs (also available in White and Dark Chocolate as well as Strawberry Cream) is available in your area, fill out the short product finder form.
Prost!
more Austrian-Inspired bANANA Recipes
Kaiserschmarrn
Rüblikuchen

Make This
Next Up:
german nachos
My next post is inspired by pregnancy cravings such as my sister-in-law's for bratwurst and sauerkraut. I thought why not make a nacho plate out of that and call it dinner? Make sure to subscribe to my blog now, so you're not missing out when this new German Nacho recipe post goes live!
Bananenschnitten: Austrian Banana Cream Cake
This Austrian banana cream cake sure would be my Mama Ute's dream of a dessert. It has all of her favorites: banana and chocolate layered with a creamy pudding filling and fluffy sponge cake.
Instructions
Preheat the oven to 180 degrees C or 355 degrees Fahrenheit. Beat the egg whites until stiff and set aside. Then beat the yolks and sugar until foamy. Once foamy, add in the milk and oil. Combine the flour and baking powder and sift and fold into the mixture. Lastly, fold in the stiff egg whites and spread out the batter onto a baking sheet covered in parchment paper. Bake for 20 minutes.

Heat milk until boiling, reserving just a little bit to whisk together with the cornstarch and sugar. Once boiling, remove from heat and whisk in the cornstarch-milk-sugar mixture. Return to a boil and let boil for 1 minute while whisking constantly. Lastly, stir in the vanilla and transfer to a bowl and cool in the fridge.

Beat the whipping cream until stiff peaks form. Dissolve the gelatine in ¼ c of boiling water, then mix in ¼ of the whipped cream and allow to cool some (store the whipped cream in the fridge in the meantime). Finally fold in with the remaining whipped cream and then the cooled pudding. You run the risk of having chunks form if you just pour the dissolved gelatine into the cold whipping cream.

Half the bananas and lay them on top of the baked cake. Spread on the pudding and whipped cream mixture. Finally melt the chocolate and butter in a hot waterbath until just melted, then spread on top of the cake using a knife or cake spatula. Transfer to the fridge until ready to cut and serve - will keep for a couple of days.
Nutrition
Calories:
312
kcal
Carbohydrates:
39
g
Protein:
5
g
Fat:
16
g
Saturated Fat:
10
g
Cholesterol:
64
mg
Sodium:
55
mg
Potassium:
258
mg
Fiber:
2
g
Sugar:
23
g
Vitamin A:
341
IU
Vitamin C:
3
mg
Calcium:
67
mg
Iron:
2
mg
I received compensation from Niche Import Co. in exchange for writing this post. Although this post is sponsored, all opinions, thoughts and recipes are my own. This post contains affiliate links, which means that I may be compensated if you click certain links.