Bring the taste of Germany's Nordsee into your kitchen with this pan-fried cod sandwich complete with a homemade remoulade sauce.
Fischbrötchen
About this Recipe
This Is A Sponsored Post That Contains Affiliate Links
I wasn't a fish eater growing up ever since a traumatizing happening in first grade, when I found a fish bone in a fish stick at lunch. My Oma and Mama also never cooked it for my sister and I because they didn't like it themselves, so it's just not something I was exposed to much growing up.
I didn't become a fish eater again until my early twenties when I started working at nice restaurants while going to college in the United States. And I am so thankful that my tastebuds changed! I now try to incorporate fish or seafood into our diet once a week, which is even more essential now that I am expecting and really need those extra nutrients for mine and baby's well being.
Sitka Salmon Shares makes it super easy to keep up with the fish routine as they ship subscription boxes of sustainably caught, flash-frozen Alaskan fish directly to your doorstep. I've been super impressed with their fish and always get excited and inspired when a box shows up! It's definitely helps us eat more fish and we have loved the recipe recommendations that Sitka Salmon Shares sends out every month! Eating fish never gets boring!
AD: I recently started supporting Sitka Salmon Shares, a small-boat fishermen owned partnership to support Alaskan sustainably sourced fish like salmon and cod. Small-boat fisheries, which are usually family-owned businesses, where hit incredibly hard during the current coronavirus pandemic, given that their primary sources of income (export to China and supplying national and international restaurants) almost completely fell off. They offer seafood subscription services that range in size and content and help provide a stable income. Support them by trying a box now at $25 off when you use code 'DIRNDL' at checkout (Taste of Fall Share is NOT included).
For today's German fish sandwich, I pan-fried some breaded cod and served with with some refreshing lettuce leaves and a delicious, homemade remoulade sauce made with apples, eggs and pickles on toasted brioche buns. If you have time to make the Weizenbrötchen from my last post to serve these on, that would be THE way to go though! I have some waiting in my freezer to be baked, now I just need my oven to work again (it broke 4 weeks ago and I am starting to go mad without my Brot and Brötchen!).
Scroll on down for the recipe, now in printable version.
Fischbrötchen Essentials
Drink Pairing:
Pumpkin Spice Martini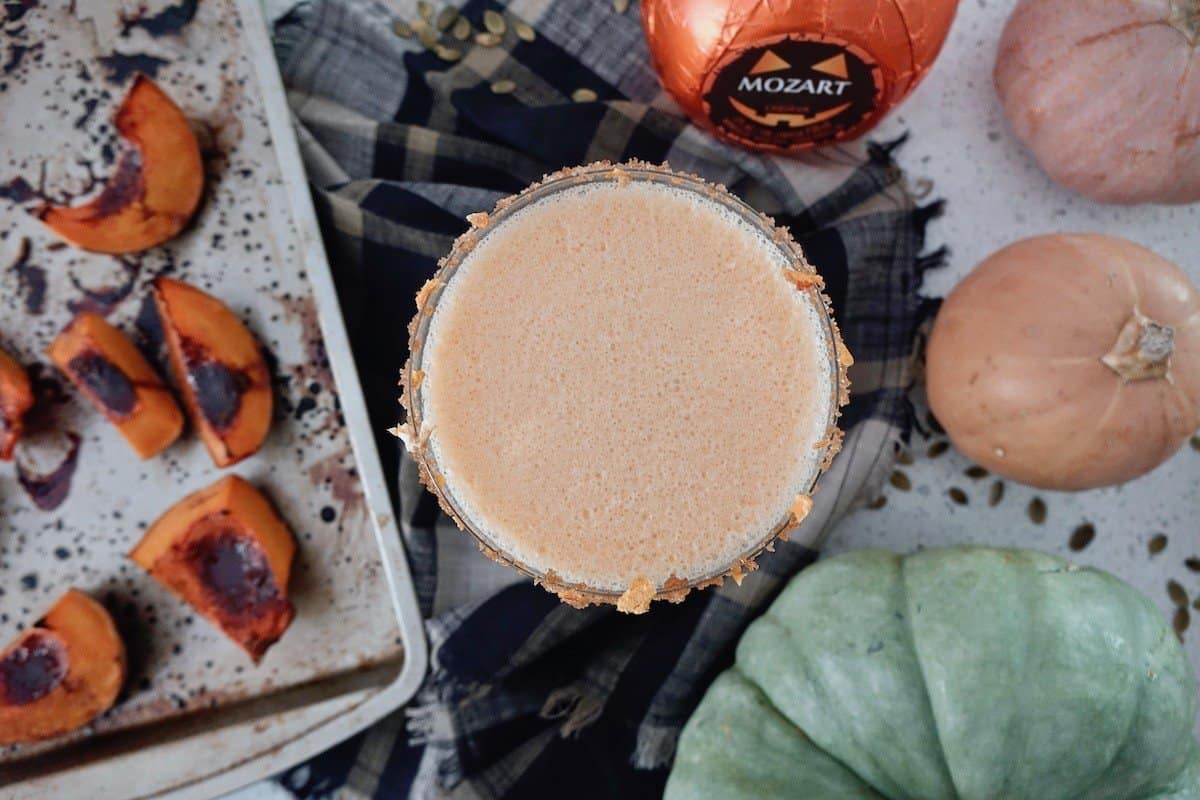 Yup, there is more pumpkin spice because if you're like men then there is no such thing as too much pumpkin spice. 🙂
Here a pumpkin spice martini using one of my all-time favorites: Austrian-made, creamy Pumpkin Spice Liqueur by the Mozart distillery. This simple cocktail will be perfect for dessert for the upcoming holidays and I promise you that every pumpkin spice and pumpkin pie fan will love this!To make, simply shake together the following ingredients with some ice, then pour into a martini glass:
2 oz good vodka (such as Mamont)
To find out where Mozart Pumpkin Spice Liqueur (also available in Milk, White and Dark Chocolate as well as Strawberry Cream) is available in your area, fill out the short product finder form.Prost!
more German Sandwich Recipes
Schnitzel Sandwich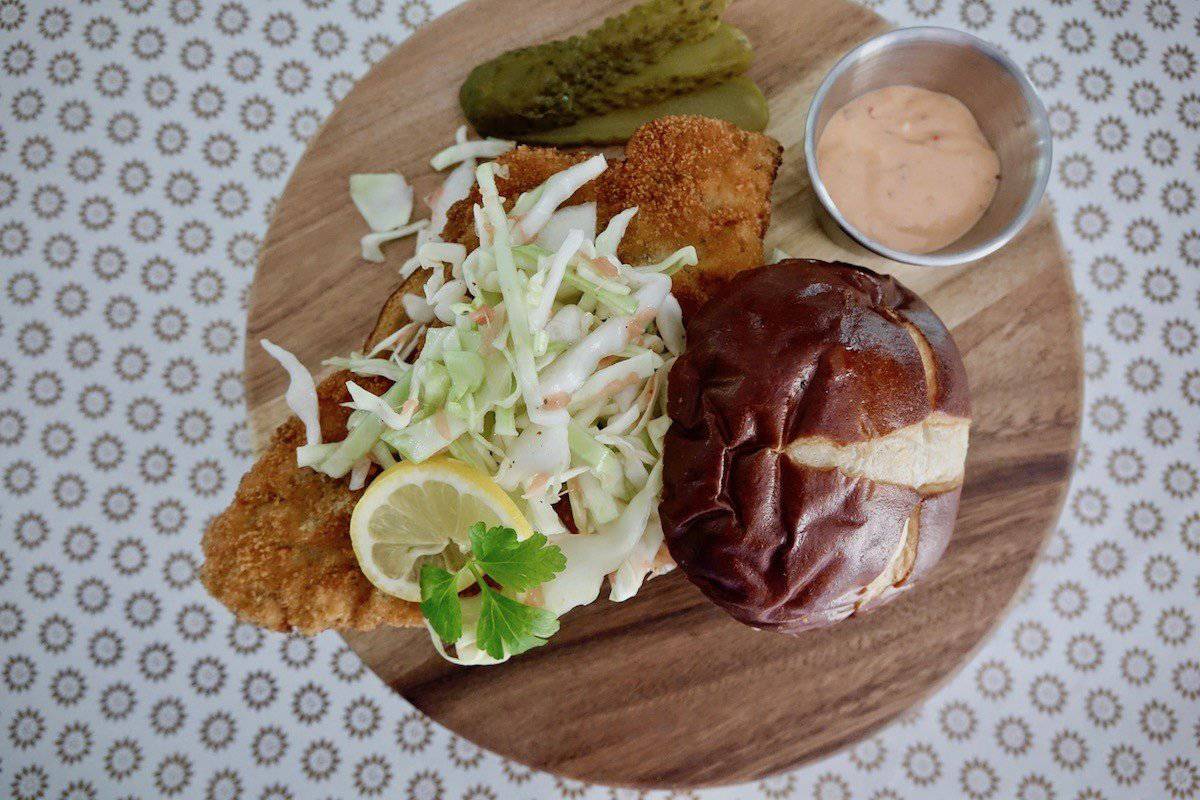 Döner Kebab
Toast Hawaii
Next Up:
Mama Ute's Pesto Pasta Salad
It's HOT in Kansas City, and that means we're in full on grilling season. Next up is my mom's mediterranean inspired pesto pasta salad - a super delicious crowd pleaser! Make sure to subscribe to my blog now, so you're not missing out when this new Pesto Pasta Salad post goes live!
Fischbrötchen: German Cod Sandwiches
Bring the taste of Germany's Nordsee into your kitchen with this pan-fried cod sandwich complete with a homemade remoulade sauce.
Ingredients
2

eggs

½

apple

not too sweet

2

tablespoon

mayo

100

g

whole milk Greek yogurt

1

tablespoon

pickle juice

1

teaspoon

fresh lemon juice

¼

c

chopped, fresh parsley

2

tablespoon

milk

40

g

flour

40

g

breadcrumbs

2

cod fillets

40

g

butter

2

brioche rolls

also great are my Weizenbrötchen if you have time to make them!

2

large leaves of butter lettuce
Instructions
Boil one egg until hard and peel while running cold water over it. Finely dice with some cornichons (I used 4 small cornichons). Remove core and finely dice half the apple. Combine mayo, yogurt, pickle juice, lemon juice and season to taste with salt and pepper. Chop the parsley and stir in.

Whisk the egg with some milk and salt and transfer to a deep plate or shallow bowl. Pour some flour and some breadcrumbs onto two separate plates. Dust the fish in flour, then coat in the egg mixture and finally coat in the breadcrumbs. Heat butter in a skillet over medium heat and cook the fish for 4 to 5 minutes on each side. Transfer to a clean plate covered in paper towel.

Half the rolls and lightly toast them in the skillet or in a toaster. Add some lettuce to the bottom of the roll, then add the fish, then the remoulade sauce and close the sandwich with the second half of the roll. Serve the remaining remoulade sauce on the side.
Nutrition
Calories:
1013
kcal
Carbohydrates:
82
g
Protein:
52
g
Fat:
53
g
Saturated Fat:
25
g
Cholesterol:
421
mg
Sodium:
2179
mg
Potassium:
1007
mg
Fiber:
4
g
Sugar:
11
g
Vitamin A:
2384
IU
Vitamin C:
16
mg
Calcium:
269
mg
Iron:
5
mg
I received compensation from Niche Import Co. in exchange for writing this post. Although this post is sponsored, all opinions, thoughts and recipes are my own. This post contains affiliate links, which means that I may be compensated if you click certain links.