Small white asparagus bundles are wrapped in gouda and black forest ham, then breaded and pan-fried! This is a crazy delicious Spargelzeit meal!
Spargel Cordon Bleu
About this Recipe
This Is A Sponsored Post That Contains Affiliate Links
Spargelzeit aka Asparagus season still has a few weeks left to go, and I'm here for it! Today's creation takes a classic, Cordon Bleu, ditches the chicken in the recipe and uses white asparagus in the center. The asparagus gods are rejoicing!
Melted gouda cheese oozing out the sides of these beautiful bundles must be the best part! I use American Black Forest ham in the making of these, which is really a really tasty smoked AND cooked ham (versus the classic German Schwarzwälder Schinken, which is just cold-smoked and raw). In Germany, you would use a type of Kochschinken for this meal as well just like what I used for the recipe.
Each bundle is rolled in flour, egg and breadcrumbs and pan-seared on all sides. I like serving my Spargel Cordon Bleu with some boiled potatoes tossed with flakes of salt, fresh dill or parsley and serving it with a quark-dill dipping sauce.
I wish white asparagus wasn't such an intense growing process, or else I would grow my own (I'm also not sure the Kansas City climate are ideal white asparagus growing conditions). I love white asparagus a whole bunch and plan to eat all the white asparagus Germany has left for the season when I go back in just one short week! Ahh! I can't wait to FINALLY go home again!
Scroll on down for the recipe, now in printable version.
Spargel Cordon Bleu Essentials
Drink Pairing:
Sake Plum Fizz
I'm really into plums. I even ordered a plum tree for our backyard and I can't wait to find plums at the store again this season until my plum tree bears fruit! This Plum Fizz cocktail is made with an aged Plum Sake made by Akashi-Tai, a sake brewery in Japan's prime sake-brewing city of Akashi. I love a little spice in my drinks, so I made a Serrano pepper simple syrup that I used for this drink (a plain simply syrup) would work just fine for this drink as well since the Sake is adding so much flavor! This drink is the perfect way to welcome summer!
The following makes 4 drinks. Divide up over ice, then add about 150 ml / 5 oz of sparkling water to each, a piece of orange peel and thyme twig.
- 100 ml / 3.5 oz Gin (I used a local gin by Rieger Distillery)
- 100 ml / 3.5 oz Akashi-Tai Umeshu Plum Sake
- 125 ml / 4 oz Serrano Simple Syrup (you could also just use plain simple syrup)
To find out where Akashi-Tai Plum Sake (also available in many other varieties!) is available in your area, fill out the short product finder form.
More German Ham & Cheese Recipes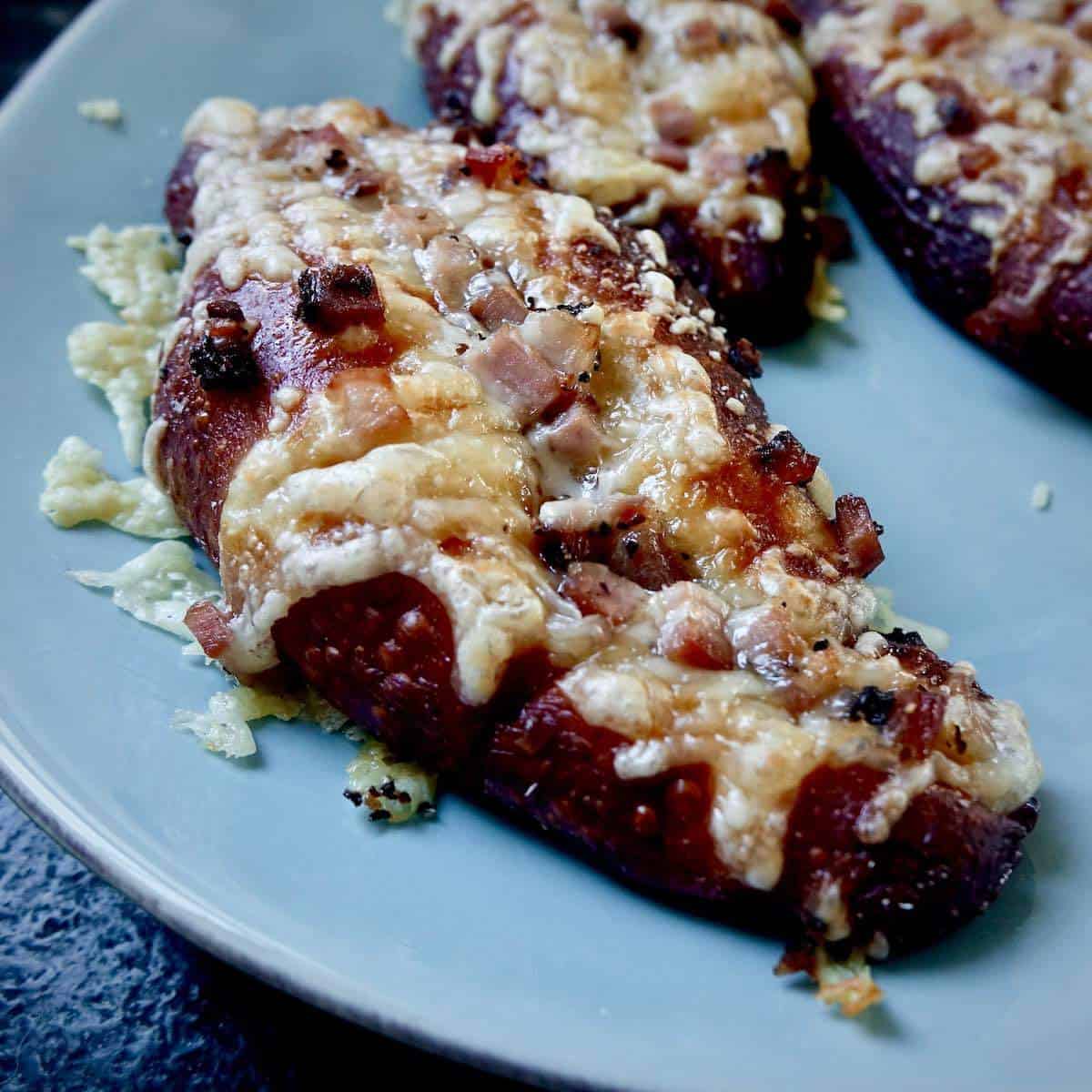 Schinken-Spargel Quiche
Toast Hawaii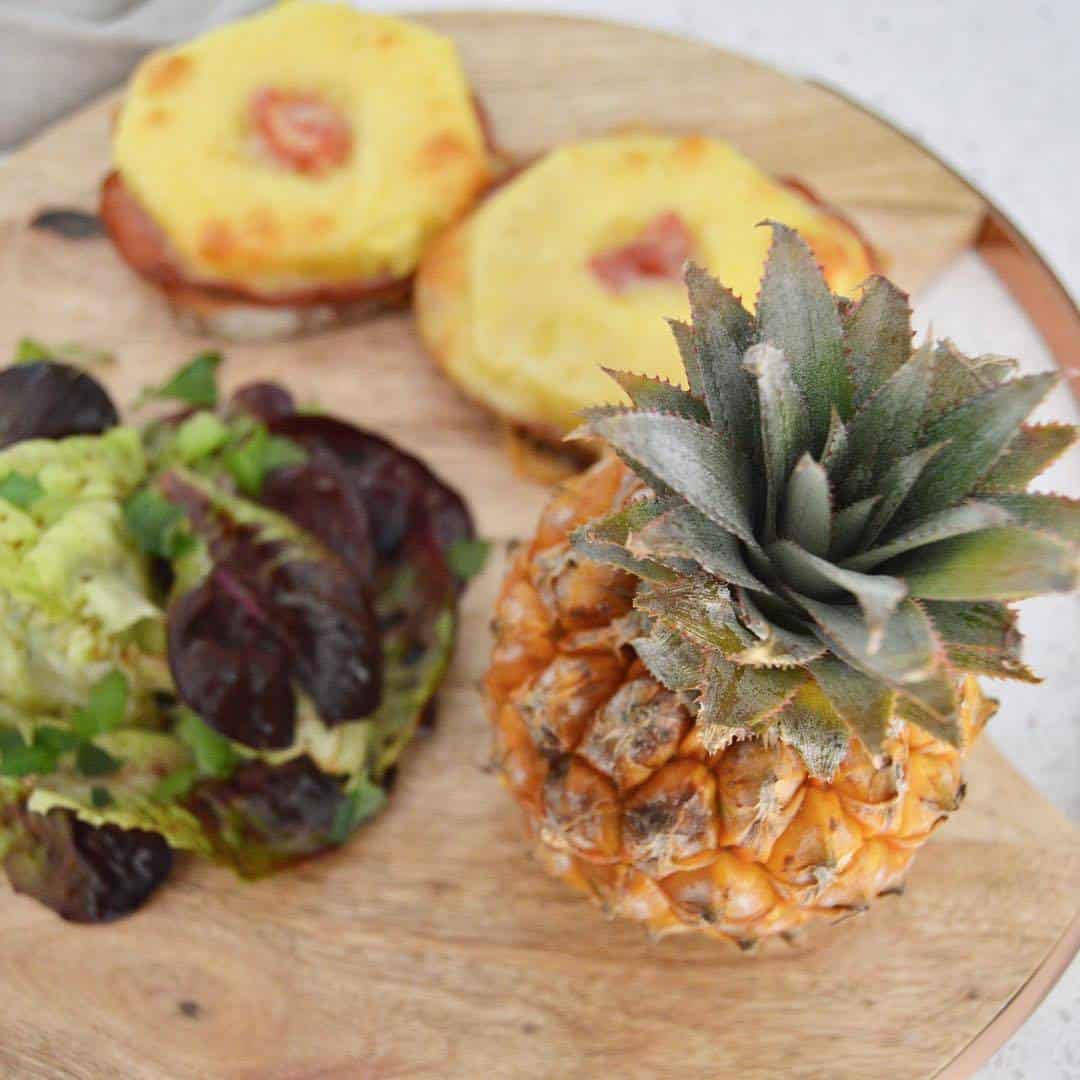 Next Up:
MohnKuchen
There are a handful of German baked goods that are packed with poppy seeds! And they're so delicious (like this Hefezopf). Make sure to subscribe to my blog now, so you're not missing out when this new Mohnkuchen (a German poppy seed coffee cake) goes live.
Spargel Cordon Bleu: White Asparagus Cordon Bleu
Small white asparagus bundles are wrapped in gouda and black forest ham, then breaded and pan-fried! This is a crazy delicious Spargelzeit meal!
Ingredients
12

white asparagus spears

up to 16, 3 to 4 per bunch

4

slices

gouda cheese

4

slices

black forest ham

the American kind, which is cooked. If you can't find 'Black Forest,' use a smoked, cooked ham.

60

g

breadcrumbs

possibly more

2

eggs

medium or large

30

g

flour

possibly more

salt and pepper

1

tablespoon

sugar for the asparagus cooking water

40

ml

avocado oil

for pan-frying
Instructions
Prep the White Asparagus
In a large pot, heat water with one tablespoon of sugar and plenty of salt. The sugar is added to reduce bitterness in the asparagus.

White the water heats up, trim the tough ends of the asparagus and peel from below the tip to the trimmed end all the way around. This is the perfect time to open a bottle of Riesling (semi-dry) to help entertain you, although 12 to 16 spears go pretty fast. 🙂

Tip: freeze the peel and throw in a homemade veggie broth for down the road to add more flavor. Strain out before serving.

Once the water is boiling, add the asparagus and allow to simmer for 8 minutes. Drain the asparagus and transfer to a bowl filled with ice water.
Assemble your Spargel Packs
Place a slice of cheese inside the ham, then place 3 to 4 cooked asparagus spears inside the cheese and roll up. Secure with a couple of toothpicks.
Bread and Cook your Spargel Packs
Place breadcrumbs and flour on separate plates. Season the breadcrumbs with some salt, pepper and herbs (ladder is optional, but I would use dried parsley). Whisk egg in a shallow bowl.

Roll the asparagus in some flour, dusting off any excess flour. Then cover in egg, and finally in breadcrumbs.

In a large pan, heat a high heat cooking oil like avocado oil on medium heat. Add the breaded asparagus packs and cook for a couple of minutes on each side or until golden brown on each side.

Transfer to a plate covered in paper towel to drain off any excess oil. Remove the toothpicks before serving.
Suggested Sides
I served my Spargel Cordon Bleu with red mini potatoes that I boiled and tossed in salt, pepper, some olive oil and fresh parsley. I also made a quick quark dip with fresh, chopped chives (can also use dried), salt and pepper to dip the potatoes in. 100% recommend!
Nutrition
Calories:
711
kcal
Carbohydrates:
43
g
Protein:
36
g
Fat:
43
g
Saturated Fat:
15
g
Trans Fat:
1
g
Cholesterol:
262
mg
Sodium:
1354
mg
Potassium:
380
mg
Fiber:
2
g
Sugar:
12
g
Vitamin A:
621
IU
Vitamin C:
1
mg
Calcium:
503
mg
Iron:
4
mg
I received compensation from Niche Import Co. in exchange for writing this post. Although this post is sponsored, all opinions, thoughts and recipes are my own. This post contains affiliate links, which means that I may be compensated if you click certain links.