What Are Amerikaner?
This Is A Sponsored Post That Contains Affiliate Links
Originally this blog post about the German "Amerikaner" pastries was supposed to appear around Labor Day in celebration of the American people! But someone had other plans for me that weekend, and so instead I gave birth to our first baby that weekend, Zoë Lilou. We couldn't be more ecstatic about this enormous life change and didn't quite realize how NOTHING would get done in the first few weeks of parenthood other than exclusively obeying the never-ending demands of our new babe. I have been (more or less) functioning on next to no sleep while also trying to take care of my healing body (the latter sometimes just doesn't happen unfortunately...), but it's definitely all so very worth it! Experiencing the miracle of growing and giving birth to a baby is the most magical thing that has ever happened to us. I plan to post my birth story on my other blog "dirndl mama" soon (make sure to follow me on Instagram to stay tuned and see more pictures of little Z!).
But back to German food now since that's what you came here for!
So Why Are These Pastries Called "Amerikaner?"
So coming back to this mysterious pastry called "Amerikaner." I had to google this one myself, trying to figure out why this pastry got its name from the American people! Interestingly enough, the German, technical term for baking powder is a mouthful ("Ammoniumhydrogencarbonat") and used to be part of this pastry's name. So at some point it was shortened to "Amerikaner," making it easier and faster to pronounce. That's all I got. I wish I had a more interesting story for you!
Fun "Baking With Kids" Project
I hold vivid memories of buying pastries at the local bakeries during the school lunches of after getting out of school. Amerikaner are one of those pastries I have never before attempted to make myself, yet they're so simple to make! This would be a super fun weekend activity to get your kids involved. The recipe is simple, they bake quickly and the decorating doesn't need to be limited to just chocolate and lemon glaze (how about incorporating some German candy - World Market sells a great variety!).
And For The Grown-Ups: Spiked STROH Rum Coffee
A simple way to lift the spirits 😉 is to add some spirits to your coffee during afternoon cake and coffee time (the German version of "afternoon tea"). STROH rum is THE iconic Austrian spiced rum that is very popular to use in Germany as well (my grandma used it mainly in baking growing up, such as this whole grain waffle recipe, but make sure to also check out this more modern way of using STROH rum in baking.
And then - of course - there is always the option of drinking it as well such as in your favorite cup of Joe. Zum Wohl!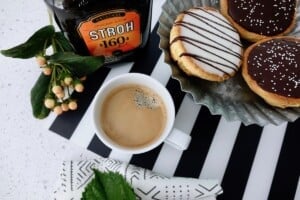 Erbsbrei Up Next!
This next recipe is one of my "Oma staples!" My sister and I often requested she makes Erbsbrei for us, which is a simple pea and potato puree, but rather than it taking the sidelines like so many purees do, it's actually this dish's main attraction. Hang tight for this one! In the meantime, make sure to subscribe to receive weekly emails with new recipes, so you never miss out on any new recipes coming up!

  If you have any other suggestions or comments, please leave me a note below!
---
Recipe For 8 Amerikaner Pastries:
Amerikaner Dough:
7 tablespoon (100 g) butter
⅔ c (130 g) sugar
2 teaspoon pure vanilla extract
1 pinch salt
2 eggs
2 c (250 g) flour
½ c (50 g) cornstarch
4 tablespoon milk
1 tablespoon baking powder
Amerikaner Lemon Glaze:
⅞ c (100 g) powdered sugar
juice of one lemon
Amerikaner Chocolate Glaze:
3 oz (80 g) semi sweet chocolate
2 oz (60 g) butter
Preheat oven to 390 degrees Fahrenheit and prep a baking sheet with parchment paper. Using a electric stand mixer or handheld electric mixer, combine all ingredients for the dough. Divide into 8 portions and distribute onto the baking sheet, shaping rounded "mole hills." Bake for about 15 minutes or until starting to turn golden brown, then allow to cool completely on a cooling rack. Decorate to your liking. To make the lemon glaze, simply combine sifted powdered sugar with lemon juice (adding the juice in gradually), until you achieve a thick consistency (you will probably not use all the lemon juice). To make the chocolate glaze, heat chocolate and butter in a bowl over boiling water until melted. Allow to cool some until you reach the desired consistency. You can also decorate with nonpareils and other pearls and sprinkles or German chocolate!
Some Oktoberfest Recipes You Need To Try:
Bavarian Potato Salad - an Oktoberfest staple to go with your Bratwurst!
Obatzda - a Bavarian Camembert cheese spread that goes perfectly with some soft pretzels!
Wiesnhendl - a dry-rub roasted chicken that's so popular to order at Oktoberfest!
Amerikaner Baking & Decorating Tools
I received compensation from Niche Import Co. in exchange for writing this post. Although this post is sponsored, all opinions, thoughts and recipes are my own. This post contains affiliate links, which means that I may be compensated if you click certain links.