This Eierpunsch recipe is THE BEST dairy-free German spiked eggnog cocktail that's (in my opinion) much better than American eggnog!
Eierpunsch: German Eggnog Cocktail
About this Recipe
This Is A Sponsored Post That Contains Affiliate Links
Why You Need To Make Eierpunsch Right NOW
Eierpunsch is a German Eggnog-like cocktail popular in Germany during the Winter season. It has quickly topped the list of my top 3 hot cocktails (Glühwein and Fette Henne are in spots 2 and 3)! You can get this spiked eggnog cocktail at Christmas markets, but I think it tastes best when making it at home! I made it for my family in Germany on Christmas Eve, but it's a popular New Year's Eve drink as well.
What's In Spiked Eggnog
And what alcohol to use in eggnog? There are a few different ways to make Eierpunsch, but I've found the best German spiked eggnog cocktail is dairy-free and contains the following ingredients:
Egg Yolks: Make sure to use the best eggs for this recipe. I use free-range organic eggs for mine. The eggs are warmed gradually on the stove until thickened, but NOT boiling. The boiling would cause the eggs to curdle, which is not going to look or taste good.
White Wine: A dry, white wine works great in this recipe. I recommend a dry Riesling (like the one by Affentaler) or a Sauvignon Blanc.
Rum (or Rumtopf): I used some of the Rumtopf I stewed all year in my recipe, but a spiced rum (like the iconic one by STROH) or aged rum would work well in this recipe, too. If using Rumtopf like I did, you can reduce the added sugar by about ⅓ (since there is sugar already added in Rumtopf).
Vanilla Extract: Traditonally, you would use vanilla sugar in this recipe, which is easily made at home by infusing vanilla beans with sugar. If you don't have vanilla sugar, you can use vanilla extract. The better the quality of the vanilla extract, the better the drink!
Lemon Juice: I use fresh juice from fresh lemons because it just tastes the best!
Sugar: I use pure, organic cane sugar.
Cinnamon: I use cinnamon sticks, but if you don't have those on hand, you could use a teaspoon of ground cinnamon instead. This adds a subtle spice note without being overpowering. Feel free to add other spices as well, but I prefer the simplicity of just the cinnamon.
Eierpunsch Essentials
German Winter Recipes
Roasted Pork Loin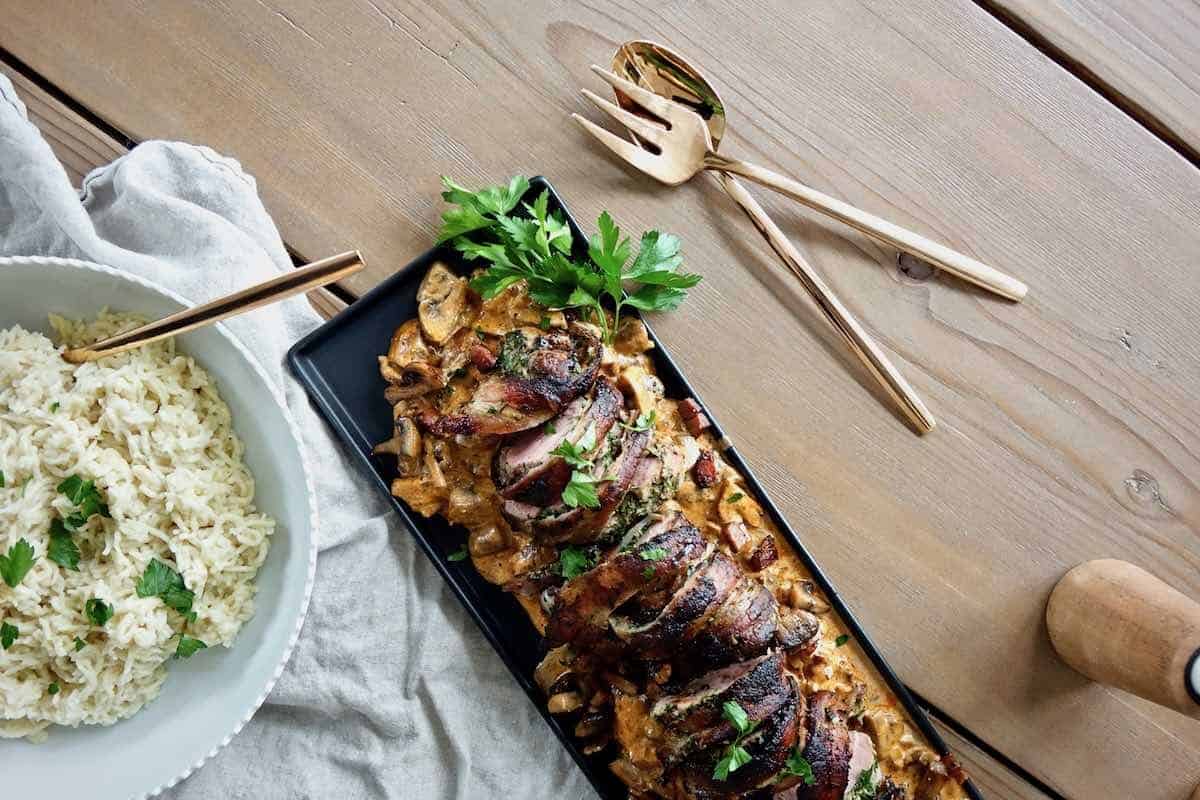 Next Up:
More German Recipes
I have so many more German Recipes up my sleeve inspired by German family recipes and seasonally available ingredients, all adapted to American cooking. Make sure to subscribe to my blog now, so you're not missing out when my new German recipes go live!
Eierpunsch: German Spiked Eggnog Cocktail
This Eierpunsch recipe is THE BEST dairy-free German spiked eggnog cocktail that's (in my opinion) much better than American eggnog!
Ingredients
4

egg yolks

1

teaspoon

vanilla extract

100

grams

sugar

1

lemon

juice only

500

milliliters

white wine

50

milliliters

rum

or Rumtopf; if using Rumtopf, reduce the added sugar in this recipe
Instructions
Add the egg yolks, sugar, vanilla and lemon juice to a bowl and whisk until foamy. Add to a small pot.

4 egg yolks,

1 teaspoon vanilla extract,

100 grams sugar,

1 lemon

Stir in the wine and rum (or Rumtopf). Add a cinnamon stick.

500 milliliters white wine,

50 milliliters rum,

1 cinnamon stick

Now put on the stove and turn to medium heat. Stir the Eierpunsch occassionally and pay good attention to NOT LET IT BOIL or else the egg will curdle.

Lastly, whisk again before serving in glasses. You can optionally add some whipped cream on top and/or a sprinkle of ground cinnamon. Prost!
Nutrition
Calories:
288
kcal
Carbohydrates:
32
g
Protein:
6
g
Fat:
5
g
Saturated Fat:
2
g
Polyunsaturated Fat:
1
g
Monounsaturated Fat:
2
g
Cholesterol:
203
mg
Sodium:
23
mg
Potassium:
194
mg
Fiber:
1
g
Sugar:
27
g
Vitamin A:
268
IU
Vitamin C:
14
mg
Calcium:
53
mg
Iron:
1
mg
I received compensation from Niche Import Co. in exchange for writing this post. Although this post is sponsored, all opinions, thoughts and recipes are my own. This post contains affiliate links, which means that I may be compensated if you click certain links.