German breakfast is the number one meal I always crave when I go home to Germany to visit my family (and Döner Kebab is a close second). When visiting Germany, you MUST try a nice Frühstück and all of the German breakfast foods that go along with that! I know you will be blown away!
The large variety of different kinds of rolls, pastries, meats, cheeses, spreads, and that traditional German Frühstücksei (breakfast egg) is unlike any breakfast in any other country. If you don't have the luxury of going to Germany for breakfast, try these authentic German breakfast recipes and recreate them at home. I will list the basics first and then will go into nice-to-haves (especially for an extended weekend brunch).
German breakfast essential recipes
Let's start with the essentials for an authentic German breakfast that you can recreate at home with the following recipes.
Brötchen
The most essential food to an authentic German breakfast is the fresh baked rolls called Brötchen. Brötchen translates to little bread and would be called rolls or buns in English. In other parts of Germany, they are called Weck, Schrippe, or Semmel.
On average, every German eats one Brötchen a day. You can find Brötchen in the morning at every German bakery. However, most German bakeries are owned by large businesses today and don't bake their bread anymore. The quality is still pretty good.
But if I want some Brötchen like the ones from the small family bakeries, I recommend you make them homemade. They're not hard to make!
Plus, freshly baked rolls help your home smell like a bakery, which is the best wake-up call ever if you ask me!
Weizenbrötchen are basic white wheat rolls that taste JUST LIKE from a German bakery. They are the perfect everyday kind of roll and are simple to make at home. Perfect topped with everything from Nutella to Aufschnitt (sliced meats and cheeses).
Sonnenblumenkernbrötchen are German sunflower seed rolls made from a mixture of white flour, rye flour, and semolina flour. They have added sunflower seeds to the rolls and around the outside of the rolls. I love them with more savory spreads like Leberwurst (German liverwurst) and my Fleischsalat (a German meat salad).
Müslibrötchen contains a mixture of seeds, nuts, and dried fruit and is more dense and full of nutrients. I love topping them with cream cheese and jam or butter and sliced cheese.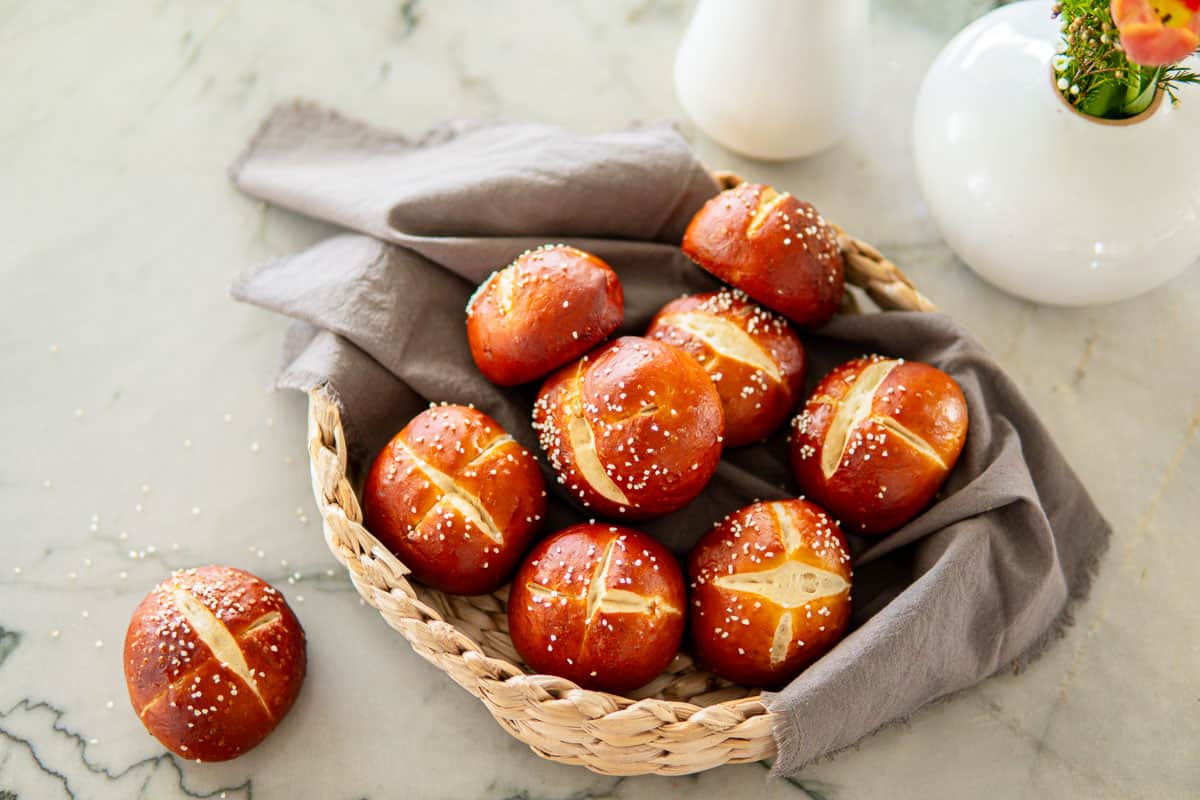 Pretzels. Brezeln or Brezen in Bavaria are commonly eaten at German breakfasts and often Laugenbrötchen are preferred as they provide an easier surface for toppings. Most Germans eat their pretzels with butter or plain.
What else do I need?
In Germany, we like to supplement the breakfast rolls called Brötchen with the following:
Butter. Gotta have it. I usually buy grass-fed butter like Kerrygold.
Meats commonly available at a German breakfast are sliced meats or meat spreads. Sliced meats include salami, pork bologna, boiled ham, and dry-cured, smoked ham. Some of the most popular meat spreads include Leberwurst (liverwurst) and Teewurst (tea wurst, which tastes like spreadable salami). I love the German-style butcher Schaller & Weber that sells some German specialty meats (and ships).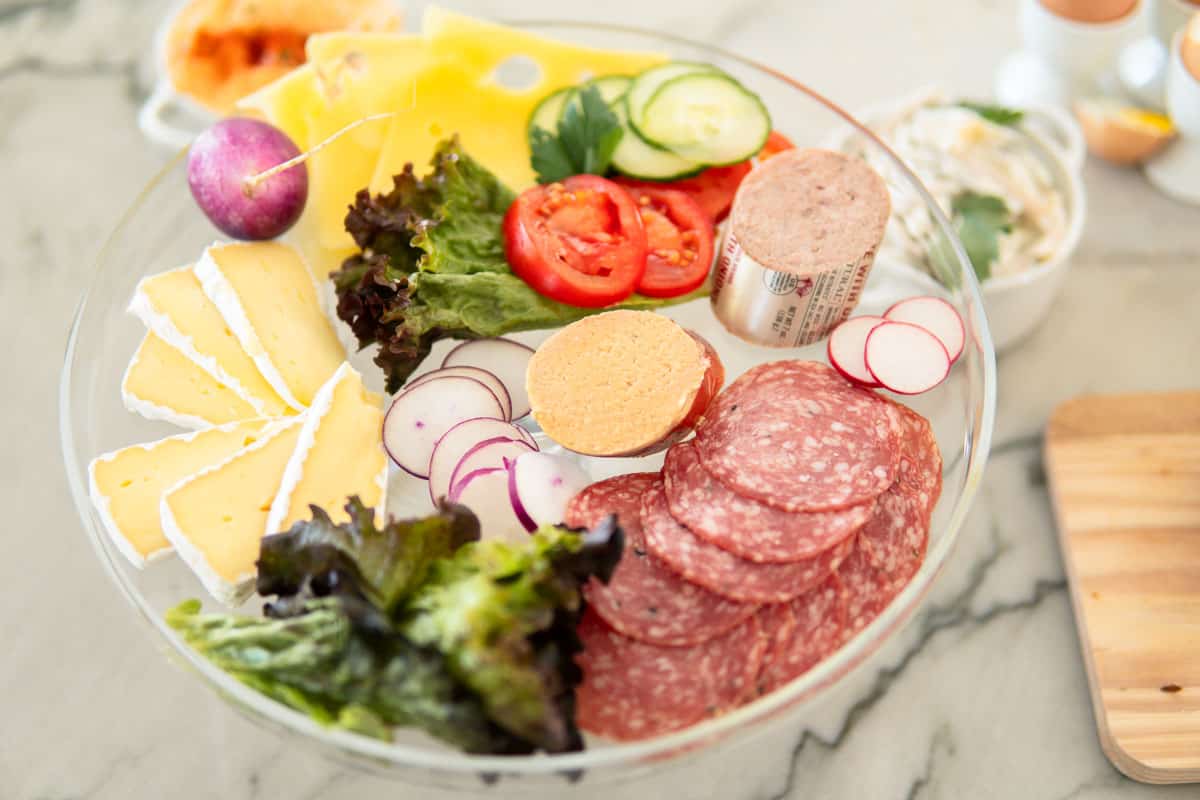 Fleischsalat (a meat salad made from pork bologna, pickles, and mayo).
Cheeses such as sliced Gouda and Emmentaler (and a few others that are harder to find outside of Germany like Butterkäse and Tilsitter - Aldi often has a good variety). Spreadable cheese like Frischkäse (cream cheese) is also common to find on the Frühstückstisch (breakfast table). Soft-rind cheese like camembert and brie and specialty cheeses like walnut cheese are popular, too. Camembert is also used to make a popular Bavarian cheese spread called Obatzda. Other cheeses I haven't been able to find outside of Germany are Kochkäse and Schmelzkäse.
Sweet spreads like jam, chocolate hazelnut spread (Nutella) and honey.
Sliced veggies for topping such as cucumber slices, tomato slices, sliced radishes, sliced bell pepper, and fresh cress, which is a microgreen you can find at any German grocery store. You can buy garden cress online here and grow it all year sitting on your window sill!
German breakfast egg
The Frühstücksei (German breakfast egg) is a soft-boiled egg with runny yolk and hard white. They are boiled in the shell and served in a little egg cup.
Make the perfect German breakfast egg using the soft egg setting on this egg boiler that we have and love (it can also poach eggs!).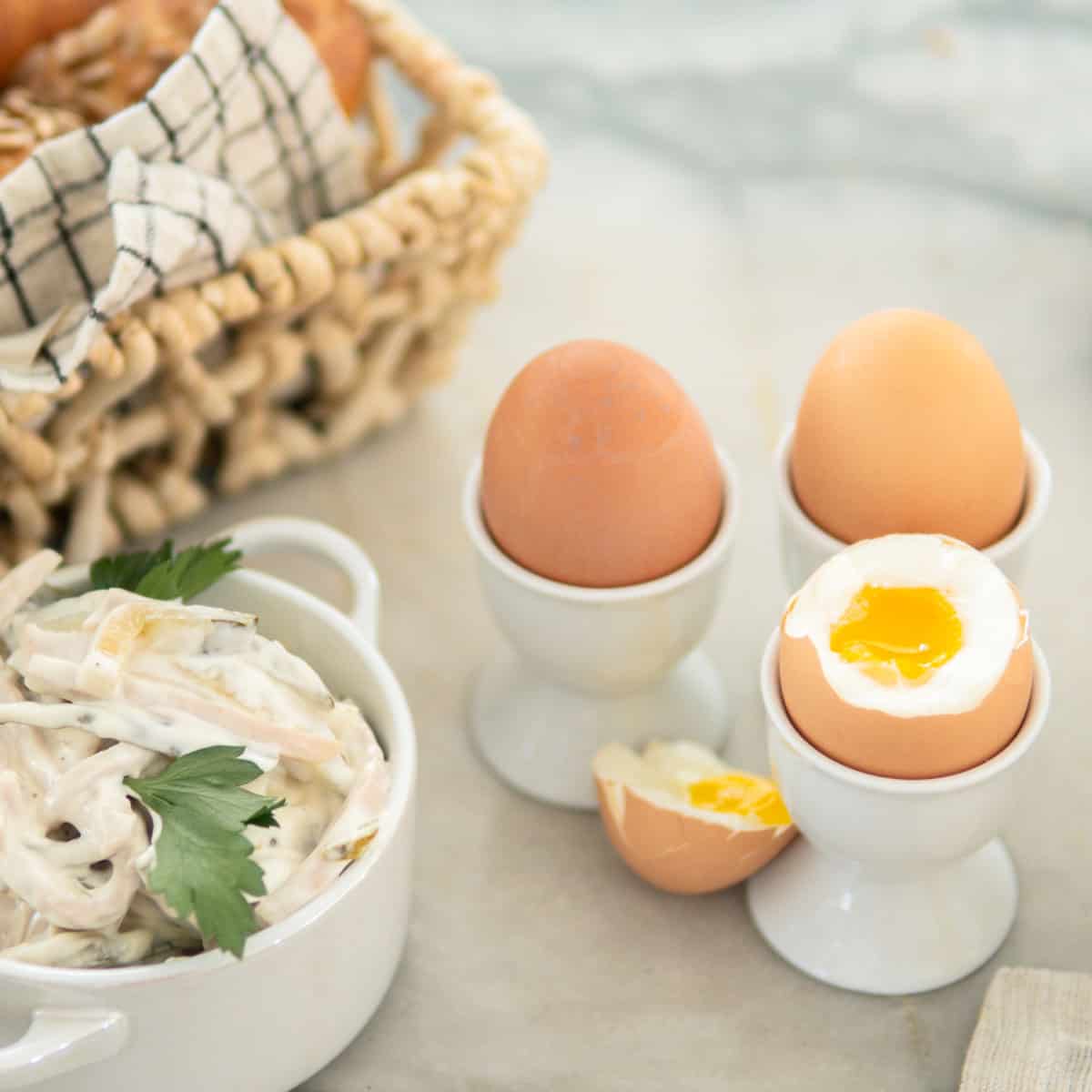 Then keep them warm using these adorable felt animal egg warmers. We have a couple of the animals for our kids and they are so cute and fair-trade handmade.
Drinks to have at a German breakfast
Coffee and juice are the drinks that are most popular drinks at a German breakfast table. However, hot tea or hot chocolate are common choices, too.
German breakfast extras or nice-to-haves
Below are some extras that are more commonly found at an extended German breakfast or a German brunch.
Fruit salad
Yogurt and Müsli (German granola)
Hefezopf is a braided soft German bread that is perfect topped with butter and jam.
Teilchen (German pastries)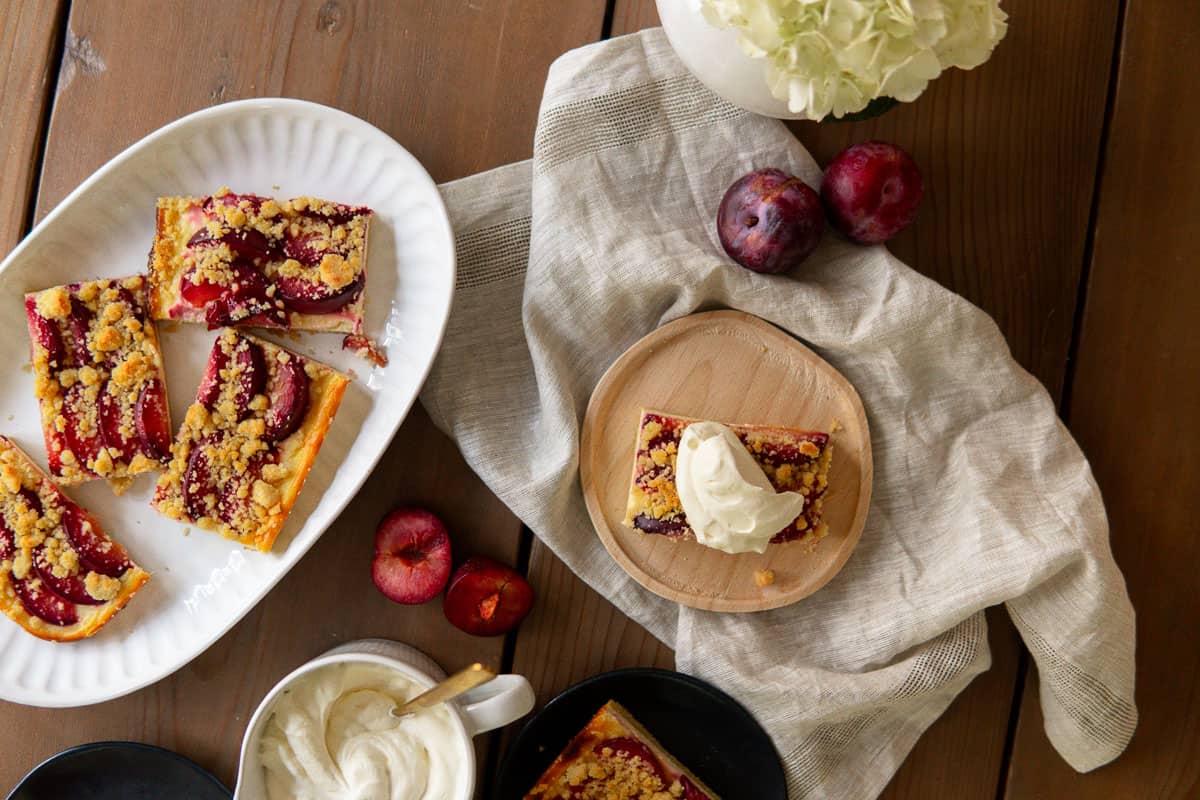 Other kinds of German breakfasts
Pfannkuchen
Pfannkuchen (German pancakes) are popular in Germany not just for breakfast, but also for lunch and even dinner. If you're making pancakes, you're typically not serving any of the other foods from above.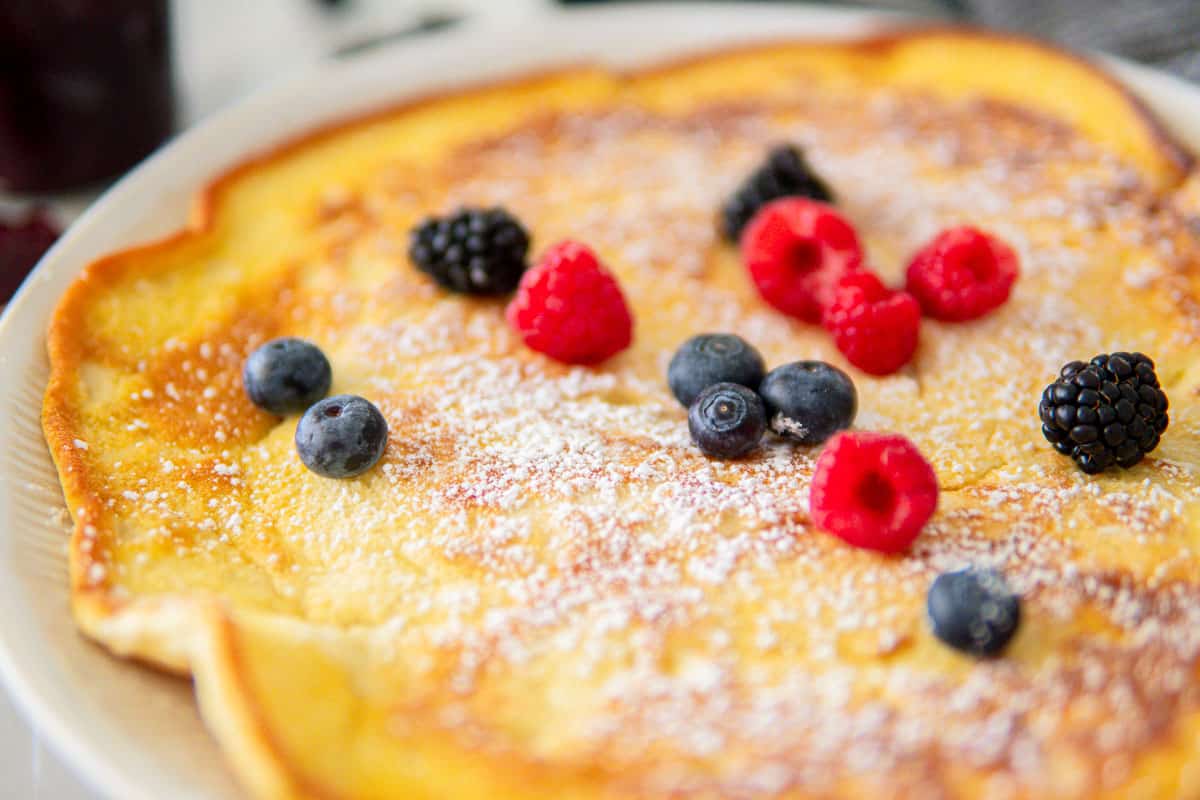 Germans like to fill their pancakes with jam or chocolate hazelnut spread or sprinkle them with sugar or cinnamon sugar. They are often rolled up and cut up piece by piece as someone is eating them.
Breakfast in Bavaria
A Bavarian breakfast is something completely different than the traditional German breakfast. It consists of Weisswurst (a type of Bavarian sausage), sweet mustard, pretzels, and Weissbier (a Bavarian beer that's also known as Hefeweizen).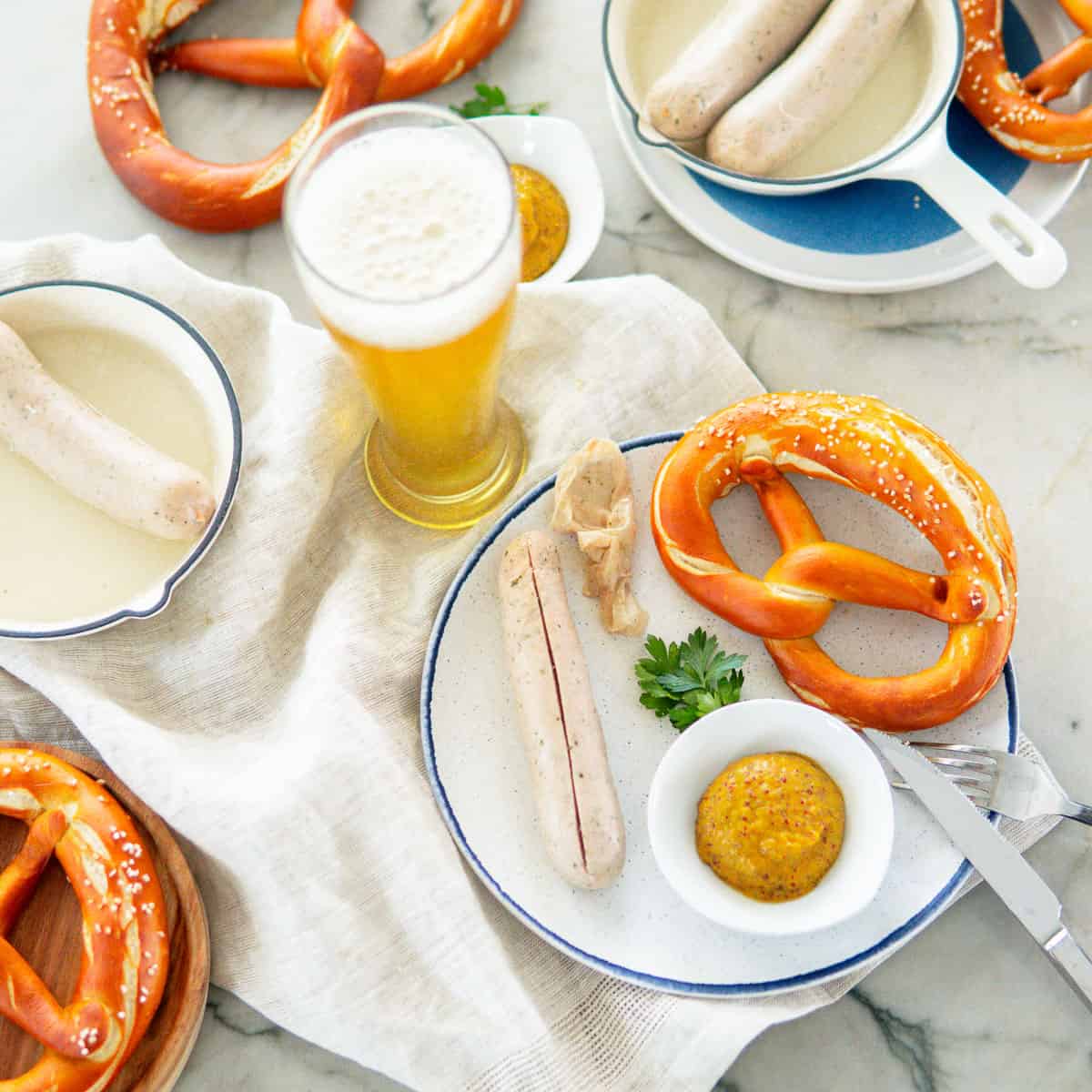 Also called a Weisswurstfrühstück, it is served as a second breakfast between 10 and noon and a really fun way to brunch. You can read more about it here.
Are you ready to get some Frühstück on the table??